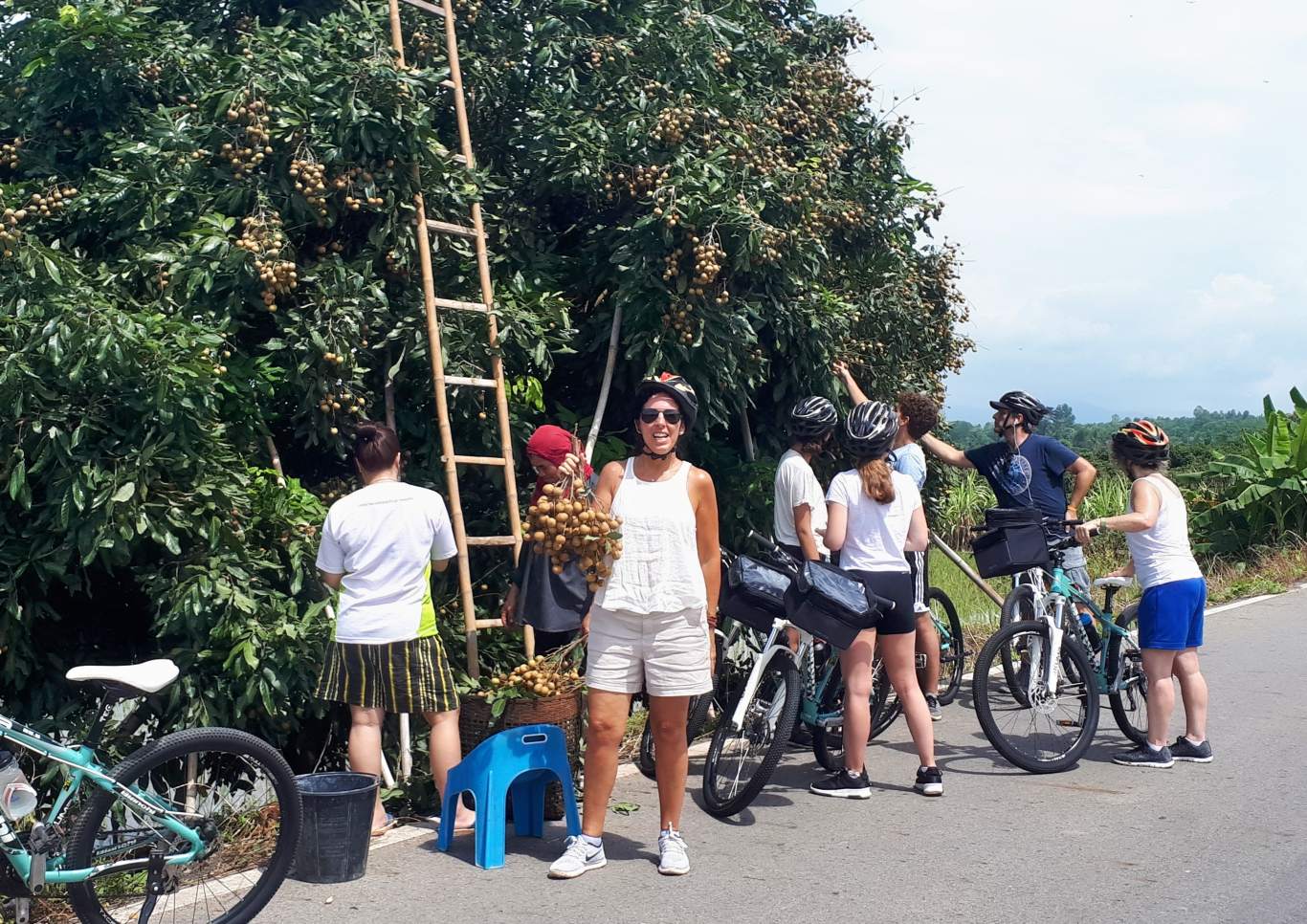 Would you like to?
Enjoy rural cycling on flat roads
✦
Taste local dishes at lunch
✦
Discover the bizarre statues of Wat Mae Ket Noi
✦
Discover Chiang Mai away from the tourist crowds
Panoramic Chiang Mai Bike Tour
Privately Guided Daytrip
✦
Leisurely
✦
From 7000 Thai Baht
Thailand cycling tours since 1987
Private Chiang Mai Cycling Day Tours
Ride to a teaching temple where grotesque figurines portray evil. Discover everyday life in the farmers and villages along the way. Tours in Chang Mai will help you explore the way of life in rural Chiang Mai, on this exclusive daytrip. Explore public fresh markets and temples complexes dating back to the early part of the last century.
Your adventure starts around 8 am, when the team picks you up from your hotel and drives you north, beyond the city traffic and into the picturesque farmland. There, you will be fitted for your bike and begin your coast along flat country roads, through charming small villages, and past historic temple complexes. Along your route, you can stop at local fresh markets and a specially selected cafe famous for its papaya salad and grilled pork. As you approach the outskirts of town, you will reach the teaching temple of Wat Mae Ket Noi, which uses visually striking and grotesque statues to impart lessons about sins and evil. After this final excursion, we will return you back to your hotel around 4pm.
♡
Add tour to My Bucket List
💖
Saved on My Bucket List
Go Private
This tour is only available as a Private Date. Oct thru Feb best for cycling
Plan Private Trip
More details?
Download a detailed itinerary with route profiles & more, to read and share with friends.
Download Itinerary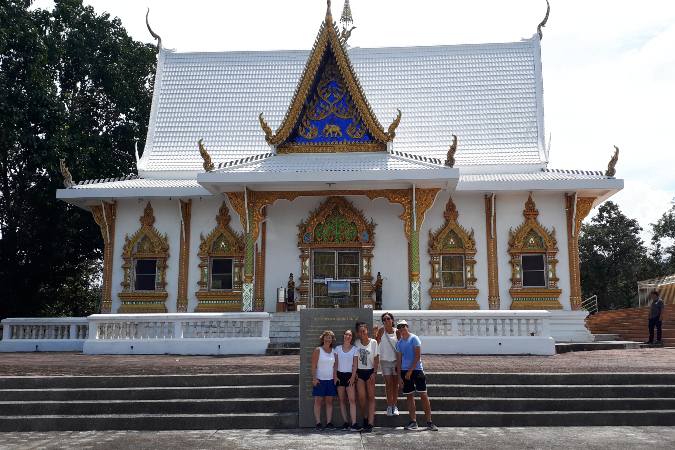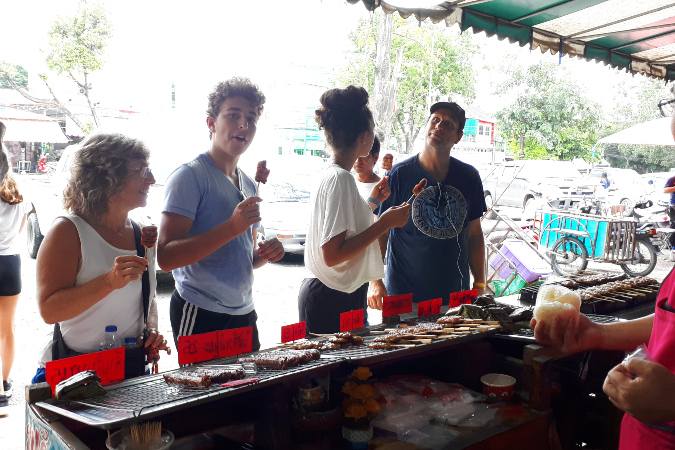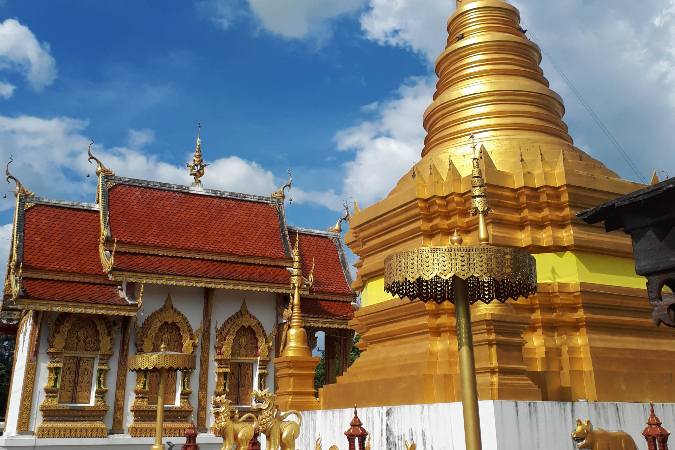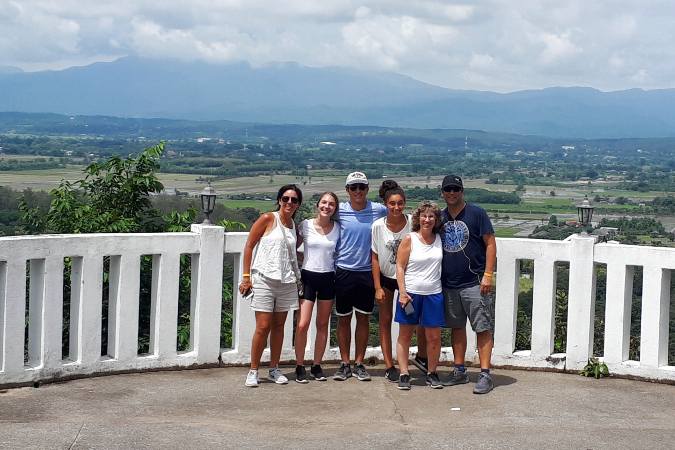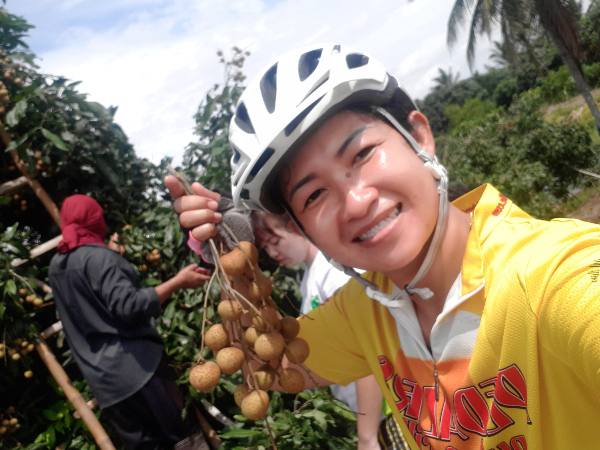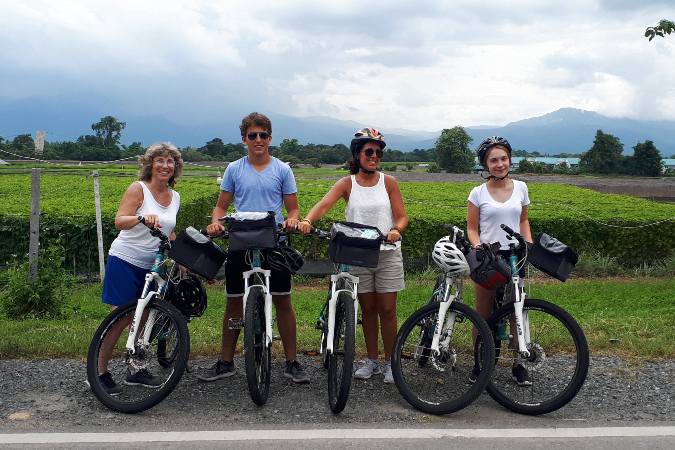 Good Eats
Our guide team will introduce guests to a wide variety of nibbles while strolling through the frersh market. Fresh fruits picked ripe on the farm the day before, fresh grilled meats and vegetables, as well as the mor eunusual Thai treats such as fried insects.
For lunch we hit a renowned local eatery with a huge variety of different Som Tam (green papaya salad) on their menu, plus a big array of other Thai specialties. You won't starve!
Good Gear
Pedalers provides Bianchi Kuma hard tail mountain bikes, however we enjoy roads that are all nicely paved.
Helmets and waterbottles are proivided for your use during the tour.
Getting There
Participants on the Panoramic Chiang Mai Bike Tour will be picked up from their hotel within the main part of Chiang Mai. Pickups can be made at hotels in the Old City, Riverside, Nimmenhaemin, Chang Puek, Kampang Din, Mae Rim and lower Mae Sa Valley. Pickups elsewhere are possible, but may involve a surcharge.
Guides will meet guests in the lobby at 8:30 am and trips usually return around 3:30 pm.
Whatcha Gonna Get
Expert local bilingual guides
Entrance and activity fees
Lunch and snacks
Unlimited drinking water**
Support van
Free use of bicycles
Hotel pick up & drop off
Ready to Ride? Sign Up Today!
Your Group, Your Date
You, your family and friends, your preferred date, our handcrafted tour routes, privately guided, the ultimate adventure getaway.
Base Price ฿7000 (first 2 guests), each additional guest ฿3250 (prices in Thai Baht)
Tour is available June thru February, with October to February best.
Go Private