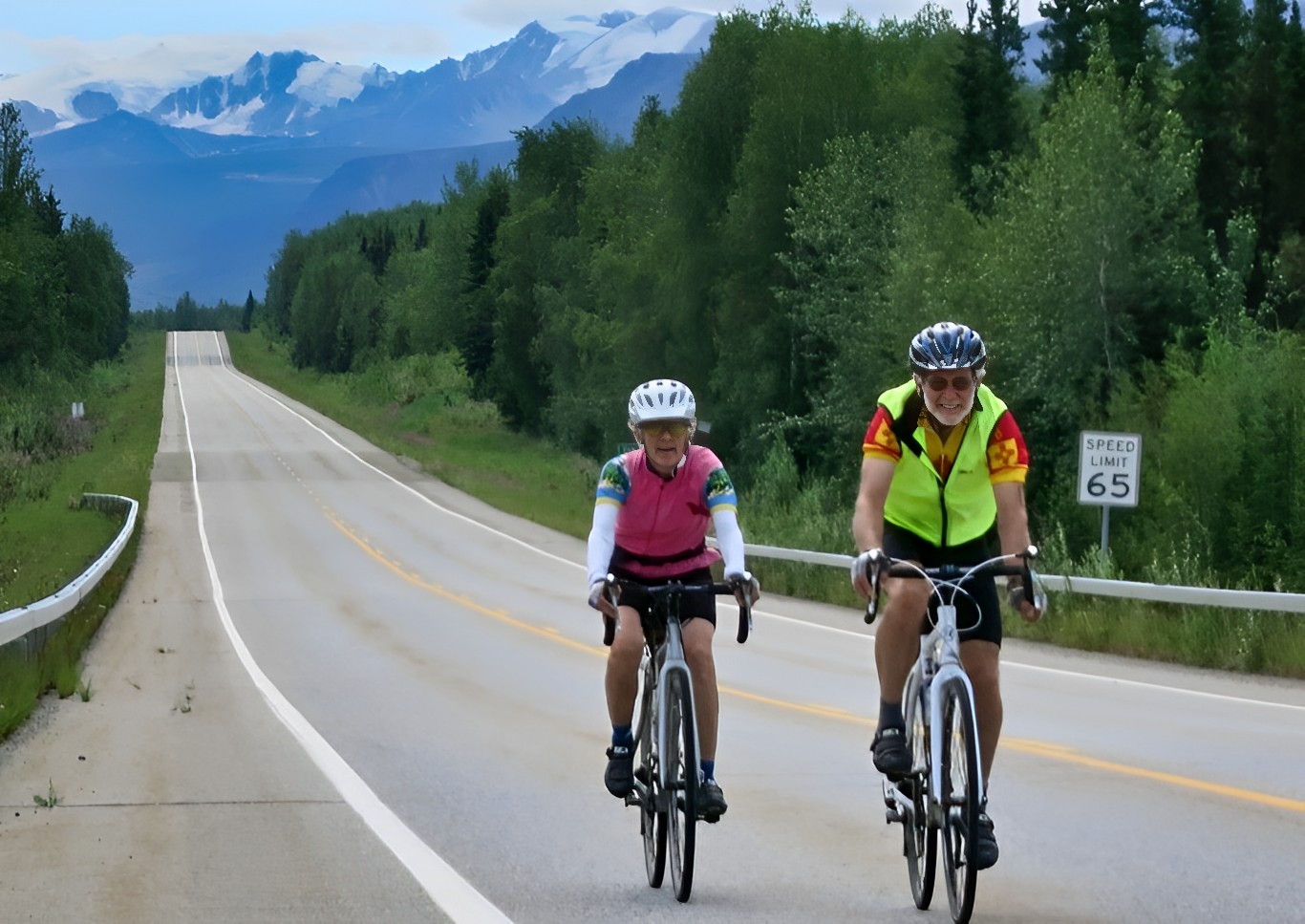 Would you like to?
Cycle the notorious Al-Can Highway
✦
Enjoy wilderness road biking
✦
Taste local artisan foods
✦
Escape the city to remote forests and mountains
✦
Discover some of North America's wildlife
Bicycling the Al-Can Highway
Get a taste of the Al-Can on our Alaska cycling holiday pedaling the notorious Alaska Highway. Cycling end to end, experience the best the Al-Can has to offer, from spectacular stretches of wilderness to eclectic small-town landmarks!
The Alaska Highway Bicycle Tour leads you from Milepost Zero to a stretch of the original Alaskan Highway, built in a short 9 months during World War II, and through the quiet, tree-covered hills of British Columbia. The route goes up and over the Steamboat Mountains, curls around the shore of the Muncho Lake, and winds down at the Lizard Hot Springs, where you can take a well-deserved day of relaxation in a hot spring surrounded by ferns and orchids. As the cycling continues, you will ride deeper into the wilderness, where bison and black bears roam the roadsides, past the snow-covered peaks of St. Elias, and along the blue waters of Kluane Lake. Upon entering Alaska, you will commemorate your journey with a photo at the famous Milepost 1422 and an amazing final dinner with Alaskan craft beers.
♡
Add tour to My Bucket List
💖
Saved on My Bucket List
Scheduled Dates
5 Aug 2024
Classic Inns $6995 per person
Book My Spot
Go Private
May thru August is the best time.
Plan Private Trip
More details?
Download a detailed itinerary with route profiles & more, to read and share with friends.
Download Itinerary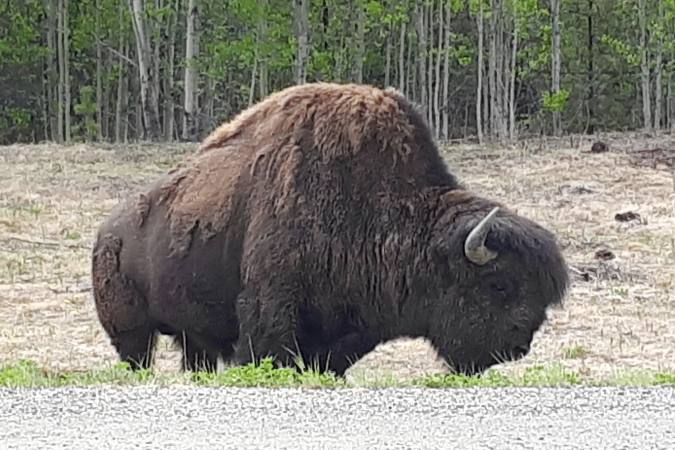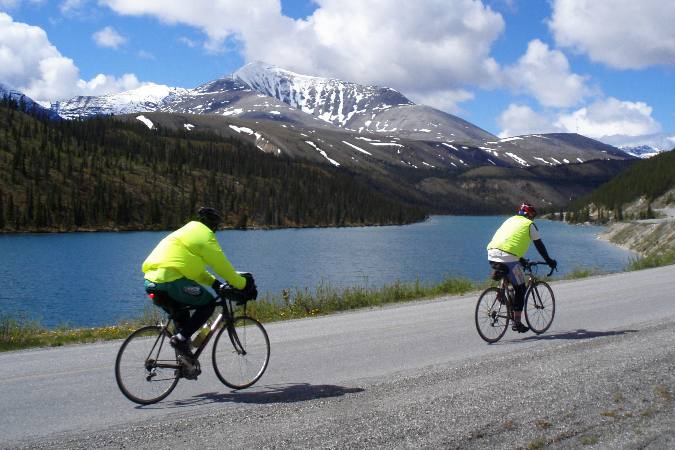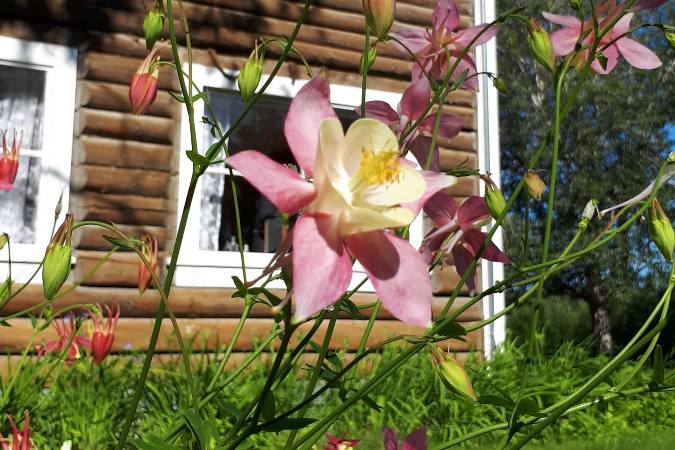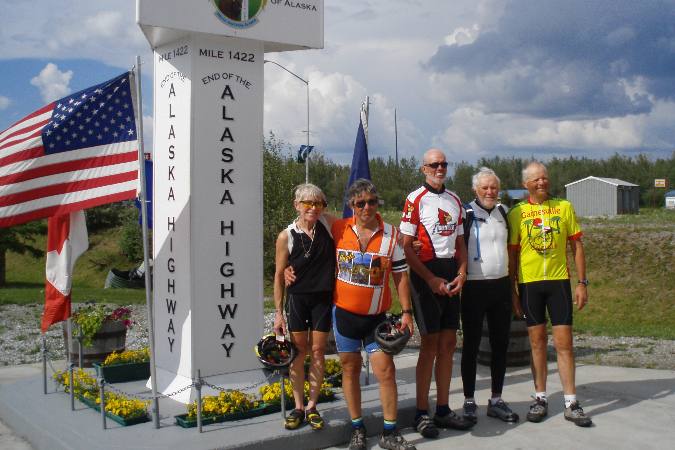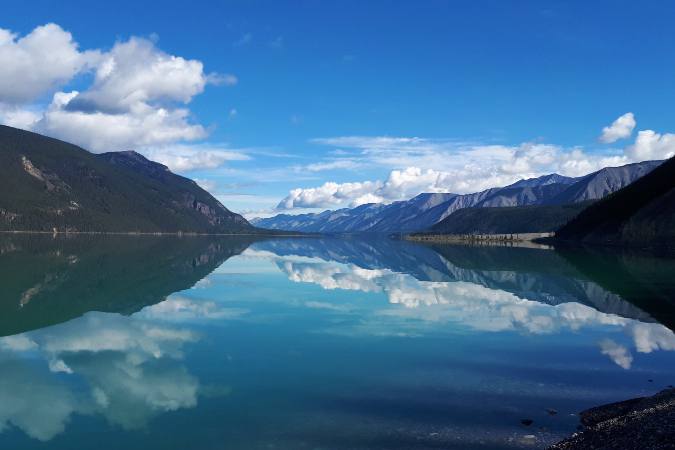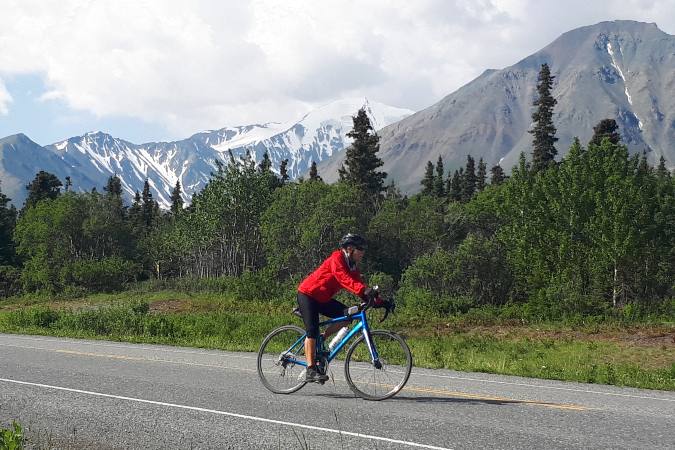 Alaska bicycle tour day by day details
Fly into Ft St John, transfer to Dawson Creek
We will gather in Dawson Creek in late afternoon, where you will have a chance to get your bike ready, meet your fellow riders and review the adventure to come.
Relax: Free time to relax until dinner
Eat: Dinner
Sleep: Stonebridge Hotel
Cycle Mile Zero to Kiskatinaw Bridge, shuttle to Pink Mountain
After the mandatory photos at Milepost Zero, we are off up the notorious Al-Can built in a short 9 months during World War 2. Our route starts on a more modern stretch, with the prerequisite traffic, but soon we turn off on an original stretch of the highway to curved wooden Kiskatinaw Bridge. Our ride today winds down in small Taylor, sitting the in deep Peace River Valley. From here we will shuttle to Pink Mountain (1 and a half hours), avoiding the highways biggest city, Ft St John, and the heavy traffic from the oilfields.
Ride: 35 mi, Land: hilly
Eat: Breakfast, Lunch, Dinner
Sleep: Buffalo Inn
Wilderness cycling, shuttle to Ft Nelson
After breakfast we head out for a fifty mile spin through the quiet, tree covered landscapes of British Columbia. The traffic is light, the air clear, the hills rolling and deep green. We will pass the locations of some of the old notorious sections of the highway, such as Suicide Hill and the Drunken Forest. The highway of today no longer follows those rough stretches, so we will just enjoy a bit of verbal history. Finish our leg with a shuttle back into civilization in Ft Nelson. (1 & half hours).
Ride: 50 mi, Land: hilly
Eat: Breakfast, Lunch
Sleep: Lakeview Hotel
Cross Steamboat Mountain, Tetsa River Ranch
One of the toughest days of cycling on the tour, takes you up and over Steamboat Mountain to Tetsa River Ranch, the Cinnamon Bun Center of the Galactic Cluster (yes they are that good). The views from high a top Steamboat are awe inspiring, a fitting reward for the long gradual ascent. And of course an enjoyable winding descent to Tetsa River Ranch, a long time working ranch, whose kitchen puts out great homemade breads and artisan meats, which we will enjoy at our dinner BBQ.
Ride: 54 mi, Land: mountainous
Eat: Breakfast, Lunch, Dinner
Sleep: Tetsa River Ranch
Cycle Summit Lake to Toad River Lodge
Today we cross the highest point on original the Al-Can Highway, Summit Lake. Because you didn't descend as much as you climbed yesterday, our uphill is shorter today through Stone Mountain Provincial Park. Relax a bit at Summit Lake, before descending to Toad River, a small community tucked away in bright green poplar forests. Tonight we sleep in lakefront cottages at Toad River Lodge renowned for its hat collection, nailed to the ceiling of the restaurant (more than 10,000 hats, yes we mean ten thousand).
Ride: 48 mi, Land: mountainous
Eat: Breakfast, Lunch
Sleep: Toad River Lodge
Muncho Lake Provincial Park, Northern Rockies Lodge
One last day in the mountains, cycling from Toad River to beautiful Muncho Lake Provincial Park. For the last couple of days the Alaska Highway followed much of the original winding route and today stays true to form. The final miles follow right along the lake shore (literally inches away), a dramatic landscape to finish the day. The short 36 miles of today's ride leaves ample time to relax on the lake.
Ride: 36 mi, Land: mountainous
Eat: Breakfast, Lunch
Sleep: Northern Rockies Lodge
Liard Hot Springs
Relaxation beckons us today, with a short morning ride to Liard Hot Springs in store. This natural hot spring surrounded by lush forests, ferns & orchids is a rather unique environment along the highway and a favorite stopping off point since the highway was first surveyed. Keep your eyes peeled for Woods Bison and Black Bears which are frequently seen along the roadsides here.
Ride: 36 mi, Land: mountainous
Eat: Breakfast, Lunch, Dinner
Sleep: Liard Hot Springs Lodge
Watson Lake signpost forest and free day
The bikes get the day off today, as we shuttle to Watson Lake, another small reminder of civilization. You have the day free to explore Watson lake, perhaps visit the sign post forest with its thousands of city signs, or perhaps the Northern Light Theatre & Space Museum.
Relax: A free day to explore
Eat: Breakfast
Sleep: Bighorn Hotel
Teslin Lake, Johnson Crossing
After breakfast we will take shuttle to Teslin Lake, home of the Tligit Nation, visit the George Johnson Museum before setting out on our bikes for the ride to Jake's Corner. Along the way we will explore a bit of the history of the Canol Road and stop in Johnsons Crossing for their homemade soups, sandwiches and delicious basked goods. The ride winds down at Jake's Corner, from where we will shuttle into Whitehorse the capitol of the Yukon Territory.
Ride: 54 mi, Land: mountainous
Eat: Breakfast, Lunch
Sleep: Gold Rush Inn
Cycling to the St Elias Range
We will shuttle out of town to the tiny village of Champagne, a First Nation settlement, to avoid the heavier traffic coming into the city. As you pedal down the Alaska Highway, the snow covered peaks of the St Elias Range start popping into view as you crest each small hill. Our goal for tonight is the small outdoor town of Haines Junction, sitting at the foot of this majestic mountain range, home to Canada's tallest peaks. Perhaps a rendezvous at Mile 1016 Pub for some local craft beers from the Yukon.
Ride: 47 mi, Land: hilly
Eat: Breakfast, Lunch
Sleep: Alcan Motor Inn
Kluane Lake, Destruction Bay
Today we are enroute to the turquoise waters of Kluane lake which runs along the foothills of the St Elias Mountains. Kluane Lake which formed due to a change in the river's flow caused by a glacier, has once again seen it water source reverse, as that glacier receded. We will relax tonight in the town of Destruction Bay overlooking the lake.
Ride: 66 mi, Land: hilly
Eat: Breakfast, Lunch
Sleep: Talbot Arm Motel
White River / Discovery Yukon
You will continue your ride along the Kluane Lake today, pedaling first to Burwash Landing, where we will visit their beautifully designed natural history museum and the historic parish church. The planned ride is 50 miles of beautiful wilderness, but folks feeling like they want more can opt to ride all the way to White River, our stop for the night at 84 miles. Perhaps try some of Discovery Yukon's unique salmon lasagna tonight.
Ride: 50 mi, Land: small hills
Eat: Breakfast, Lunch, Dinner
Sleep: Discovery Yukon
Alaska awaits!
Your final day in Canada today, as you pedal across the border into Alaska. But first you will visit Beaver Creek, Canada's western most town, with its unique church built from re-purposed military quonset huts. Today's ride winds down at the Tetlin Wildlife Refuge Visitor Center about 30 miles past the border. After time to discover nature, we will shuttle into Tok for the night.
Ride: 60 mi, Land: small hills
Eat: Breakfast, Lunch, Dinner
Sleep: Burnt Paw Cabins
End of the Road, Mile 1422
The upper end of the Al-Can, milepost 1422 approaches. If the group is ambitious, we can pedal the entire 100 miles to the finish, otherwise we will shuttle out to diminutive Dot Lake Village and bike the final 63 miles of the famed Al-Can Highway. A round of congratulations, mandatory photos at Milepost 1422 and an awesome final dinner with great Alaskan craft beers finishes your taste of the Al-Can. We will spend the night in Delta Junction.
Ride: 61 mi, Land: small hills
Eat: Breakfast, Lunch, Dinner
Sleep: Kellys Alaska Country Inn
Depart
After breakfast, we shuttle back towards Fairbanks Airport, but along the way we will visit Rika's Roadhouse, a restored historic roadhouses and the Knotty Shop with its great homemade ice cream. Then fond farewells at Fairbanks Airport bidding everyone a safe flight home.
Travel: Shuttle to airport
Eat: Breakfast
Frontier Grub & Gourmet Cuisine
Dining on our Alaska trips is one of contrasts. Some evenings our remote lodges offer frontier grub, hearty family cooking that is heavy on meats, fish and potatoes, similar to what early residents survived on. Other nights we dine on outstanding culinary treats with salmon, halibut, garden fresh salads, delightful homemade deserts.
Travelers considering the trip need to be aware that the tour is not vegetarian friendly, as choices at remote lodges may be limited to salad and fries for non meat or fish eaters.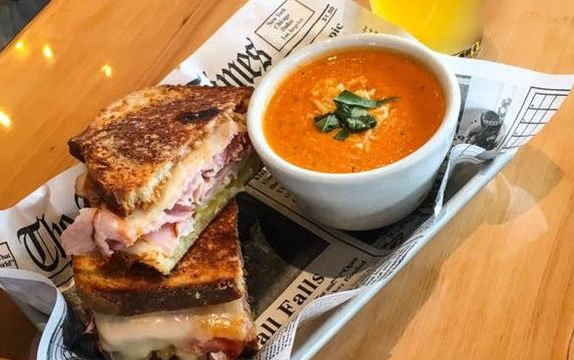 Good Gear
Pedalers provides Fuji Sportif, a lightweight, touring road bike. The bikes are equipped with beefier tires to handle Alaskan roads, disc brakes, dropbars and a wide range of gearing for the rolling terrain.
As a safe health measure, guests are asked to bring their own helmets and waterbottles for cycling.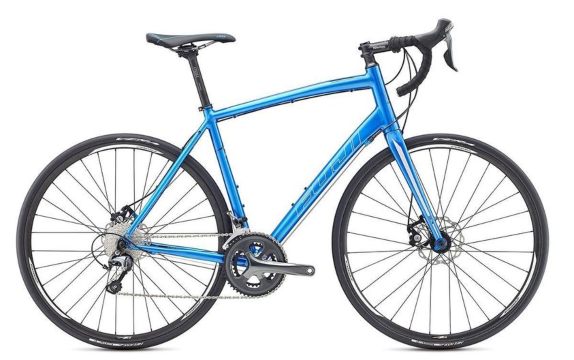 Getting There
The Alaska Highway Bike Tour meets at Fort St John Airport, BC, Canada and ends at Fairbanks International Airport, Alaska, USA.
Guests should plan their flights to arrive in Fort St John before 16:00 (4 pm) on Day 1 of the tour and their departing flights from Fairbanks after 10:00 (10 am) on Day 15.
Fort St John Airport code: YXJ Fairbanks Airport code: FAI Local Time: GMT-9 / GMT-9
Documents Please
Passports are required for all guests. Visas maybe required depending on your nationality, check with the nearest American & Canadian embassies.
Whatcha Gonna Get
Expert local guides
Entrance and activity fees
Handpicked lodges, ensuite rooms, double occupancy
Daily breakfast, lunch, snacks*
Dinners featuring fine local cuisine*
Unlimited drinking water
Support van for baggage and lifts
Free use of bicycles
Airport pick up & drop off
*as noted in itinerary

Dietary Notice: This tour is not vegetarian friendly. Some of the remote lodges we use have very limited menus which focus on meat and fish. Our apologies.
Ready to Ride? Sign Up Today!
Your Group, Your Date
You, your family and friends, your preferred date, our handcrafted tour routes, privately guided, the ultimate adventure getaway.
Classic Inns from $7150
May thru August is the best time to go.
Request My Private Date
Join a Scheduled Departure
Join a group of like minded travelers (8 guests max) on one of the dates below:
2024:  5 Aug
Classic Inns: $6995 per person, double occupancy
Single Room: +$1095 Deposit: $700
Book Now