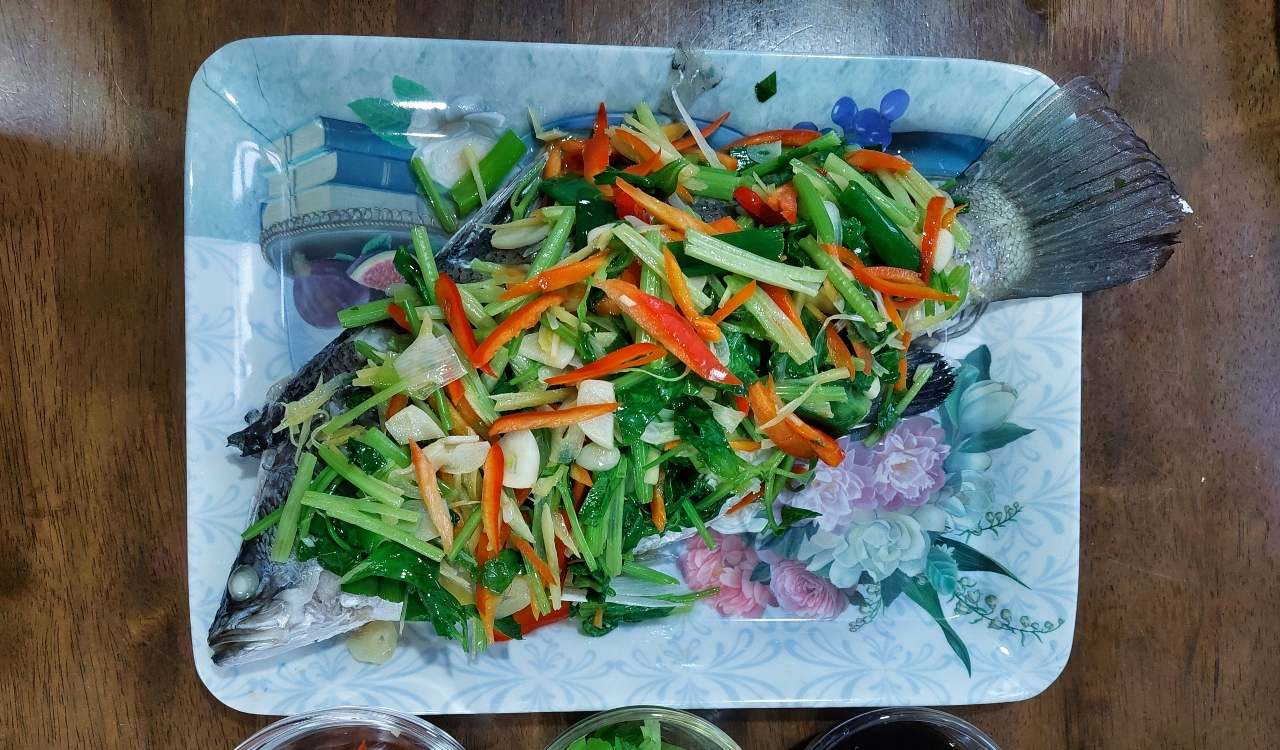 Steamed Asian Sea Bass
Ingredients:

Asian Sea Bass - whole fish, medium size (~800 gram)
Teriyaki Sauce - 2 tsp
Chinese Cabbage - 1 medium head
Shiitake Mushrooms - 100 gr
Garlic - 1/3 cup, sliced in discs
Chilies - 1/3 cup, sliced in strips
Fresh Ginger - 2 tbsp, sliced in thin strips
Spring Onion - 1 to 1 1/2 cup, sliced in 2 inch pieces
Celery - 2 cups, cut into 2 inch strips
Vegetable Oil - 1 tbsp
Sugar - 2 tbsp
Oyster Sauce - 1 to 1 1/2 tbsp
Soy Sauce - 1 tbsp
Sweet Soy Sauce - 1 tbsp
Ground pepper - 1/4 tbsp
Water - 2/3 cup
Preparation:

Score both sides of the fish with big crisscross (not deep). Brush teriyaki sauce on both sides of the fish, then lay on a bed of chinese cabbage in tray of steamer. Cook until fish is done (10 minutes or so), then take out of steamer to avoid overcooking.

Heat up wok or fry pan with the oil, add in garlic, ginger and mushrooms and stir fry until mushrooms are getting soft. Then add in spring onion, celery, fresh chilies and stir fry until chilies get soft. Plate up your fish with cabbage still underneath and scoop the stir fried vegetables over the top.

Add water to the same pot you cooked the vegies in, then add in sugar, ground pepper and sauces, constantly stirring over medium heat for 3 to 4 minutes. Then pour over fish and vegetables.

Serve with steamed rice, enjoy.