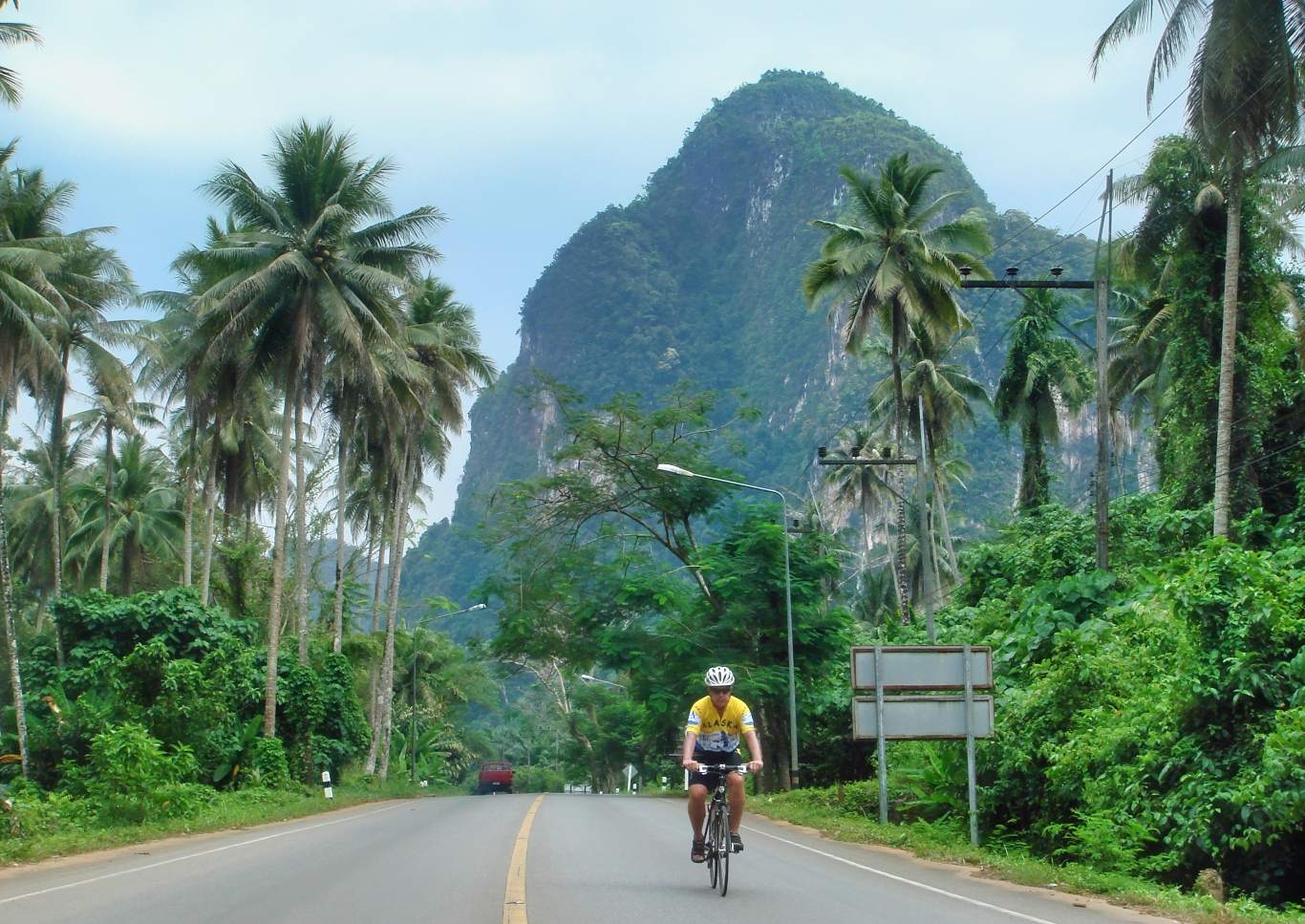 Would you like to?
Enjoy seafood fresh from the ocean's waters
✦
Explore colorful, ornate Budhhist temples
✦
Cycle through lush rainforest and emerald rice paddies
✦
Relax beachside in small inns
✦
Bicycle the best of Thailand
Bangkok to Phuket Bike Tour
Experience the best of Thailand on this 10-day cycling tour, showcasing the country from a local's perspective. From the vibrant streets of Bangkok to the serene beaches of Phuket, immerse yourself in the rich culture and warm hospitality of the locals. Pedal along scenic coastal routes, passing charming fishing villages and untouched beaches.
Discover hidden waterfalls, visit traditional temples, and indulge in delicious local cuisine. Immerse yourself in the vibrant markets, witness breathtaking sunsets, and relax in natural hot springs. Engage with friendly locals, explore bustling markets, and create lasting memories. This tour offers an authentic and immersive experience, allowing you to truly connect with the heart and soul of Thailand while enjoying the thrill of cycling through its captivating landscapes.
♡
Add tour to My Bucket List
💖
Saved on My Bucket List
Go Private
This tour is only available as a Private Date. Jan to Jun is best for cycling.
Plan Private Trip
More details?
Download a detailed itinerary with route profiles & more, to read and share with friends.
Download Itinerary
Thailand cycling tour day by day details
Welcome to Bangkok, the bustling capital of Thailand!
Immerse yourself in the vibrant atmosphere as you explore the city's cultural and culinary treasures. Marvel at the intricate architecture of the Grand Palace and Wat Arun, visit the sacred Wat Phra Kaew, and take a boat ride along the Chao Phraya River, soaking in the picturesque views. Dive into the bustling markets like Chatuchak Weekend Market and taste the mouthwatering street food at Yaowarat (Chinatown). In the evening, experience the vibrant nightlife of Bangkok, from rooftop bars with stunning cityscape views to lively night markets where you can shop for unique souvenirs. Bangkok offers a perfect blend of tradition and modernity, making it an exciting start to your journey.
Relax: Free to explore until dinner
Eat: Dinner
Sleep: X2 Vibe Hotel
Leave the bustling city behind as you shuttle to Petchaburi and begin an exhilarating bicycle ride to Hua Hin.
Pedaling along the picturesque coastal road, you'll be treated to breathtaking views of the Gulf of Thailand. Pass by charming fishing villages and stop at scenic spots to capture the beauty of the pristine beaches. In Hua Hin, take a refreshing dip in the crystal-clear waters or simply relax on the sandy shores. Explore the lively Hua Hin Night Market, where you can indulge in delectable seafood, try local snacks, and shop for handicrafts. Don't miss visiting the famous Hua Hin Railway Station, an architectural gem. Hua Hin's laid-back beach vibes and charming atmosphere will make you feel right at home.
Ride: 36 mi / 60 km, Land: flat
Eat: Breakfast, Lunch, Dinner
Sleep: Asira Boutique
Another exciting day of cycling as you ride from Hua Hin to Prachuap Khiri Khan.
Along this scenic coastal route, you'll be treated to stunning vistas of the azure sea and verdant landscapes. Take a moment to visit the local temples, where you can pay your respects and admire the intricate details of the Buddha statues. As the day draws to a close, head to Khao Chong Krachok, a hilltop temple that offers panoramic views of the city and the shimmering sea. Witness a mesmerizing sunset and soak up the serene atmosphere. In Prachuap Khiri Khan, embrace the warm hospitality of the locals, unwind on the tranquil beaches, and feast on fresh seafood delicacies at beachside restaurants. This hidden gem loved by locals will capture your heart.
Ride: 52 mi / 84 km, Land: flat
Eat: Breakfast, Lunch, Dinner
Sleep: Ruenpurksa Resort
Today's cycling adventure from Prachuap Khiri Khan to Ban Krut.
Revealing the untouched beauty of Thailand's coastal landscapes. Pedal along the scenic coastal road, passing by charming fishing villages and witnessing the simple way of life. Marvel at the long stretches of pristine beaches and turquoise waters. Along the way, make a stop at Bang Saphan, a charming town famous for its coconut plantations. Explore local markets and savor delicious coconut-based treats like coconut ice cream or sticky rice with coconut. Arrive in Ban Krut, a serene coastal paradise away from the crowds. Here, you can unwind on the white sandy beaches, take a leisurely swim, and enjoy the tranquil ambiance. Indulge in local cuisine and experience the genuine warmth of the locals, creating unforgettable memories.
Ride: 39 mi / 62 km, Land: flat
Eat: Breakfast, Lunch, Dinner
Sleep: Baan Grood Arcadia Resort
Gear up for a scenic coastal ride from Ban Krut to Chumphon.
Immerse yourself in the beauty of Thailand's nature. As you pedal along the picturesque route, take in the breathtaking views of the sea and surrounding landscapes. Make a stop at Bang Nam Chuet Beach, a hidden gem known for its turquoise waters and soft white sands. Dive into the refreshing waters for a swim or simply relax on the beach, enjoying the serenity. Arrive in Chumphon, a coastal town renowned for its vibrant marine life and stunning coral reefs. If you're a diving or snorkeling enthusiast, this is your chance to explore the underwater world. Engage with the friendly locals, savor mouthwatering seafood, and immerse yourself in the authentic charm of Chumphon.
Ride: 53 mi / 110 km, Land: flat
Eat: Breakfast, Lunch, Dinner
Sleep: Nana Beach Resort
Today, your cycling journey takes you from Chumphon to Ranong.
After a shuttle from the coast to the foothills, you will ride the captivating landscapes and hidden gems. Pedal through lush green forests, accompanied by the melodious sounds of nature. Discover hidden waterfalls nestled among the greenery, where you can take a refreshing break and enjoy the tranquil surroundings. Arrive in Ranong, a charming town famous for its natural hot springs. Take a dip in the healing waters and let your tired muscles relax after a day of cycling. Explore the vibrant local markets, where you can find unique souvenirs and traditional snacks. Don't forget to try the famous Ranong-style noodles, a local culinary delight. Engage with the friendly locals, learn about their traditions, and create lasting memories in Ranong.
Ride: 43 mi / 68 km, Land: mountainous
Eat: Breakfast, Lunch, Dinner
Sleep: Numsai Khaosuay Resort
Pedal from Ranong to Kuraburi.
Get ready to immerse yourself in the untouched beauty of Thailand's natural landscapes. Ride through lush mountains and picturesque rice fields, feeling at one with nature. Along the way, you'll encounter local attractions, such as charming temples or traditional villages. Take your time to explore and interact with the locals, who will gladly share their stories and customs. Feel the tranquility of the surroundings as you cycle through this serene route. Arrive in Kuraburi, where you can relax and rejuvenate in the peaceful ambiance. Immerse yourself in the local culture, try authentic Thai dishes, and enjoy the warm hospitality of the community.
Ride: 65 mi / 105 km, Land: hilly
Eat: Breakfast, Lunch, Dinner
Sleep: Kuraburi Greenview Resort
Continue your thrilling cycling journey from Kuraburi to Khao Lak.
Today you weave through nature's breathtaking landscapes. Pedal along winding roads that offer stunning views of mountains, valleys, and rivers. Discover hidden waterfalls, where you can take a refreshing dip and be enchanted by their beauty. As you approach Khao Lak, the Andaman Sea reveals itself in all its glory. Marvel at the azure waters and pristine beaches that stretch as far as the eye can see. Enjoy panoramic views of the coastline and capture picture-perfect moments. Explore the nearby national parks, go on jungle treks, or simply relax on the beach, basking in the natural splendor of Khao Lak.
Ride: 53 mi / 85 km, Land: hilly
Eat: Breakfast, Lunch, Dinner
Sleep: Sea View Reosrt
final leg of your journey, cycle from Khao Lak to Phuket.
Revel in the coastal vistas and lush landscapes. Pedal along scenic routes, passing by charming villages and local attractions. Immerse yourself in the rich culture of the region by visiting traditional markets, where you can shop for handicrafts and sample local delicacies. As you reach Phuket, Thailand's largest island, you'll be greeted by stunning beaches, crystal-clear waters, and a vibrant atmosphere. Spend your day exploring the island's diverse attractions, from historic temples to vibrant nightlife. Relax on the world-famous beaches, indulge in delicious seafood, and soak in the tropical ambiance before bidding farewell to this enchanting paradise.
Ride: 42 mi / 69 km, Land: flat
Eat: Breakfast, Lunch, Dinner
Sleep: Nai Yang Beach Resort
Sawadee, see you again
Depart from Phuket with cherished memories of your cycling adventure through Thailand's captivating landscapes, vibrant local experiences, and warm hospitality. Reflect on the sights, sounds, and flavors you've encountered along the way, carrying the spirit of Thailand with you as you journey back home.
Travel: Shuttle to airport
Eat: Breakfast
Getting There
The Bangkok to Phuket Bike Tour meets at Suvarnabhumi International Airport in Bangkok, Thailand and ends at Phuket International Airport in Phuket, Thailand
Guests should plan their flights to arrive in Bangkok before 07:00 (7 am) on Day 1 of the tour and their departing flights from Phuket after 10:00 (10 am) on Day 10.
Bangkok Airport code: BKK Phuket Airport code: HKT Local Time: GMT+7
Travel Tip: Buying your domestic flight from Phuket to Bangkok separately from your international flight to Thailand is often a better value. But do leave sufficient time between flights (4 hours suggested).
Documents Please
Passports are required for all guests. Visas maybe required depending on your nationality, check with the nearest Embassy of Thailand.
Whatcha Gonna Get
Expert local bilingual guides
Entrance and activity fees
Handpicked lodges, ensuite rooms, double occupancy
Daily breakfast, lunch, snacks*
Dinners featuring fine local cuisine*
Unlimited drinking water**
Support van for baggage and lifts
Free use of bicycles
Airport pick up & drop off
*as noted in itinerary
**during activity
Ready to Ride? Sign Up Today!
Your Group, Your Date
You, your family and friends, your preferred date, our handcrafted tour routes, privately guided, the ultimate adventure getaway.
Classic Inns from $2450
Tour is available year round. January to June is best for cycling.
Request My Private Date