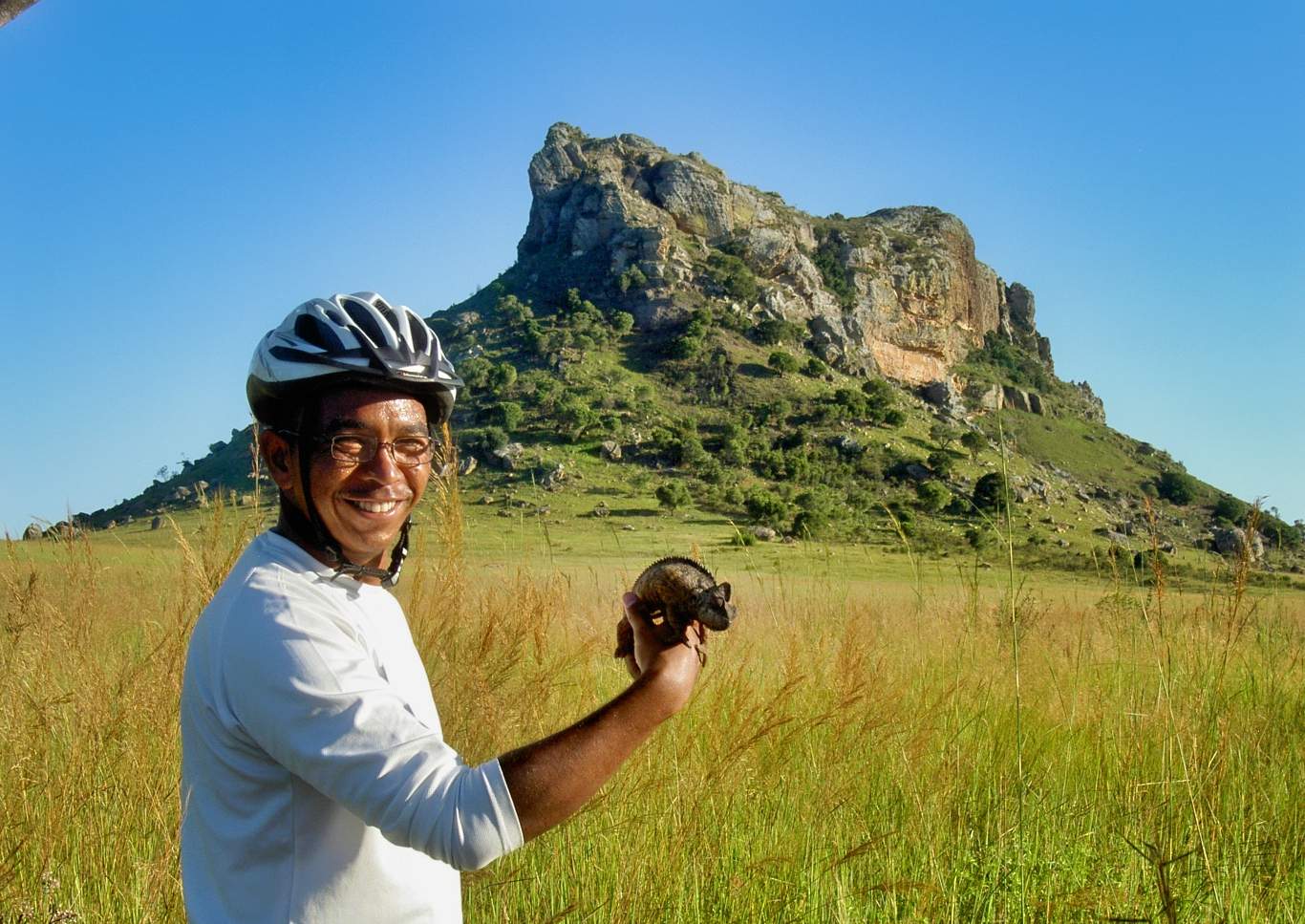 Would you like to?
Hike Isalo National Park
✦
Bike through rural ethnic villages
✦
Learn about the Zafimaniry woodcarvers
✦
Search for lemurs in the rainforest
✦
Bicycle Madagascar's northern beaches
Lemurs, Landscapes, Cycling Madagascar
Experience and explore the wonderful scenery of Madagascar by joining us on the Cycling in Madagascar tour. Pedal and hike Madagascar's southern reaches, explore national parks, home to the inquisitive lemurs teeming with the island's famous animals, and bed down in comfortable safari lodges and resorts! Spent a couple of days to relax along the oceanside at trip's end before flying back home.
This Madagascar Cycling Tour promises you unbeatable views of the tropical landscape as you bike to mysterious crater lakes, past mesmerizing rice terraces, and through lush rainforests. The ambitious route weaves through the towering granite boulders to a national park, where lemurs live among the orchids, ferns, trumpet flowers and bamboos. In the tea growing region, you will cross valleys of cassava and eucalyptus to reach a rarely-visited village where you will learn the art of traditional Antaimoro papermaking and the renowned Zafimaniry carving. Ride along roads that stretch for miles with little or no traffic and through grasslands, fruit farms, and baobab forests to the warm ocean waters. Discover Madagascar from a purely local point of view.
♡
Add tour to My Bucket List
💖
Saved on My Bucket List
Scheduled Dates
Classic Inns €2550 per person
Book My Spot
Go Private
March to Oct is best for cycling.
Plan Private Trip
More details?
Download a detailed itinerary with route profiles & more, to read and share with friends.
Download Itinerary
Madagascar bicycle tour day by day details
Arrive in Antananarivo, enjoy walking tour, cycle to UNESCO Heritage Sites: Ambohimanga and ancient Rova.
Upon arrival in Antananarivo you will be greeted by your tour manager and transferred to your hotel. The rest of the day is at leisure. Antananarivo, mostly cut to Tana, takes its name from an episode in Malagasy history. King Andrianjaka had his royal palace and stronghold here. The name of the town means "one thousand warriors". He quartered them there and he called this city Antananarivo.
Relax: Free time to do as you please
Eat: On your own
Sleep: Orchid Hotel
Transfer to Antsirabe, warm up ride
Transfer to Antsirabe by car. On the way we visit an aluminum pot making factory in Ambatolampy. The drive takes us along a gravel road in the highlands, past rice and fruit fields. The local bike enthusiasts wave to us. Because of its position in the highlands, Antsirabe, 4500ft. above sea level, during its French rule was also a favorite recuperation site. In the afternoon bike fitting and short bike ride out.
Ride: 10 mi / 16 km, Land: hilly
Eat: Breakfast, Lunch, Dinner
Sleep: Des Termes
Shuttle to Antanifotsy, cycle through rice paddies and fruit orchards en route to French colonial town of Antsirabe.
The lakes should not be missed when you pass to Antsirabe, the two most known crater lakes make this are extraordinary mysterious, that are Andraikiba and Tritriva. On the ways we have the chance to enjoy the typical landscape of the Merina ethnic group, we pass first Andraikiba it is 7 km from the city. Of a circumference nearly 5 km, one easily tour can be just following the little path surrounding it. Formerly, this lake was an important center for water sport activities. After we continue the fun with our mountain bike to borrow a track to reach another lake, more spectacular, and full with myth which is the lake Tritriva. Before even reaching it, we can see the Mount Tritriva starting from the village of Belazao. This Crater Lake with its volcanic landscape is formed by following deep and impressive collapse. Nested at an altitude of about 1880m to the hollow of a small mountain, we enjoy our Picnic lunch.
Ride: 35 mi / 59 km, Land: hilly
Eat: Breakfast, Lunch, Dinner
Sleep: Des Termes
Ride to Lake Andraikiba, bathe where ancient Merina Queens used to, visit craftshop making miniature bicycles.
After breakfast we cycle further south on the hilly road to Ambositra, passing many rice terraces of farmers who can harvest up to three times a year. Ambositra is the home of the Zafimaniry carving and we will visit a carpenter. Stay at a nice hotel, the rooms is decorated by local artists.
Ride: 59 mi / 95 km, Land: hilly, then flat
Eat: Breakfast, Lunch, Dinner
Sleep: La Piscine Escapde
Bike to Ambositra, discover the techniques of Zafimaniry carving, pedal through farming villages.
A transfer by our vehicle takes us to the small village of Camp Robin. On a rural village we ride in a very beautiful valley below towering granite boulders to Ambohimahasoa. After two climbs on the short tar section we ride again through villages and eucalyptus forest until we reach the rain forest of Ranomafana National Park. The last few miles are downhill to our lodge where we append the night.
Ride: 43 mi / 70 km (25 dirt), Land: hilly
Eat: Breakfast, Lunch, Dinner
Sleep: Cristo
Cycle the towering granite boulders of Ambohimahasoa, explore Ranomafana Nat Park on foot looking for lemurs.
We will enjoy a day walk in the park embarking on a trek in the Ranomafana rainforest. Probably we will find lots of birds, frogs, lemurs and other species. We hope to see Redbellied lemurs, Redfronted lemurs, and Diadema Sifaka. Although present, the Golden bamboo Lemur and the Broad-nosed gentle Lemur, are more difficult to find. The park is also flora rich with orchids, tree ferns, palms mosses, trumpet flowers and stands of giant bamboo.
Walk: 3 to 4 hours
Eat: Breakfast, Lunch, Dinner
Sleep: Cristo
Bike past sand gatherers and basket weavers to the tea country.
After breakfast we drive back up again to Andovoka, and from here we start to cycle. During the trip we see locals selling piles of sand, gained from the nearby river as well as women weaving baskets. On a good gravel road we reach our hotel right in the center of a tea growing area. Possibly we visit the Sahambavy Tea Estate, the only tea plantation in Madagascar. The tea estate created in 1970, set in a pretty valley beside Lake Sahambavy, produces large quantities of tea for both export to Mombasa in Kenya and for local consumption. Overnight stay in the charming bungalows overlooking a lake.
Ride: 40 mi / 64 km (44 dirt), Land: hilly
Eat: Breakfast, Lunch, Dinner
Sleep: Lac Hotel
Discover the tea growing area of Anjamba, overnight in bungalows overlooking the large lake.
We cycle to Fianarantsoa, the former spiritual center of the country. Here we make the center a longer break. If you want to check your mails or even get souvenirs there is a chance now. Then it goes on, mostly downhill, to Ambalavao. The ride is very scenic, with views into the valleys. Only shortly before arrival it is undulated. Alternatively we can cycle Ambalavao from the hotel Sahambavy 54 km on mostly difficult dirt road. The car cannot follow here. We cross several small valleys with rice and cassava plantations and some eucalyptus forests. It is an adventure, because the former street is getting a footpath. Tourists do not come here; the children have rarely seen light-colored people and are curious about us. The 9 km long descent to Ambalavao rewards us for the steep climb. In Ambalavao we visit the traditional Antaimoro papermaking. The origin of the copper-colored paper that feels like fine, silky wallpaper is far back into the past. 75 km (15 dirt)
Ride: 47 mi / 75 km (15 dirt), Land: hilly, then flat
Eat: Breakfast, Lunch, Dinner
Sleep: LacHotel
Explore off the beaten path, leaving roads behind for footpaths through the villages, relax tonight in Ambalabao wine region.
Near to our hotel is a craft shop, which produces the well-known Antaimoro paper. We leave the busy little town heading further south. The landscape changes into open grassland savanna dotted with enormous granite mountains. Bizarre landscapes of towering cliffs await us in the small nature reserve of Anja with superb scenery, plants, Betsileo history, caves and tombs and ring-tailed lemurs. We take an hour walk into the park before we leave the road entering the Tsaranoro Valley leading into the Andringitra Mountains. We stay over at a rustic camp for two nights.
Ride: 35 mi / 56 km (20 dirt), Land: hilly
Eat: Breakfast, Lunch, Dinner
Sleep: Aux Bougainvillées
Ride thru grasslands region to Tsaranao Valley, enjoy 2 nights in a safari camp.
Several tours are available as the ascent of Mount Tsaranoro. After villages, rice fields and hills we reach a sacred forest around which entwines a story. This area is well known for many lemurs like the lively Catta lemurs. Today we walk through the woods to traditional villages in secluded valleys. The mountains are volcanic in origin. It consists of strongly fissured granite. The Andringitra massif is extending in a length of 100 km. We appreciate spectacular views over this ancient landscape. Lots of historic places are to discover.
Walk: 3 to 4 hours
Eat: Breakfast, Lunch, Dinner
Sleep: Aux Bougainvillées
Bike through papaya and mango farms.
We ride back to the tarred road to Ankaramena. The place is well known for its delicious mango and papaya fruits. In our support we drive to Ihosy and from there we continue to the plateau of Horombe. To get a better impression of this amazing landscape, we ride the last 20 km to our lodge on the edge of the Isalo National Park. The swimming pool is ideal for swimming. 60 km (20 dirt)
Ride: 37 mi / 60 km (20 dirt), Land: hilly
Eat: Breakfast, Lunch, Dinner
Sleep: Tsara Camp
Enjoy the renowned mango and papayas of Anamarena, bike across the Horombe Plateau and I'salo Nat Park.
First we drive on asphalt, but soon on beautiful sandy easy way to the national park. The Isalo National Park is at fantastic and bizarre rock formations shaped by erosion mountain landscape with caves, deep canyons, streams and beautiful oases. The Isalo Massif is a spectacular eroded sandstone mountains and the water reservoir in the area. We hope to see lemurs and enjoy the spectacular views of the region. Later we will have the opportunity at, "Piscine Naturelle" to take a bath. After our hike we cycle to the "Maison du Tourisme" which is a few kilometers along the RN7. From here we have a good view of the Isalo Mountains. Here our bike tour ends. 32 km (20 dirt)
Ride: 20 mi / 32 km (20 dirt), Land: hilly, then flat
Eat: Breakfast, Lunch, Dinner
Sleep: Orchidée del'Isalo
Shuttle to Ilfaty, visit fishing villages, baobab forests and ancient tombs
We take the bus direction Toliara on (Tulear), the end of the national road RN7. On the way we see impressive baobab trees that act as scattered wild in this environment. We also have a look to the tombs of the Mahafaly and Antandroy. The area around Toliara is the home field of the Vezo ethnic group. They earn their living by fishing. After a short stop in the town we drive to Ifaty, a small fishing village. This invites the warm Indian Ocean for a swim. In the evening we forget all the hardships and celebrate the end of our bike ride. Our local guide bids us adieu.
Relax:Overland transfer to beach
Eat: Breakfast
Sleep: Belle Vue
Relax beach side in Ilfaty, optional daytrips to nearby parks.
Enjoy a couple of days of leisure on the coast. Warm ocean waters and a reef teaming with fish just offshore provide great snorkeling options. or if you like to see more of the unique plant life take a walk in nearby Reniala Nature Reserve, which is known for the variety of didierraceae, adasonia, euphorbia and baobab trees.
Relax: Free day
Eat: Breakfast
Sleep: Belle Vue
Relax beach side in Ilfaty
Another free day on the beach.
Relax: Free day
Eat: Breakfast
Sleep: Belle Vue
Depart Madagascar with many fond memories.
Our hotel will shuttle folks to Toliara Airport for your return flight to Tana and connections back home.
Travel: Shuttle to airport
Eat: Breakfast
Getting There
The Madagascar Bike Tour meets at Ivato International Airport in Antananarivo, Madagascar and ends at Toliara Airport in Tulear, Madagascar
Guests should plan their flights to arrive in Chiang Mai before 16:00 (4 pm) on Day 1 of the tour and their departing flights after 10:00 (10 am) on Day 16.
Antananarivo Airport code: TNR Tulear Airport code: TLE Local Time: GMT+3
Travel Tip: Flights out of Tulear are often delayed and sometimes cancelled. It is advisable to book your outbound international flight for one day later.
Documents Please
Passports are required for all guests. Visas maybe required depending on your nationality, check with the nearest Embassy of Madagascar.
Whatcha Gonna Get
Expert local bilingual guides
Entrance and activity fees
Handpicked lodges, ensuite rooms, double occupancy
Daily breakfast, lunch, snacks*
Dinners featuring fine local cuisine*
Purified drinking water**
Support van for baggage and lifts
Free use of bicycles
Airport pick up & drop off
*as noted in itinerary
**during activity
Ready to Ride? Sign Up Today!
Your Group, Your Date
You, your family and friends, your preferred date, our handcrafted tour routes, privately guided, the ultimate adventure getaway.
Classic Inns from €2750
Trip is available from March through October.
Request My Private Date
Join a Scheduled Departure
Join a group of like minded travelers (8 guests max) on one of the dates below:

Classic Inns: €2550 per person, double occupancy
Single Room: +€460 Deposit: €250
Book Now