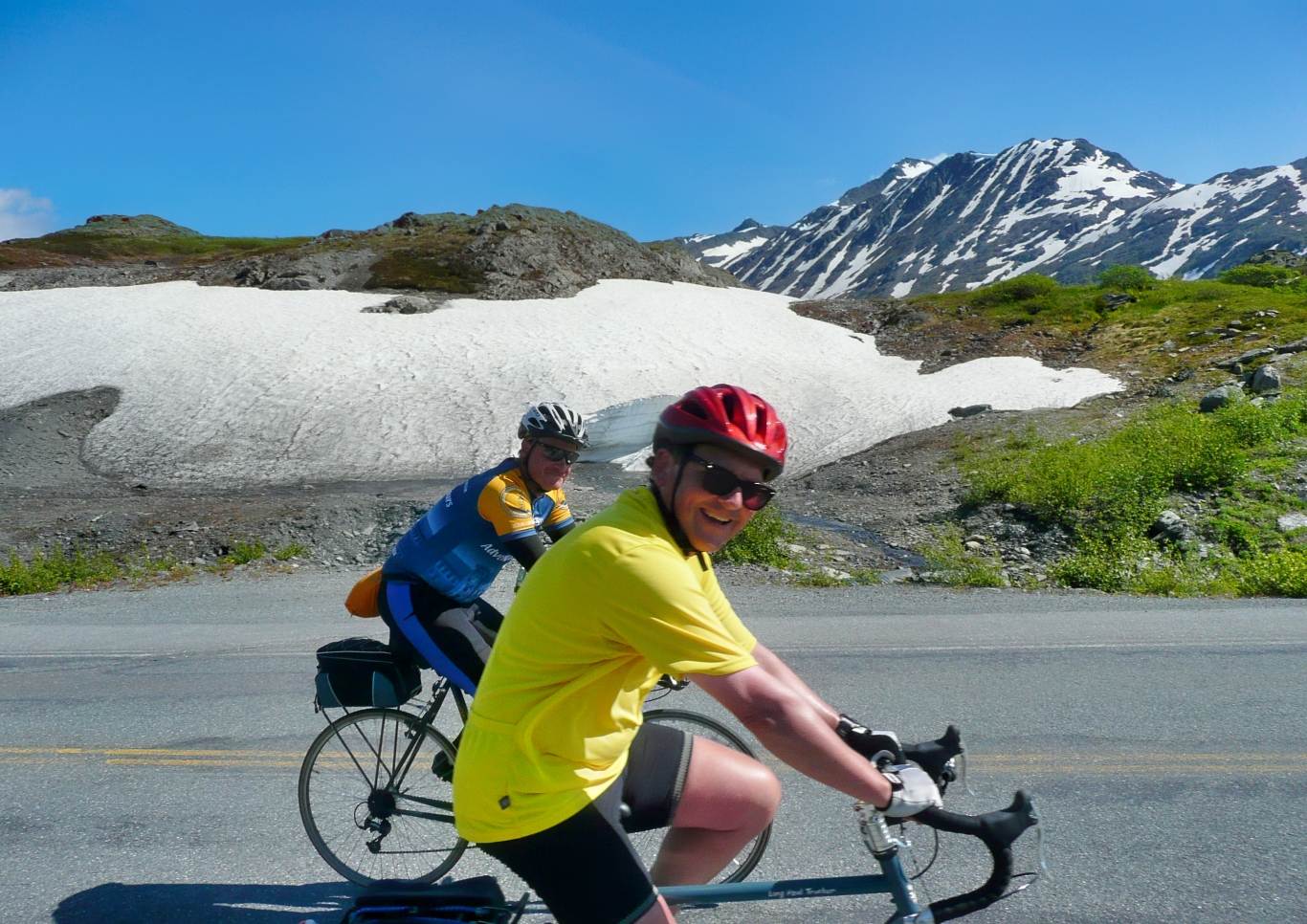 Would you like to?
Enjoy evening tastings from some of Alaska's 45 craft breweries
✦
Cycle through dramatic landscapes
✦
Have time to explore the vast Denali National Park
✦
Bed down in eclectic lodges and inns
✦
Discover Alaska
Alaska Cycling & Craft Beer Tasting
On this exclusive Alaskan adventure, cycle the serene Alaskan wilderness, explore eclectic Alaskan towns, and cool down with crisp, locally brewed craft beer each night! The Alaskan Bike & Beer Tour begins within thick forests of Aspen and Poplar trees. The route traces beautiful rolling paths through the dramatic landscape, leading past green hills, towering peaks, and still blue lakes. The tour takes you from the charming rail town of Talkeetna to the Denali Village, where you can experience breath-taking views of the tallest mountain peak in North America and enjoy the National Park at your leisure. From there, ride the Denali Highway, one of the most scenic highways in the world, to Richardson Highway, the first road ever built in Alaska. As you coast down the highway, you will see the Wrangell's soar in the distances as the vast tundra stretches out alongside you.
This Alaska bicycle tour promises you the thrill of an outdoor adventure with a relaxed atmosphere and comfortable accommodations. Every night, as you soak in the wonders around you, you will be treated to tastings of handpicked craft beer from the best local breweries.
♡
Add tour to My Bucket List
💖
Saved on My Bucket List
Scheduled Dates
14 Jul 2024
25 Aug 2024
Classic Inns $4795 per person
Book My Spot
Go Private
May thru early Sept is the best time.
Plan Private Trip
More details?
Download a detailed itinerary with route profiles & more, to read and share with friends.
Download Itinerary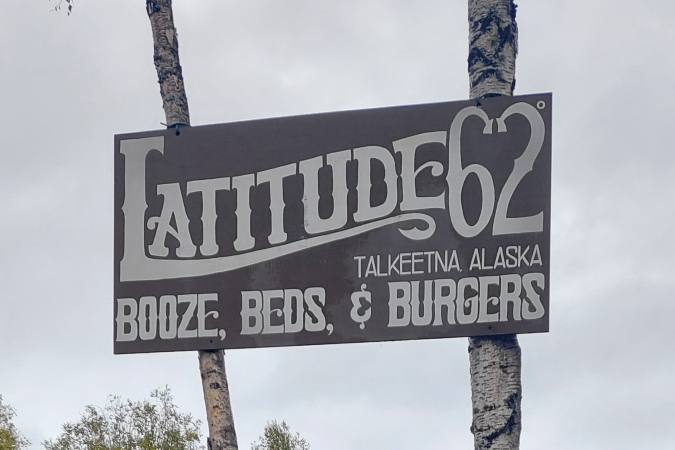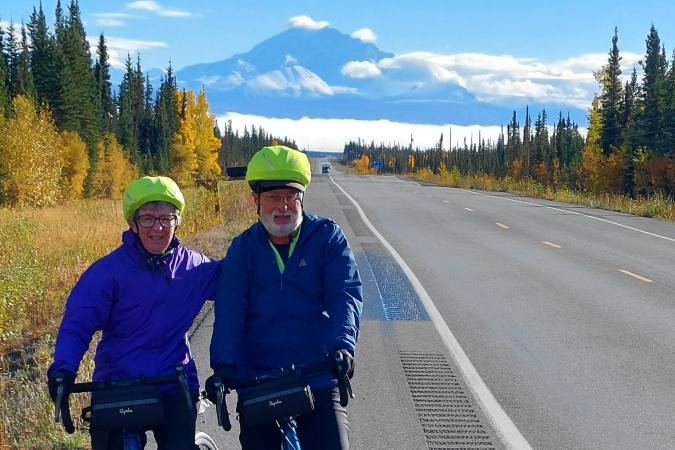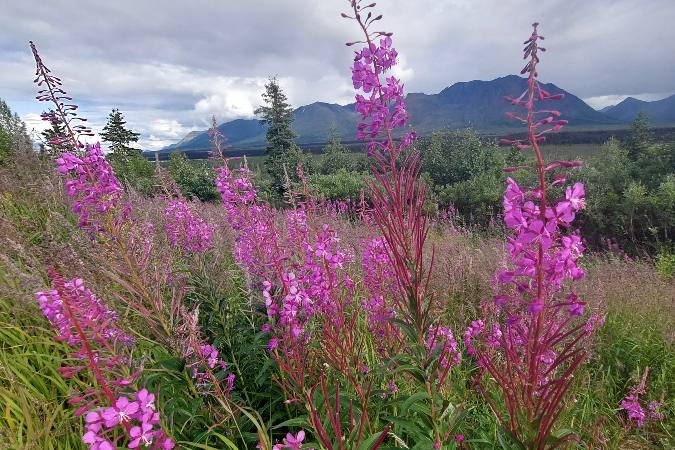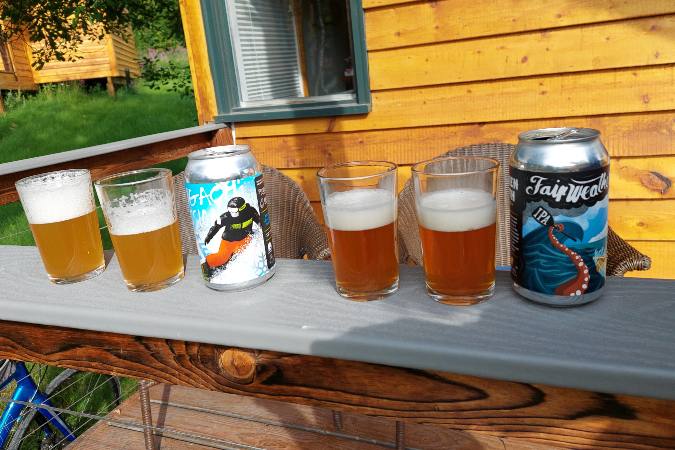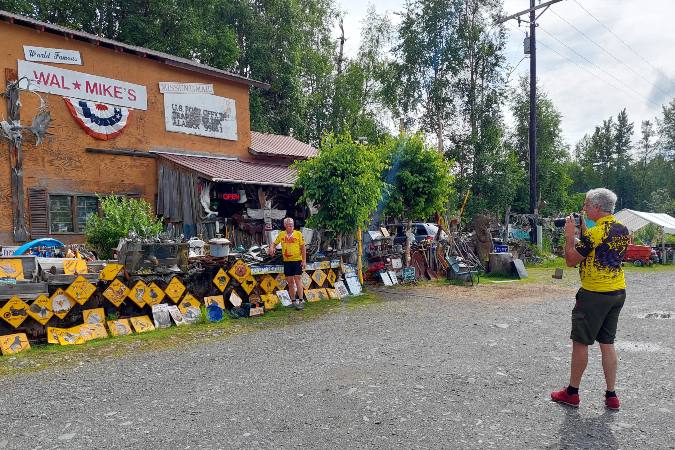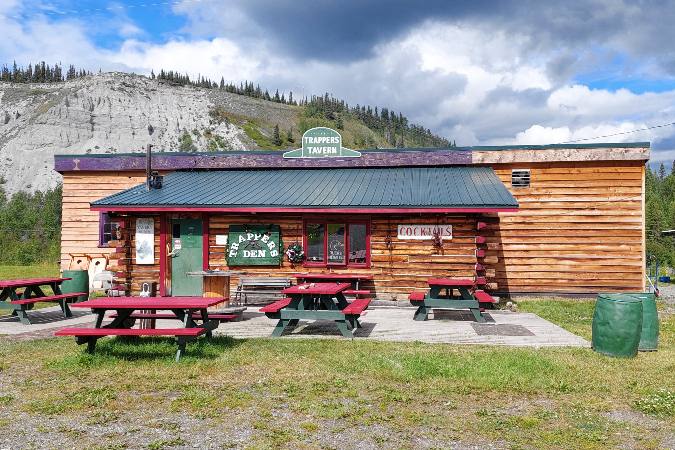 Alaska bicycle tour day by day details
Visit historic Palmer, cycle through poplar forests
Meet your fellow biking and beer aficionados at the Puffin Inn Hotel this morning, then head north to the Old Glenn Highway, where we get the bikes out for a leisurely warmup ride to the historic town of Palmer. You have some free time wandering around this town created during the Great Depression as an agricultural community, our hotel was built as part of the original township. Our first round of tastings take place at the town's brewpub.
Ride: 20 mi / 35 km, Land: flat
Eat: Dinner
Sleep: The Colony Inn
Cycle to eclectic Talkeetna and renowned Denali Brewery
We are off and riding. Today's route takes us north first along some nicely paved bike paths from the charming village of Willow. We will continue through thick forests of aspen and poplar trees, a lush blanket of green leading our Alaskan bike tour to the eclectic town of Talkeetna, our home for tonight. This historic rail town is thought to be the inspiration for the town of Cicely in the TV series, Northern Exposure and is home to Denali Brewing.
Ride: 56 mi / 90 km, Land: rolling terrain
Eat: Breakfast, Lunch, Dinner
Sleep: Latitude 62 Lodge
Cycle through Denali State Park, enjoy spectacular views of Denali, bed down at historic homestead
The dramatic landscapes of the Alaska range lure us further north today, as we pedal past Denali State Park. Along the way, you will pass through diminutive Trappers Creek, home to the infamous Wal⋆Mikes with its vast collection of "stuff". Definitely a one of a kind. Our lodge tonight is simple and comfortable, built as a homestead before roads went to Denali National Park, with dramatic views of Denali.
Ride: 50 mi / 80 km, Land: rolling hills
Eat: Breakfast, Lunch, Dinner
Sleep: McKinley View Lodge
Discover Denali National Park, cycle through Broad Pass and dramatic alpine landscapes
Denali National Park here we come. The last ride along the Parks Highway, takes us "up and over" Broad Pass into the heart of the Alaska Mountain Range. But don't let the name fool you, it is a gentle climb, as we follow the rail line and locomotives can't handle anything steeper than 2%. We will end our ride in Cantwell, then shuttle into Denali Village, where we stay for the next two nights. We'll head out the 49th State Brewing for dinner and a tasting.
Ride: 75 mi / 120 km, Land: rolling hills
Eat: Breakfast, Lunch, Dinner
Sleep: Denali Crows Nest
Free day to explore Denali on your own
Today is a free day to do as you please. There are informative tours deep into the heart of Denali National Park, shuttle buses that can take you and your bike into the park for a ride back out, white water rafting and just plain relaxing and strolling around town. No organized tastings tonight, but our hotel's bar has a great selection to wet your whistle.
Relax: Free day to explore
Eat: on your own
Sleep: Denali Crows Nest
Bicycle the Denali highway, one of world's most scenic roads.
After breakfast we shuttle back down to Cantwell, where we start cycling the Denali Highway, traversing across the southern foothills of the Alaska Range. This highway has been voted in the top 5 most scenic highways by many different groups and it does live up to those accolades. The road starts paved but gives way to a hard packed dirt highway. Our goal is the Susitna Rver crossing (we saw the Susitna back when we were in Takeetna) but the total mileage riden is flexible depending on the group's preferences. We will shuttle the last stretch to our lodge located on the historic Richardson Highway.
Ride: 55 mi / 88 km, Land: rolling hills, dirt road
Eat: Breakfast, Lunch, Dinner
Sleep: Meiers Lake Roadhouse
Cycle to and stay at oldest operating roadhouse in Alaska
The day starts on the Richardson Highway, the first road built in Alaska. The ride is a cruise, as we are going mostly downhill throughout the day, to your right vast tundra dotted with lakes, to your left, the impressive volcanic peaks of the Wrangells start peeking over the tree tops. Alaska oldest operating roadhouse is home tonight, the Gakona Lodge built in 1929.
Ride: 43 mi / 69 km, Land: mostly downhill
Eat: Breakfast, Lunch, Dinner
Sleep: Gakona Lodge
Cycle past Wrangell Mountains, relax on Lake Louise
Leaving Gakona, we roll through Glennallen, a dry community at the junction of the Richardson and Glenn Highways, but fear not, as you leave town there is a combination stationary and beer store just outside the city limits. Today's ride highlights the vast tundra of Alaska, flat lands dotted with numerous lakes. We stop tonight on the shores of Louise Lake, encircled by distant mountain ranges forming a delightful 360 degree landscape masterpiece. Sample brews while relaxing on the porch overlooking the lake.
Ride: 62 mi / 100 km, Land: rolling hills
Eat: Breakfast, Lunch, Dinner
Sleep: Lake Louise Lodge
Bike past Chugach mountains, through tundra and lush forests
Our last day of riding, takes us further along the Glenn Highway. We work our way over Eureka Summit, but again in true Alaska style it is a long gradual uphill, not an alpine type climb. But with the Chugach Mountain Range to the south and the Alaska and Talkeetna Ranges to the north, the grandeur will keep your mind off the thighs. From the summit, it is a rolling downhill to our tours finish at Sheep Mountain. Relax in your cabins with the Chugach Mountains and Matanuska Glacier at your door step.
Ride: 62 mi / 100 km, Land: slow climb, then rolling downhill
Eat: Breakfast, Lunch, Dinner
Sleep: Sheep Mountain Lodge
Visit Independence Mine, shuttle to Anchorage
After a leisurely breakfast we say good bye to our Alaskan cycling adventure and start the drive back to Anchorage. But we will break up the drive back with a side trip high into the mountains to visit Independence Mine Historical Park, for a bit of insight into the gold rush days. We will bid everyone a fnd farewell at Anchorage Airport in mid-afternoon.
Walk: 3 mi / 5 km, Land: rocky
Travel: Shuttle to airport
Eat: Breakfast, Lunch
Alaskan Craft Beers
A sampling of brews from Alaska's many varied craft breweries happens each evening before dinner. Some nights we will enjoy a tasting on our lodge's porch, other nights a flite at the local brew pub. Most evenings will focus on the brews from a single brewery.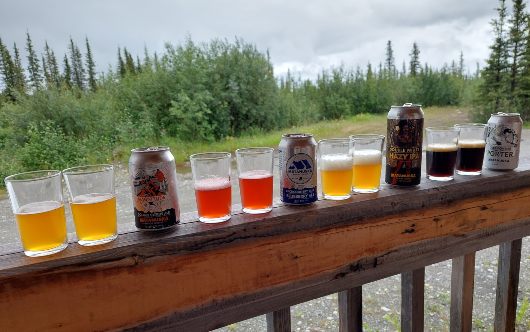 Frontier Grub & Gourmet Cuisine
Dining on our Alaska trips is one of contrasts. Some evenings our remote lodges offer frontier grub, hearty family cooking that is heavy on meats, fish and potatoes, similar to what early residents survived on. Other nights we dine on outstanding culinary treats with salmon, halibut, garden fresh salads, delightful homemade deserts.
Travelers considering the trip need to be aware that the tour is not vegetarian friendly, as choices at remote lodges may be limited to salad and fries for non meat or fish eaters.
Good Gear
Pedalers provides Fuji Sportif, a lightweight, touring road bike. The bikes are equipped with beefier tires to handle Alaskan roads, disc brakes, dropbars and a wide range of gearing for the rolling terrain.
As a safe health measure, guests are asked to bring their own helmets and waterbottles for cycling.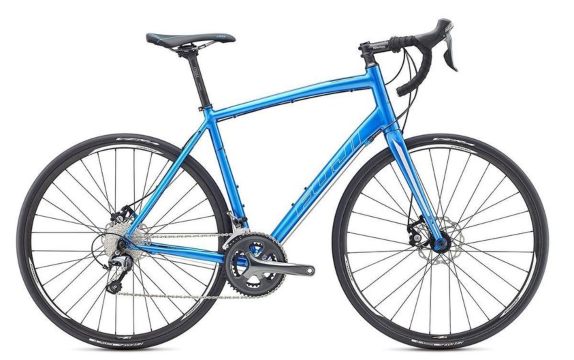 Getting There
The Alaska Bikes & Beer Tour meets and ends in Anchorage Alaska. Guides will meet guests in the lobby of the Puffin Inn at 10am. Airport pick up at 8am can be arranged upon request.
Guests should plan their flights to arrive in Anchorage before 7:00 (7 am) on Day 1 of the tour and their departing flights after 17:00 (5 pm) on Day 10.
Anchorage Airport code: ANC Local Time: GMT-9
Travel Tip: Most flights to Anchorage arrive in the afternoon and evening, so most guests will need to fly in the day before.
Documents Please
Passports are required for all guests who do not hold US citizenship. Visas maybe required depending on your nationality, check with the nearest American embassy.
Whatcha Gonna Get
Expert local guides
Entrance and activity fees**
Handpicked lodges, ensuite rooms, double occupancy
Daily breakfast, lunch, snacks*
Dinners featuring fine local cuisine*
Unlimited drinking water
Support van for baggage and lifts
Free use of bicycles
Airport pick up & drop off
*as noted in itinerary
**does not include entry fee for Denali National Park

Dietary Notice: This tour is not vegetarian friendly. Some of the remote lodges we use have very limited menus which focus on meat and fish. Our apologies.
Ready to Ride? Sign Up Today!
Your Group, Your Date
You, your family and friends, your preferred date, our handcrafted tour routes, privately guided, the ultimate adventure getaway.
Classic Inns from $4895
May thru early September is the best time to go.
Request My Private Date
Join a Scheduled Departure
Join a group of like minded travelers (8 guests max) on one of the dates below:
2024: 14 Jul ✦ 25 Aug
Classic Inns: $4795 per person, double occupancy
Single Room: +$995 Deposit: $450
Book Now