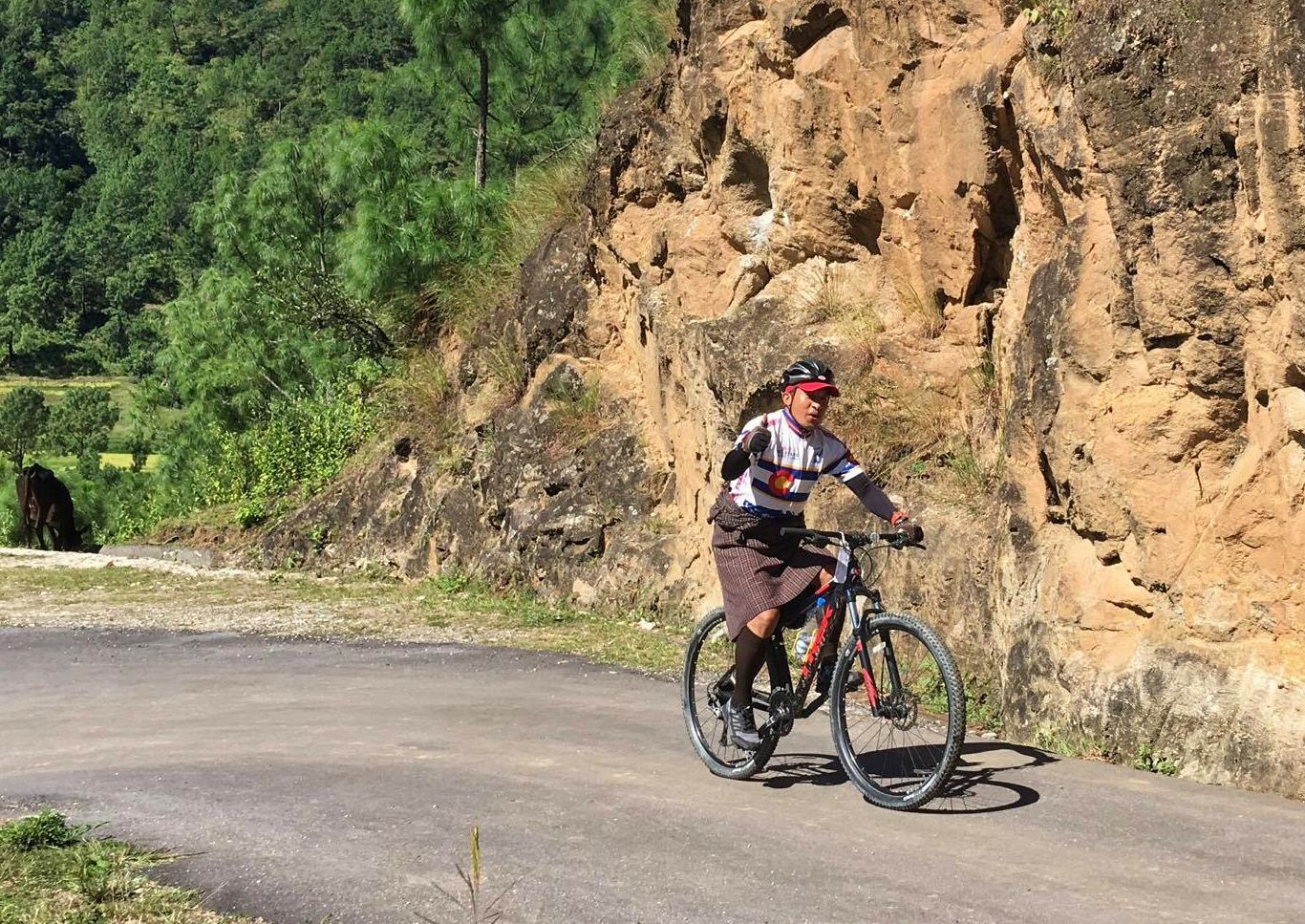 Would you like to?
Visit the historic fortified temples - dzongs
✦
Enjoy dramatic alpine cycling
✦
Taste Bhutan's ubiquitous ema datshi
✦
Bed down in a former governors mansion
✦
Discover shangri-la
Heart of Bhutan Bike Tour
Bicycling Bhutan's Historic Dzongs and Rural Villages
During the 12-days tour, experience ascending cycles then descend to very low attitude, cycling through several historic features and the summit of the black mountain. Travel among the soaring Himalayas and discover the rich history of Bhutan on this invigorating adventure!
The Bhutan Cycling Tour offers you breath-taking views of the Himalayas as you cycle through its peaks and passes. Your route winds past rivers, along lush fields, and through thick forests of orange trees, bananas, and bamboos. From the summit of the Black Mountains to the temples of the Wangdue Valley, the tour immerses you in natural beauty and cultural wonders. Visit traditional villages, explore quaint handicraft shops, marvel at monasteries, shrines, where dzongs a fortified temples,also see the black neck cranes that guests may see in Gangtey and the traditional handwoven woolen fabric in Chumey or Jakar Dzong with its archery, and spend each night in luxurious, locally owned inns and resorts tasting traditional chili & cheese dishes.
♡
Add tour to My Bucket List
💖
Saved on My Bucket List
Go Private
This tour is only available as a Private Date. Tour available year round.
Plan Private Trip
More details?
Download a detailed itinerary with route profiles & more, to read and share with friends.
Download Itinerary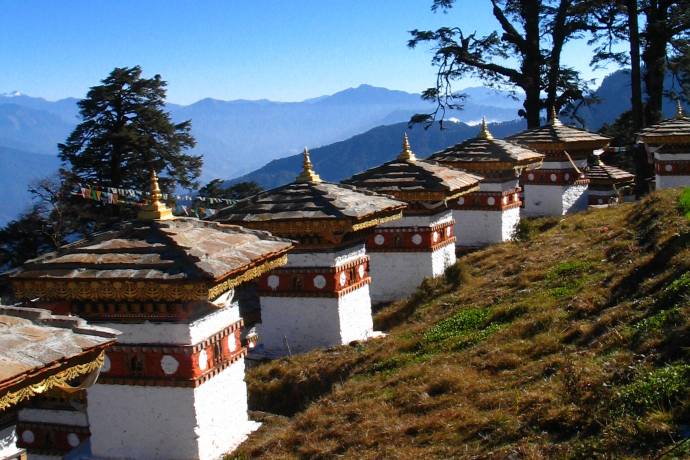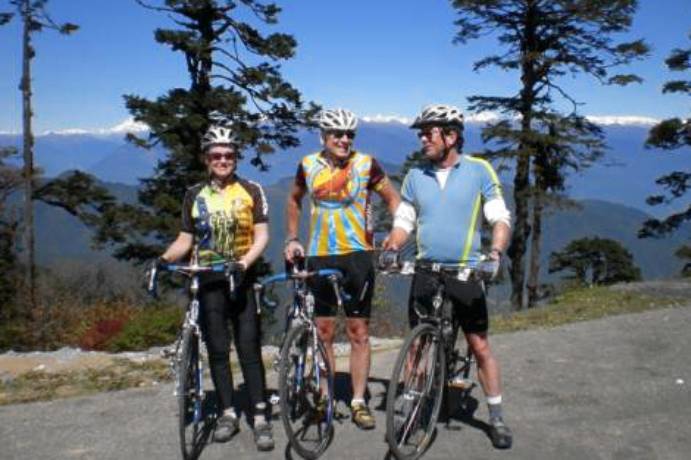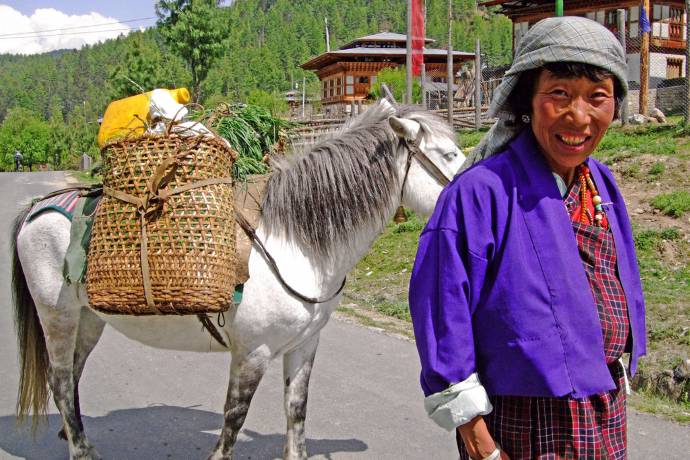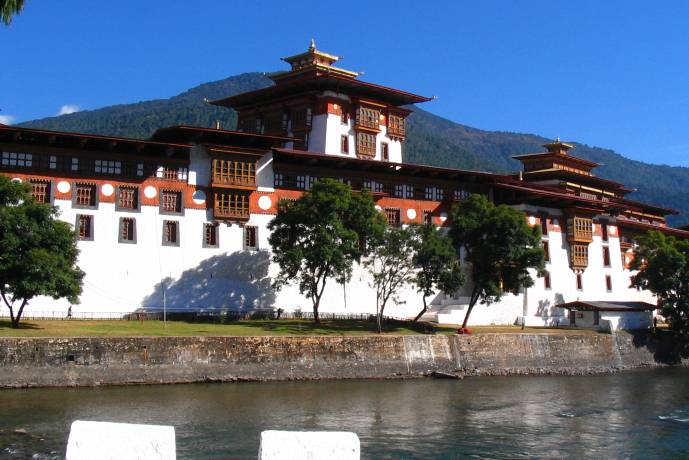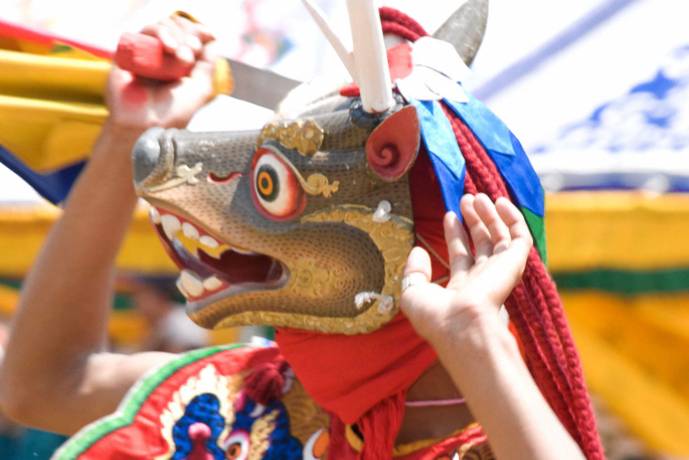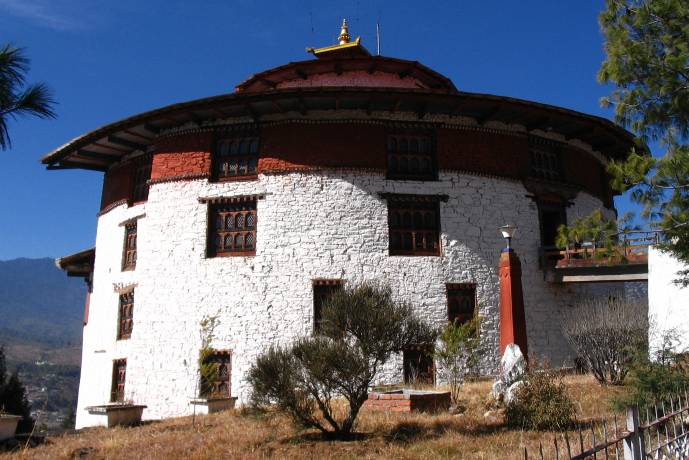 Bhutan bicycle tour day by day details
Arrive Paro, explore the National Museum, explore Thimphu.
Your journey through the fabled kingdom starts with one of the world's most scenic flights, coming into the Paro Valley. After stepping off the plane into the cool mountain air, we will enjoy lunch and then a short drive to Thimphu (60km/2 hours). Time permitting we will visit the National Museum of Bhutan. You will have time to admire the museum's collection of rare Bhutanese artifacts and art, traditional weaving and other eclectic pieces. This afternoon we will prepare the bikes and enjoy a brief sightseeing pedal around the city. Wind down your first day in Bhutan with our welcome dinner and orientation.
Ride: 15 mi / 25 km, Land: flat
Eat: Lunch, Dinner
Sleep: Hotel Druk
Bike to the 108 Chortens atop Dochula Pass, discover the risque house art in Wangdue.
After breakfast you will tackle the 14 mile climb to Dochula Pass. The views from the pass are magnificent, offering a panorama of the eastern Himalayas. Enjoy lunch at the pass before starting the 26 mile descent from the pass to Wangdue through the leafy temperate forests and semi-tropical zone with abundant orange trees, bananas and bamboos. Evening you will visit a local farmhouse located about 10 minutes from your hotel, offering you a closer look at the Kingdom's unique culture, which dictates simple hospitality extended to any and all guests, even to perfect strangers. Our hotel is in Punakha tonight.
Ride: 39 mi / 63 km, Land: alpine climb, Pass: Dochula (3100 m)
Eat: Breakfast, Lunch, Dinner
Sleep: Meri Puensum
Cycle into the Black Mountains, overnight in Phobjikha Valley, explore the Gangtey Monastery.
Today's ride starts out level, but a few miles up the road after we cross the Tikke-Zam (river), we begin the long ascent to the summit of the Black Mountains. Today's climb is our first really big climb, gaining over 4800 feet over 25 miles. Lunch will be served on route depending on the time. After lunch more climbing up to small pass marked by a stupa and finally some downhill to finish the day. We will be enjoying the beautiful Phobjikha Valley, this evening, exploring the monastery of Gangtey and the village. Perhaps we will spot some Black Neck Cranes, which migrate here to escape Tibet's harsh winters.
Ride: 44 mi / 71 km, Land: alpine climb
Eat: Breakfast, Lunch, Dinner
Sleep: Hotel Dewachen
Tackle Pelela Pass, enjoy views of Mt. Jhomolhari, explore Trongsa Dzong and Chendebji Choten.
A short 1000 feet of ascent takes us back to the small pass we crossed yesterday afternoon. From the pass it's downhill to the main road from where you will continue your climb for 9 miles to Pelela Pass, the traditional boundary between the Western and Central Bhutan. Today's ride is a pleasant change from yesterday. On clear days you can enjoy the views of the Mt. Jhomolhari (7314m) rising in western Bhutan. It is a downhill almost all the way to Trongsa. Lunch will be served at Chendebji Chorten by the river side. After lunch the road contours around small ups and downs until you finally see the Trongsa Dzong. Evening you will visit the Trongsa Dzong and explore the Trongsa Town.
Ride: 50 mi / 82 km, Land: descent and climb, Pass: Pelela (3300 m)
Eat: Breakfast, Lunch, Dinner
Sleep: Yangkhil Resort
Bike over Yotongla Pass, learn about local handicrafts in Chumey Village, descend into Bumthang Valley, explore the Jakar Dzong (fortified temple).
Approximately 18 miles after leaving Trongsa, you will reach Yotongla Pass. Then you descend to Chumey village where you will stop for tea and a visit to local handicraft shops where they make Yahthra a handwoven woolen fabric, the specialty of Bumthang valley. After a short gradual climb to Kikila (about 2 miles), a great descent to Bumthang valley.We will reach town in time for lunch, then set out to visit Jakar Dzong (the fortress of the white bird) and Jakar town.
Ride: 43 mi / 69 km, Land: alpine climb, Pass: Yotongla (3400 m)
Eat: Breakfast, Lunch, Dinner
Sleep: Kaila Guesthouse
Visit 7th century Jambay Lhakhang, Shuttle back to Punakha.
Our day is pretty relaxed today. The morning is free to explore more of Jakar town or sleep in after several days of alpine pedaling. We will say good bye to Jakar with the visit to 7th century Jambay Lhakhang built by the Dharma King Songtsen Goenpo. It is said he built 108 temples in one day to pin down an ogress. One is Kyichu Lhakhang in Paro, Potala Palace in Tibet and others are said to be along the Himalayas. Around lunch time we will load up in our support vans and start the drive back towards Thimpu (unfortunately Bhutan has only one airport and no loop road, so we have to retrace our cycling by van). We will break up the drive with a stop in Punakha.
Transfer: no cycling
Eat: Breakfast, Lunch, Dinner
Sleep: Meri Puensum
A leisurely ride to visit Punakha Dzong.
We break out the bikes for a daytrip around Punakha town and the Wangdue Valley. This relatively flat ride will be a sharp contrast to our previous cycling. And offers opportunities to visit some of the famed temples and enjoy the quiet rural countryside. Today you will visit the Punakha Dzong built in 1637 by Zhabdrung Ngawang Namgyel, a Buddhist saint who unified Bhutan in the 17th century. Punakha served as the capital of Bhutan until 1955 and it still is the winter residence of the Je-Khenpo (Chief Abbot) and the central monk body. We will again spend the night in Punakha.
Ride: 28 mi / 45 km, Land: valley, with small hills
Eat: Breakfast, Lunch, Dinner
Sleep: Meri Puensum
Hike to Chimi Lhakhang then transfer to Thimphu.
Another half day drive returns you to Thimphu, from where we started our first leg. After breakfast we will hike to Chimi Lhakhang dedicated to Lama Drukpa Kuenlay who is also known as "Devine Madman" in the west. This temple is also a worship place for woman for fertility. It is an easy hike through the rice paddies and the village of Yulakha. Resume your drive to Thimphu. In the afternoon, you have free time or for those wanting to pedal some more, we will organize a half day local ride to explore some more of the sights nearby town. We will relax tonight Thimphu.
Ride: 22 mi / 35 km, Land: small hills
Eat: Breakfast, Lunch, Dinner
Sleep: Hotel Druk
Bike to Haa Valley, an area rarely visited by tourists.
Back on the bikes today for a delightful ride downstream along the Thimphu Chu (river). When we reach the confluence with the Paro River, we will switch to a small road on the other side of the Thimphu River and start the ride into Haa Valley. This hidden valley was only recently opened to tourism and offers pristine landscapes and quiet village during a dramatic ride along the Wang Chu River. The road into Haa climbs slowly through quaint villages and thick conifer forests before opening into a valley dotted with fields of millet, barley, potatoes and wheat, where the farmhouses are adorned with intricately painted cornices and frames.
Ride: 66 mi / 107 km, Land: small hills, then long gradual climb
Eat: Breakfast, Lunch, Dinner
Sleep: Soednam Zingkha Heritage Lodge
Bike Bhutan's highest road, crossing Chelela Pass, enjoy 35 kilometer downhill run to Paro.
One last climb today, as we cross over to the Paro Valley. On clear days you can enjoy the stunning view of Mt. Jhomolhari (7314m) and Taktshang Goenpa (Tiger's Nest). Its a 26 km ascent to Chelela Pass through pine forests and alpine scenery, rewarded by a 35 km descent to Paro town. Lunch at the hotel. Upon checking into our hotel, we'll set out to explore town a bit before dinner. 41 mi / 67 km, Pass: Chelela (3988 m).
Ride: 41 mi / 67 km, Land: alpine climb, Pass: Chelela (3988 m)
Eat: Breakfast, Lunch, Dinner
Sleep: Zhiwaling Heritage Hotel
Hike to Taktshang Goemba (Tigers Nest Monastery), visit your guide's family's farm.
This morning we will swap travel modes and enjoy a hike to visit the renowned Tigers Nest Monastery (Taktshang Goemba). We will have permits to actually visit the temple and will enjoy most of day here in the mountains, hiking and sightseeing. Upon our return to Paro, you will have a chance to finish your last minute shopping needs. We'll gather for a final Bhutanese dinner, swapping tales of the ride and country.
Walk: 2 hours
Eat: Breakfast, Lunch, Dinner
Sleep: Zhiwaling Heritage Hotel
Say farewell to Bhutan as you fly back to Bangkok. Legshembe joen
We will shuttle everyone back to the airport for your flight to Bangkok.
Travel: Shuttle to airport
Meals: Breakfast
Getting There
The Heart of Bhutan Bike Tour meets and ends at Paro International Airport in Paro, Bhutan. Guides will meet arriving flights, between 9:00 and 12:00
Guests should plan their flights to arrive in Paro before 12:00 (noon) on Day 1 of the tour and their departing flights after 10:00 (10 am) on Day 12.
Paro Airport code: PBH Local Time: GMT+6
Travel Tip: Flights to Paro depart first thing in the morning. Guests might want to come to Bangkok a day or two early for a more relaxed journey.
Documents Please
Passports are required for all guests. Bhutan Tourist Visas are provided as part of the tour package. Pedalers does NOT provide visa services for any other destinations.
Whatcha Gonna Get
Expert local bilingual guides
Entrance and activity fees
Handpicked lodges, ensuite rooms, double occupancy
Daily breakfast, lunch, snacks*
Dinners featuring fine local cuisine*
Unlimited drinking water**
Support van for baggage and lifts
Free use of bicycles
Airport pick up & drop off
Bhutan visa processing and fees
*as noted in itinerary
**during activity
Ready to Ride? Sign Up Today!
Your Group, Your Date
You, your family and friends, your preferred date, our handcrafted tour routes, privately guided, the ultimate adventure getaway.
Classic Inns from $7595
Tour is available year round. Nov thru Feb is winter with colder temperatures and occasional light snow fall.
Request My Private Date