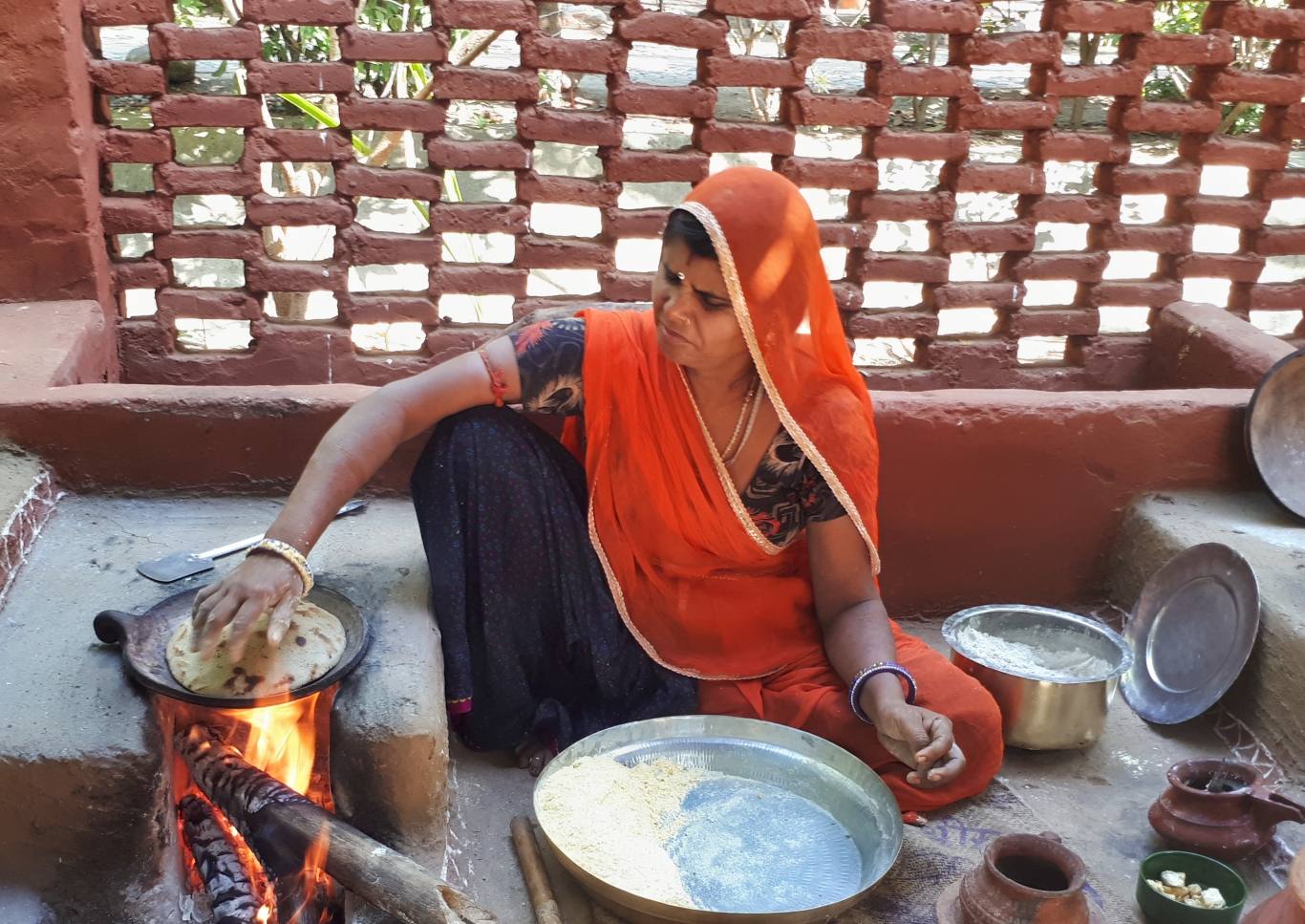 Would you like to?
Bed down in former palaces and mansions
✦
Taste the spicy infamous laal maas
✦
Cycle on quiet rural roads away from traffic
✦
Explore the desert by camel
✦
Discover Rajasthan's long colorful history
Cuisine of Rajasthan Bike Tour
Cuisine & Palaces of Historic Rajasthan
On the 12 days tour, Explore palaces and temples, ride camels through the desert, Mountains in Jaipur and Pushkar, and spend nights in luxury on this Indian bicycle tour!
Whether on the back of a camel in the exquisite sand dunes, on a bicycle in the scenic back roads, or in a hot air balloon over the breath-taking landscape of Jaipur, this tour of Rajasthan offers you unique and exciting opportunities to experience northern India's most colorful and exotic state. Walk through the lanes of old cities and rural villages, visit ancient palaces and temples in Rajasthan which is a colorful and historical land, Visit some sites such as Mehrangarh Fort or the ornate 15th century Ranakpur Jain temple or have free day to explore the 'City of Lakes' Udaipur. Feast in Mount Abu Abu Parvat(Shimla of Rajasthab) on authentic local cuisine, and stay in accommodations fit for royalty.
♡
Add tour to My Bucket List
💖
Saved on My Bucket List
Scheduled Dates
20 Nov 2023
8 Jan 2024
18 Nov 2024
7 Jan 2025
Première Inns $4595 per person
Book My Spot
Go Private
Oct thru March best for cycling.
Plan Private Trip
More details?
Download a detailed itinerary with route profiles & more, to read and share with friends.
Download Itinerary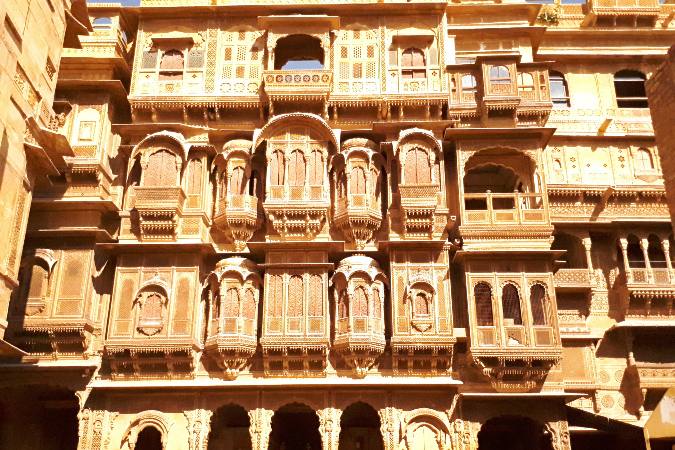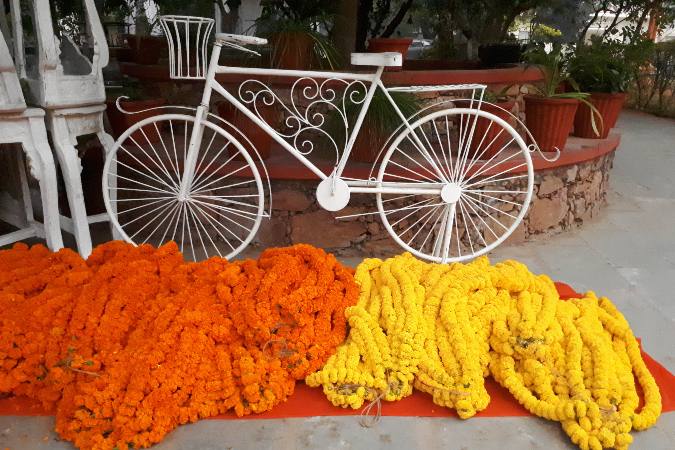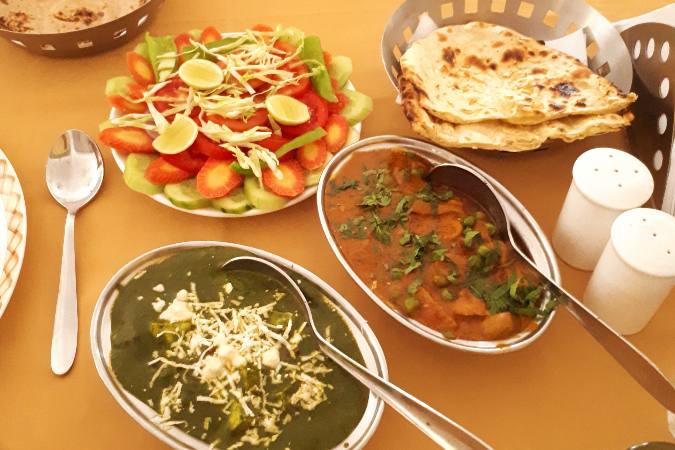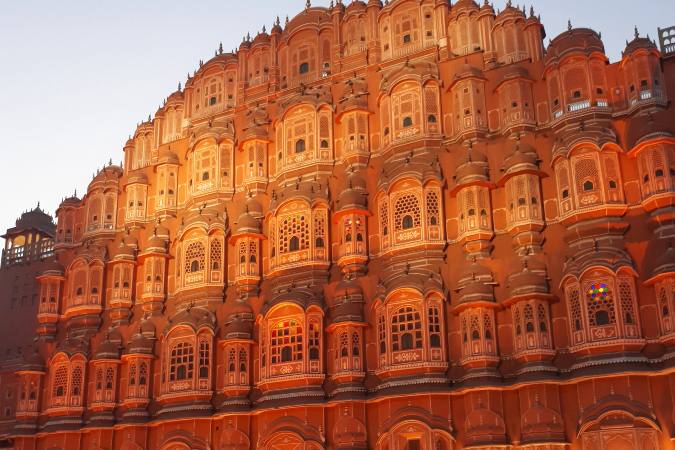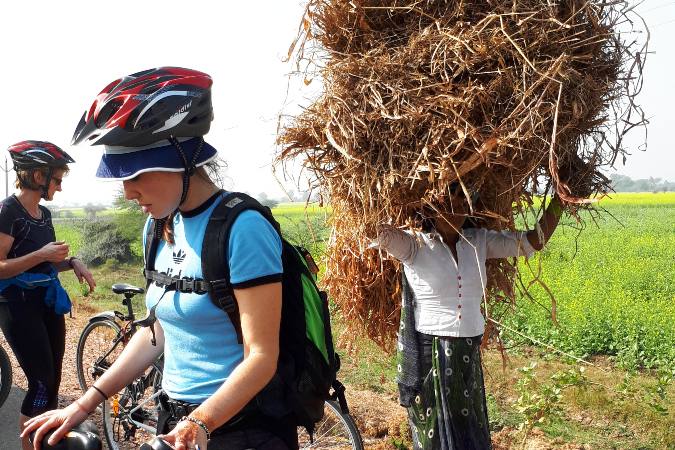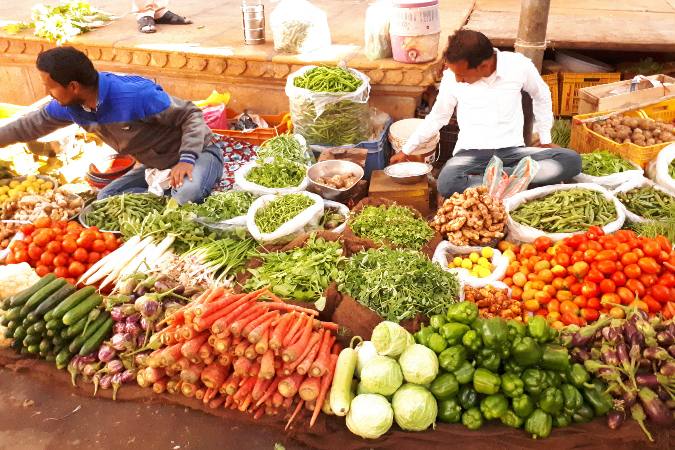 India bicycle tour day by day details
Arrive Jodhpur, Drive to Dhora
As you touch down in Jodhpur, the Blue City, we'll be eagerly waiting to whisk you away on a short 1-1.5 hour drive to Dhora. Once we arrive, prepare to unwind and relax at our enchanting desert resort. Take your time to soak in the serene surroundings before we indulge in a delicious dinner at the camp. Get ready to sleep under the starry desert sky at the Dhora Desert Camp.
Relax: Free day at resort
Eat: Dinner
Sleep: Dhora Desert Camp
Dhora - AM Camel Safari. transfer to Jodhpur
Awaken the adventurer within as you embark on an early morning camel safari through the captivating desert landscapes. Witness the magical beauty of the dunes and keep your eyes peeled for a chance encounter with desert wildlife. After an invigorating journey, we'll return to the camp for a sumptuous lunch. In the afternoon, we'll head to Jodhpur to discover the awe-inspiring Mehrangarh Fort, a magnificent stronghold surrounded by mighty walls. To round off the day, we'll treat ourselves to a delightful dinner at a local restaurant. Our luxurious abode for the night will be the exquisite Ajit Bhawan.
Safari: Camel back trip, then transfer
Eat: Breakfast, Lunch, Dinner
Sleep: Ajit Bhawan
Cycle to Pali
Prepare to hop on your trusty bicycle after breakfast as we venture through quaint villages and charming back roads. This delightful ride will lead us to the main highway, where we'll hop on a coach and head towards Pali. Upon arrival, check into your comfortable hotel and enjoy the rest of the day at your leisure. Indulge in a scrumptious lunch and dinner, soaking up the tranquil ambiance of the Sardar Samand Lake Palace.
Ride: 38 mi / 61 km, Land: small hills
Eat: Breakfast, Lunch, Dinner
Sleep: Sardar Samand Lake Palace
Cycle to Ranakpur, Visit Jain Temple
Gear up for another thrilling cycling expedition after breakfast. Traverse scenic back roads until you reach our awaiting vehicle. Our journey then takes us to Ranakpur, where a mesmerizing 15th-century Jain temple awaits. Marvel at the intricate marble carvings adorning the temple's 29 halls and 1444 pillars, each bearing a unique design. To satisfy your taste buds, we'll relish a delectable dinner at a local restaurant. Your accommodation for the night will be the charming Maharani Bagh Orchard.
Ride: 45 mi / 72 km, Land: small hills
Eat: Breakfast, Lunch, Dinner
Sleep: Maharani Bagh Orchard
Cycle to Udaipur
After a fulfilling breakfast, we'll pedal through captivating villages and back roads, eventually reaching the main highway. There, we'll board a coach and make our way to the enchanting city of Udaipur. Upon arrival, check into your hotel and prepare for a culinary journey with lunch and dinner at local restaurants. Rest and rejuvenate in the regal ambiance of Shiv Niwas Palace.
Ride: 22 mi / 34 km, Land: flat
Eat: Breakfast, Lunch, Dinner
Sleep: Shiv Niwas Palace
Udaipur - Free Day
Today is yours to explore the captivating "City of Lakes" at your own pace. Take a leisurely stroll through the winding lanes of the old city and immerse yourself in the local market. Don't miss the chance to visit the splendid City Palace and the majestic Jagdish Temple. Enjoy a leisurely day before retiring for the night in the elegant surroundings of Shiv Niwas Palace.
Relax: free day
Eat: Breakfast
Sleep: Shiv Niwas Palace
Cycle to Kumbhalgarh, PM Sightseeing
Prepare for an exhilarating ride after breakfast as we traverse the main highway until we reach our cycling starting point. Hop on your bike and pedal through rural landscapes and charming villages, ultimately arriving at Kumbhalgarh. Upon checking into your hotel, delight in a delicious lunch before embarking on a journey to explore Kumbhalgarh Fort. This magnificent fort showcases remarkable defensive fortifications, picturesque temples, and panoramic views of the rural splendor of Rajasthan. Retire for the night at The Aodhi, our charming abode for the evening.
Ride: 35 mi / 56 km, Land: flat
Eat: Breakfast, Lunch, Dinner
Sleep: The Aodhi
Cycle to Pushkar
In the morning, embark on a scenic cycle ride along rural roads and through villages until you reach our waiting vehicle. From there, we'll drive to the sacred town of Pushkar. After checking into your hotel, indulge in a mouthwatering lunch before embarking on an afternoon sightseeing tour. Discover the tranquil Pushkar Lake and pay a visit to the Brahma Temple, the only Hindu temple dedicated to Lord Brahma. As the day comes to a close, enjoy a delectable dinner and unwind at the inviting Jagat Palace.
Ride: 36 mi / 59 km, Land: flat
Eat: Breakfast, Lunch, Dinner
Sleep: Jagat Palace
Cycle to Jaipur
After breakfast, embark on an exciting cycling adventure through desert back roads and villages until you reach Naraina. A packed lunch will be arranged for you to savor along the way. From Naraina, we'll drive to Jaipur, marking the end of our cycling journey. Upon arrival, check into your hotel and take some time to relax. In the evening, savor a delightful dinner at a local restaurant and revel in the vibrant ambiance of Jaipur. Your accommodation for the night will be the elegant Samode Haveli.
Ride: 57 mi / 93 km, Land: flat
Eat: Breakfast, Lunch, Dinner
Sleep: Samode Haveli
Jaipur - Hot Air Ballooning & Amer Fort
Rise and shine for an unforgettable experience as you soar above Jaipur in a hot air balloon. Marvel at the traditional villages, majestic forts, and stunning landscapes during this approximately one-hour flight (weather permitting). After returning to your hotel, embark on a visit to the iconic Amer Fort, perched atop a hill and boasting a rich history. Later, take some time to explore the local markets at your own pace. For those seeking even more adventure, an optional visit to the City Palace awaits. Treat yourself to a flavorsome lunch and dinner at local restaurants, immersing yourself in Jaipur's vibrant culinary scene. Enjoy the night's stay at the charming Samode Haveli.br>Float: Hot Air ballooning, then city exploration
Eat: Breakfast, Lunch, Dinner
Sleep: Samode Haveli
Depart Jaipur
After a hearty breakfast, we'll provide a shuttle to transport you to Jaipur airport for your onward journey. Bid farewell to this magnificent land of royalty, taking home cherished memories of your Rajasthan adventure.
Travel: Shuttle to airport
Eat: Breakfast
Getting There
The Cuisine of Rajasthan Bike Tour meets at Jodhpur Airport in Jodhpur, India and ends at Jaipur International Airport in Japipur, India
Guests should plan their flights to arrive in Jodhpur before 12:00 (noon) on Day 1 of the tour and their departing flights from Jaipur after 10:00 (10 am) on Day 12.
Jodhpur Airport code: JDH Jaipur Airport code: JAI Local Time: GMT+5:30
Documents Please
Passports are required for all guests. Visas maybe required depending on your nationality, check with the nearest Embassy of India.
Whatcha Gonna Get
Expert local bilingual guides
Entrance and activity fees
Handpicked lodges, ensuite rooms, double occupancy
Daily breakfast, lunch, snacks*
Dinners featuring fine local cuisine*
Unlimited drinking water**
Support van for baggage and lifts
Free use of bicycles
Airport pick up & drop off
*as noted in itinerary
**during activity
Ready to Ride? Sign Up Today!
Your Group, Your Date
You, your family and friends, your preferred date, our handcrafted tour routes, privately guided, the ultimate adventure getaway.
Classic Inns from $4695
This tour is best during the dry winter season from October through March.
Request My Private Date
Join a Scheduled Departure
Join a group of like minded travelers (8 guests max) on one of the dates below:
2023: 20 Nov
2024:  8 Jan ✦ 18 Nov
2025:  7 Jan
Première Inns: $4595 per person, double occupancy
Single Room: +$1100 Deposit: $500
Book Now