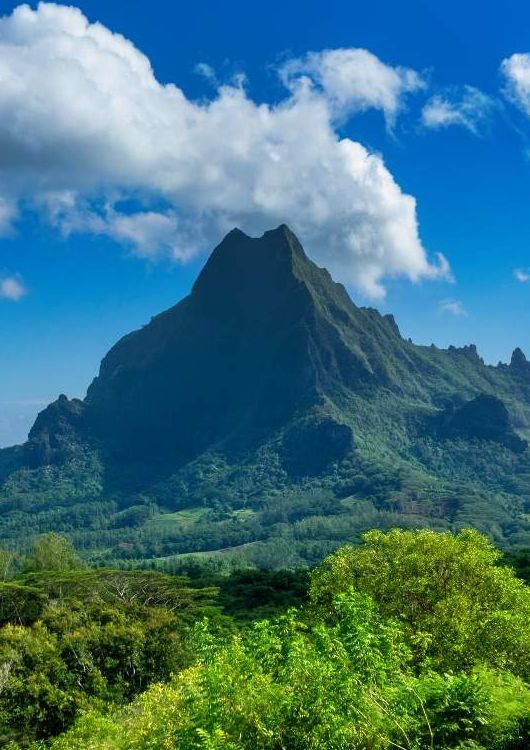 Would you like to?
Cycle the fabled island of Bora Bora
✦
Pedal through lush landscapes past turquoise bays
✦
Taste Polynesia's delightful poisson cru
✦
Snorkel through crystal clear waters
✦
Meet the locals face to face while cycling rural roads
Cycling Tahiti & the Leeward Islands
Cycling through a Polynesian Paradise
Polynesia. A word synonymous with a carefree way of life. A way of life immune to the modern world. The lure of Polynesia's charms are renowned, Gauguin, Melville and Captain Bligh's crew all succumbed to its seductive temptations. So too, will you on our 13 day ride through French Polynesia.
Our first island visit will be to Moorea, used for the most recent Hollywood version of "Mutiny on the Bounty". Here you'll ride high up in the island's interior to Belevedere Overlook, explore the local distilleries and loop around the island's through numerous copra plantations on roads lined with flowering Hibiscus.
From Moorea, we return to Tahiti for the evening, then set sail (well, actually we take a high speed ferry) to the leeward islands of Raiatea, Tahaa and Huahine to discover their charms. Raiatea is the home of the temple complex, Marae Taputaputea, from which it is believed both the Hawaiians and Maori set sail for their new homes. Tahaa, a short 3 km boat trip from Raiatea, is a spectacular island, undiscovered by the big tourist resorts. Huahine is the tranquil isle and usually the tour favorite. Actually two islands encircled by the same reef, Huahine's coastal roads are delightfully quiet, due to the small population, and beautifully lined with swaying palms and fruit laden banana trees.
♡
Add tour to My Bucket List
💖
Saved on My Bucket List
Scheduled Dates
20 Oct 2024
Classic Inns $5050 per person
Book My Spot
Go Private
March to Nov is best for cycling.
Plan Private Trip
More details?
Download a detailed itinerary with route profiles & more, to read and share with friends.
Download Itinerary
Tahiti bicycle tour day by day details
Welcome to Tahiti
We will gather at the airport as the flights from North America and Europe arrive, then transfer to our hotel in downtown Papeete. You have the day to explore town, with it's markets or perhaps relax poolside after the long flights. We will gather for orientation and dinner later in the day.
Relax: Free to explore until dinner
Eat: Dinner
Sleep: Hotel Tahiti Nui
Cycling Mo'orea, Marae Titiroa, Belvedere Overlook
Catching the morning ferry, we enjoy a ride looping a big part of the island on Mo'orea pedaling hibiscus lined roads through groves of palm trees. The ride also includes a jaunt into the rugged interior to visit the historic Marae Titiroa and enjoy the spectacular view from Belvedere Overlook, then cycle to our hotel on scenic Cook's Bay.
Ride: 43 mi / 70 km, Land: small hills
Eat: Breakfast, Lunch
Sleep: Hotel Restaurant Kaveka
Free time on Mo'orea, dinner at Papeete's Roulettes
You have the morning free to relax, then after lunch we make the short ride back to the ferry port in Vai'are and our ferry ride back to Papeete. For dinner tonight we will explore a Papeete landmark, the Roulettes that line the docks serving any imaginable kind of food, a local's favorite.
Ride: 7 mi / 11 km, Land: flat
Eat: Breakfast
Sleep: Hotel Tahiti Nui
Ferry to Huahine, Warm up ride
The high-speed ferry takes us to the leeward island group, as we start the first leg of our explorations of Polynesia. After arriving in Fare, the port town, on the island of Huahine-Nui we will ride to the southern tip of the smaller island, Huahine-Iti where our hotel awaits with its white sand beach.
Ride: 11 mi / 17 km, Land: small hills
Eat: Breakfast
Sleep: Hotel Le Mahana
Twin island ride, Marae Manunu
Huahine is actually two islands enclosed by the same reef. We'll start today's ride on Huahine-Iti, looping around the other side to Maro'e Bay, before crossing over to Huahine-Nui. Here our route takes in several ancient temples, 300 year old stone fish traps that still are in use today, plus a climb up over the islands backbone before descending back to Maro'e Bay. Afternoon will find us on a leisurely coastal loop of Huahine-Iti back to our hotel.
Ride: 34 mi / 55 km, Land: small hills.
Eat: Breakfast, Lunch
Sleep: Hotel Le Mahana
Ferry to Ra'iatea, Warm up ride
We will depart early to ride back to Fare where we again hop on the high speed ferry across the . When we reach Uturoa on the island of Ra'iatea, Polynesia's second largest city (that's not saying much, considering the entire island's population numbers only around 9000), we will pedal out to our bungalows located some 10 kilometers out of town.
Ride: 10 mi / 15 km, Land: flat
Eat: Breakfast
Sleep: Raiatea Lodge Hotel
Metric Century day, Marae Taputaputea
Metric Century Day. We'll be looping the entire island of Ra?iatea during today's ride. The only major sightseeing stop will be at Marae Taputaputea, the ancient center of Polynesian religion and believed to be the point from which the Hawaiians and Maori set sail for their future lands. Most of today's ride is paved, with a couple short stretches of good, hard packed coral sand road.
Ride: 62 mi / 100 km, Land: small hills
Eat: Breakfast, Lunch
Sleep: Raiatea Lodge Hotel
Free day or cycle Taha'a
For folks wanting some more riding we'll catch the morning water taxi to Taha'a (at your own expense), for a ride around this rarely visited island. An island full of smiles and the common "bonjour" or "Ia Ora" make this a must for those wishing to see the real life in the Society islands. Or you can opt for a free day to lounge around.
Ride: 43 mi / 70 km, Land: small hills
Eat: Breakfast
Sleep: Raiatea Lodge Hotel
Ferry to Bora Bora
Around noon we will ride back to Uturoa to catch the ferry to Bora Bora, the fabled island that soldiers from WWII raved about in their tales of the South Pacific. The dramatic peaks in the island's center grows majestically as we sail in. A short ride puts in our hotel in late afternoon.
Ride: 12 mi / 20 km, Land: flat
Eat: Breakfast
Sleep: Royal Bora Bora
Cycle around Bora Bora
Compared to our loop ride on Raiatea, the loop of Bora Bora will be over all too soon, as the island has only 34 kilometers of road looping around its entirety. But we will make a leisurely day of it stopping to explore as we go.
Ride: 21 mi / 34 km, Land: flat
Eat: Breakfast, Lunch
Sleep: Royal Bora Bora
Free day
You have the day free to do as you please, perhaps go snorkeling in the lagoon or sign up to spend the day on one of the islets rimming the lagoon or maybe get the bike out and ride around the island again in the opposite direction.
Relax: Free day
Eat: on your own
Sleep: Royal Bora Bora
Ferry to back Tahiti
Early morning we head back to the port to catch the ferry back to the windward islands and the end of our trip. Upon reaching Papeete, we will transfer to our hotel and leave you the balance of the day to your leisure, perhaps some last minute gift shopping for the family or housesitter. We will rendezvous for one last delightful dinner in paradise in the evening.
Ride: 18 mi / 28 km, Land: small hills
Eat: Breakfast
Sleep: Hotel Tahiti Nui
Bid the islands Ia Orana, enroute to your next adventure.
Sadly, all things must end and we must say goodbye to Polynesia. Shuttles to Papeete Airport will be provided. Mauruuru, Nana
Travel: Shuttle to airport
Eat: Breakfast
Getting There
The Tahiti Bike Tour meets and ends at Faa'a International Airport in Papeete, French Polynesia
Flights to PPT arrive and depart either early morning or late at night. Additional nights in Papeete maybe necessary.
Papeete Airport code: PPT Local Time: GMT-10
Documents Please
Passports are required for all guests. Visas maybe required depending on your nationality, check with the nearest Embassy of France (French Polynesia is still under the control of France).
Whatcha Gonna Get
Expert local bilingual guides
Entrance and activity fees
Handpicked lodges, ensuite rooms, double occupancy
Daily breakfast, lunch, snacks*
Dinners featuring fine local cuisine*
Unlimited drinking water**
Support van for baggage and lifts
Free use of bicycles
Airport pick up & drop off
*as noted in itinerary
**during activity
Ready to Ride? Sign Up Today!
Your Group, Your Date
You, your family and friends, your preferred date, our handcrafted tour routes, privately guided, the ultimate adventure getaway.
Classic Inns from $5050
The tour is available year round, but December through February is rainy season
Request My Private Date
Join a Scheduled Departure
Join a group of like minded travelers (8 guests max) on one of the dates below:
2024: 20 Oct
Classic Inns: $5050 per person, double occupancy
Single Room: +$1500 Deposit: $700
Book Now