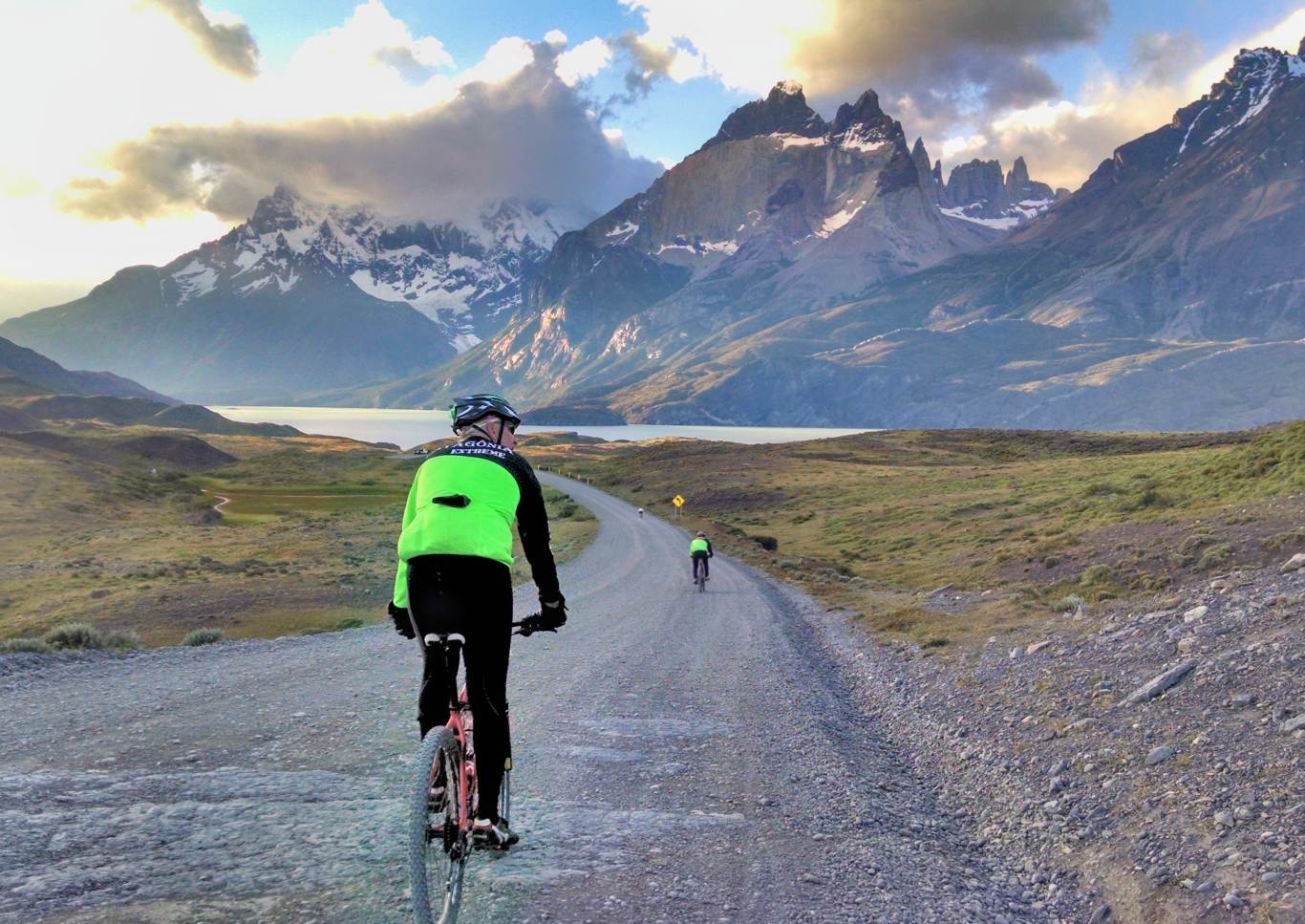 Would you like to?
Cycle Torres del Paine National Park
✦
Discover Chilean ranch cuisine
✦
Get up close & personal with glaciers
✦
Bed down in historic estancias
✦
Explore picturesque Puerto Natales
Cycling Chile Torres Del Paine
Pedaling dramatic landscapes in Patagonia
The name Patagonia brings out visions of vast wild, untamed lands, guanaco grazing on the grass, towering peaks rising in the distance. It is also a land of 100 year estancia (ranches) and a region with uncrowded roads. Pedalers offers you the chance to cycle through these landscapes, while enjoying luxurious lodging each evening.
Your journey begins in Puerto Natales, as we cycle across the vast grasslands surrounding the national parklands. Here ranchers raise horse and sheep, giant Chilean condors soar overhead and quiet historic haciendas await us each night. The jagged peaks of Torres del Paine, which have popped into view from time to time, now become our focus and we work our way by bike, vehicle and foot through the unbelievable landscapes of this region. Check out Grey Glacier, grab outstanding photos from the scenic overlooks we pass, enjoy the hearty Patagonia cuisine each night, washed down by Chilean wines. It is a ride without compare.
♡
Add tour to My Bucket List
💖
Saved on My Bucket List
Scheduled Dates
18 Feb 2024
8 Apr 2024
8 Apr 2024
8 Apr 2024
Classic Inns $4750 per person
Book My Spot
Go Private
Oct to April is best for cycling.
Plan Private Trip
More details?
Download a detailed itinerary with route profiles & more, to read and share with friends.
Download Itinerary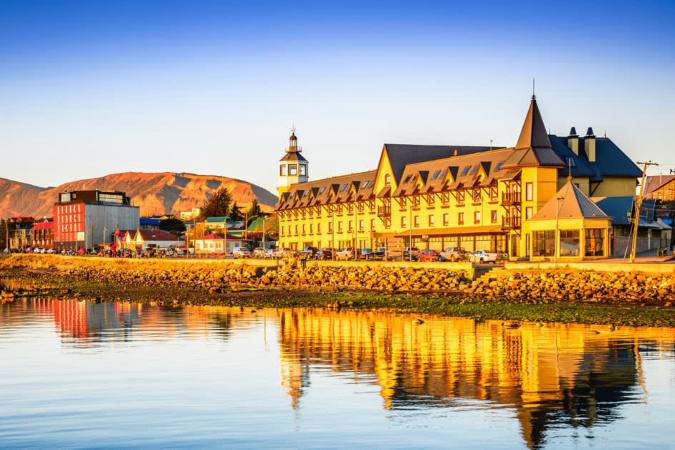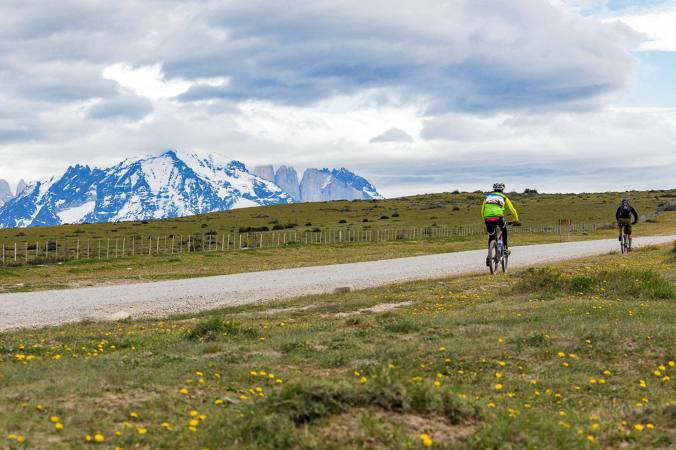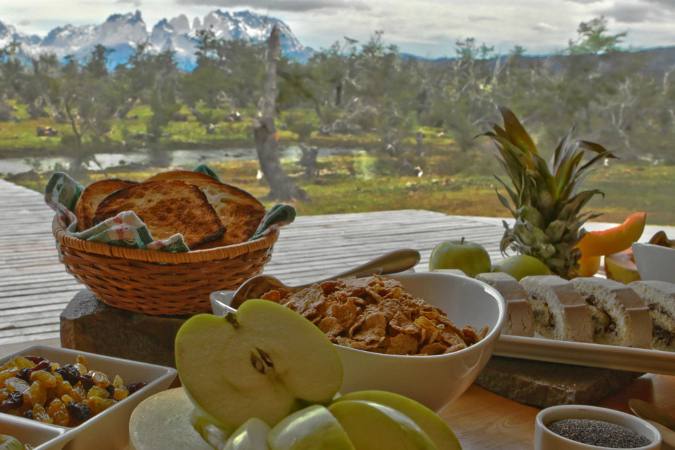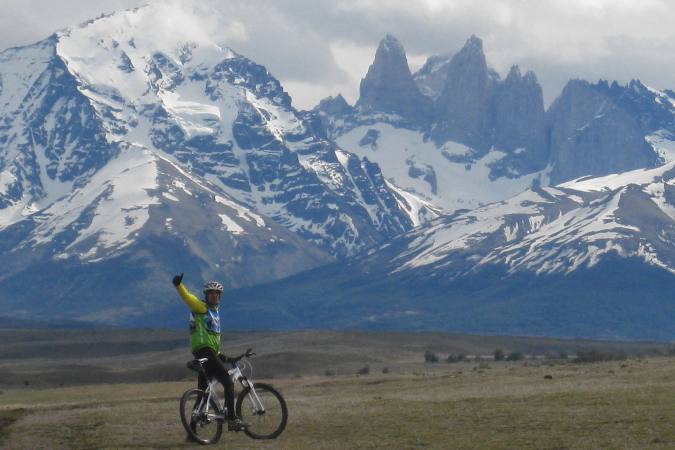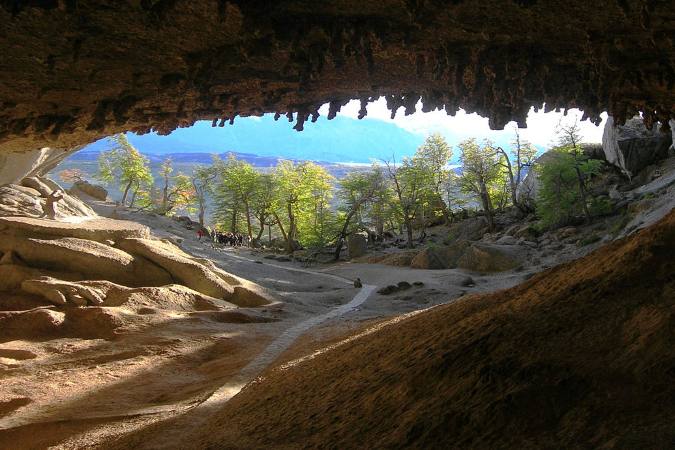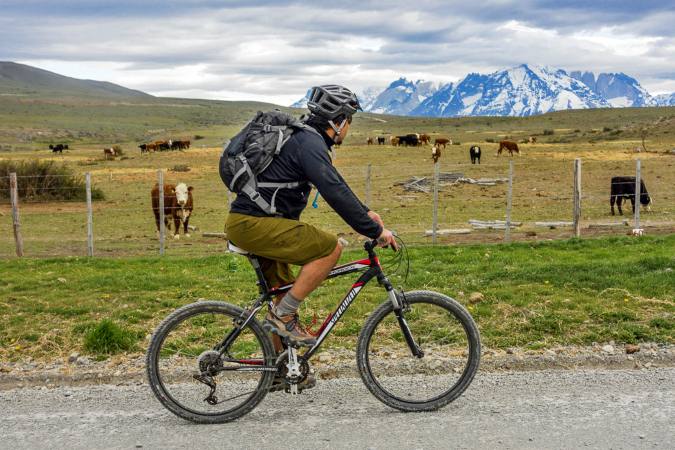 Chile bike tour day by day details
Arrival to Puerto Natales, Welcome Dinner
Upon arrival at Puerto Natales, we transfer to our hotel downtown. Take some time to enjoy a walk along the coast and boardwalks or explore through the colorful and eclectic town of Puerto Natales and its plaza de armas (central square) and the many local attractions such as artisan shops, caf退s, markets, and the museum. Gather in the evening for tour orientation and your first taste of Patagonian cuisine at our welcome dinner.
Relax: Free time until dinner
Eat: Breakfast
Sleep: Hotel Costaustralis
Ride from Puerto Natales - Cerro Castillo
Today's ride begins from our hotel where we will head north following the coastline along Route 9, a well-paved, flat road passing through pampas and endless landscapes of Puerto Natales to our destination, Cerro Castillo, a small town just outside of the national park. The first 47kms of our ride will bring us to our first scenic stop, Figueroa Lake with various species of aquatic bird life. Continuing on, we ride by a natural condor roost and habitat where we can stop to observe these magnificent species as they soar seamlessly high above. We'll pass by estancias scattered with Patagonian sheep before entering the small community of Cerro Castillo where we arrive at our accommodation for the evening, Hoster퀀a El Pionero, an old English-style house and inn built almost 100 years ago.
Ride: 60km, Land: flat and small hills
Eat: Breakfast, Lunch, Dinner
Sleep: Ovejero Patagónico
Ride to Estancia Cerro Guido - Half Day Culture & History Tour
After a hearty ranch breakfast we head out on today's ride to Estancia Cerro Guido, the region's largest estancia (ranch) which continues its tradition of working in harmony with nature. This breathtaking 100,000 hectare ranch is surrounded by beautiful mountain views of Torres del Paine, pristine lakes, pampas and wildlife. We will take our time pedaling as we enjoy views of the Sierra Baguales Mountain Range to the east, Lago Sarmiento to the west, and the constant view of Las Torres from the park as we approach the estancia. Upon arriving we will have a delicious lunch in the restaurant of the estancia before enjoying a guided culture and history tour of this authentic Patagonian ranch, founded 100 years ago, with its typical architectural style and cultural heritage of Patagonia. In the evening, enjoy a freshly prepared dinner with fantastic views of the ranch with it's free roaming horses and the iconic towers which sit off in the distance.
Ride: 47km, Land: hilly
Eat: Breakfast, Lunch, Dinner
Sleep: Tercera Barranca Lodge
Ride to Laguna Azul & La Porfiada Trail - Private Vehicle Tour to Lago Grey
Today's ride takes us from the peaceful countryside of the estancia into the heart of Torres del Paine National Park. Our route takes us first towards stunning Laguna Azul (the Blue Lagoon), with incredible views of the mountains ahead and the flamingos and other waterfowl on Laguna Amarga. Stop for photos from the overlooks before reaching the shore. Here we have the option of a hike around the lake or a trail rides on the mountain bikes. Afterwards, grab some lunch then drive through the busy park stretch ahead, enjoying visits to some of the dramatic overlooks, on our way to Grey Lake, home to Grey Glacier and our hotel for the night.
Ride: 39km + 20km, Land: hilly
Eat: Breakfast, Lunch, Dinner
Sleep: Hotel Lago Grey
Grey Glacier Boat Navigation - Ride to Serrano Village
Wake up to mountain peaks, floating glaciers, and pristine landscapes. A short morning walk takes us to join a boat tour through the icy waters to the immense Grey Glacier - Torres del Paine's largest glacier. Discover the glacier up close with a local naturalist and learn about its importance to the biodiversity of the region, some juice served with the glacier's ice. Returning from the boat trip to the hotel for lunch in the restaurant before heading out for our afternoon ride - a nice 24km ride to the Serrano Village area along a flat gravel road passing pampas where we can see wild horses roaming and guanacos grazing throughout. We'll end our ride at the Pampa Lodge Hotel for dinner and relaxation in this special place which offers one-of-a-kind views of the Paine Massif set on the horizon.
Ride: 24km, Land: flat
Eat: Breakfast, Lunch, Dinner
Sleep: Pampa Lodge
Milodon Cave & Archaeological Cave Painting Tour - Ride to Laguna Sofia
After breakfast we shuttle to the Milodon Cave Natural Monument, a 200 meter long cave discovered in 1895 by Hermann Eberhard, a German explorer of Patagonia. The cave is notable for the discovery of a Mylodon, a now extinct ground sloth. We'll first explore the cave on foot before heading out on our bikes along a moderate 10km mountainous dirt track taking us through history as we pedal past several small caves - one which includes ancient archaeological cave paintings left by primitive tribes who lived in the region. Reaching Laguna Sofia, we'll enjoy lunch, then make our way back to Puerto Natales, either on your bike or catch a lift. We'll celebrate a great ride with dinner at a local restaurant in Puerto Natales, one last night to tell tales and enjoy Chilean cuisine.
Ride: 45km, Land: flat
Eat: Breakfast, Lunch, Dinner
Sleep: Hotel Costaustralis
Transfer to Airport
Breakfast is enjoyed at leisure in the hotel before your private transfer takes you to Puerto Natales Airport (15 minute transfer) for your return flight back home or to continue along your travels.
Travel: Shuttle to airport
Eat: Breakfast
Getting There
The Chile Cycling Torres del Paine meets and ends at Teniente Julio Gallardo Airport in Puerto Natales, Chile
Guests should plan their flights to arrive in Chiang Mai before 15:00 (3 pm) on Day 1 of the tour and their departing flights after 10:00 (10 am) on Day 7.
Puerto Natales Airport code: PNT Local Time: GMT-3
Documents Please
Passports are required for all guests. Visas maybe required depending on your nationality, check with the nearest Embassy of Chile.
Whatcha Gonna Get
Expert local bilingual guides
Entrance and activity fees
Handpicked lodges, ensuite rooms, double occupancy
Daily breakfast, lunch, snacks*
Dinners featuring fine local cuisine*
Unlimited drinking water**
Support van for baggage and lifts
Free use of bicycles
Glacier Boat excursion
Airport pick up & drop off
*as noted in itinerary
**during activity
Ready to Ride? Sign Up Today!
Your Group, Your Date
You, your family and friends, your preferred date, our handcrafted tour routes, privately guided, the ultimate adventure getaway.
Classic Inns from $4895
Tour is available from October thru April, Christmas & New Years are crowded.
Request My Private Date
Join a Scheduled Departure
Join a group of like minded travelers (8 guests max) on one of the dates below:
2024: 18 Feb ✦ 8 Apr ✦ 8 Apr ✦ 8 Apr
Classic Inns: $4750 per person, double occupancy
Single Room: +$1005 Deposit: $500
Book Now