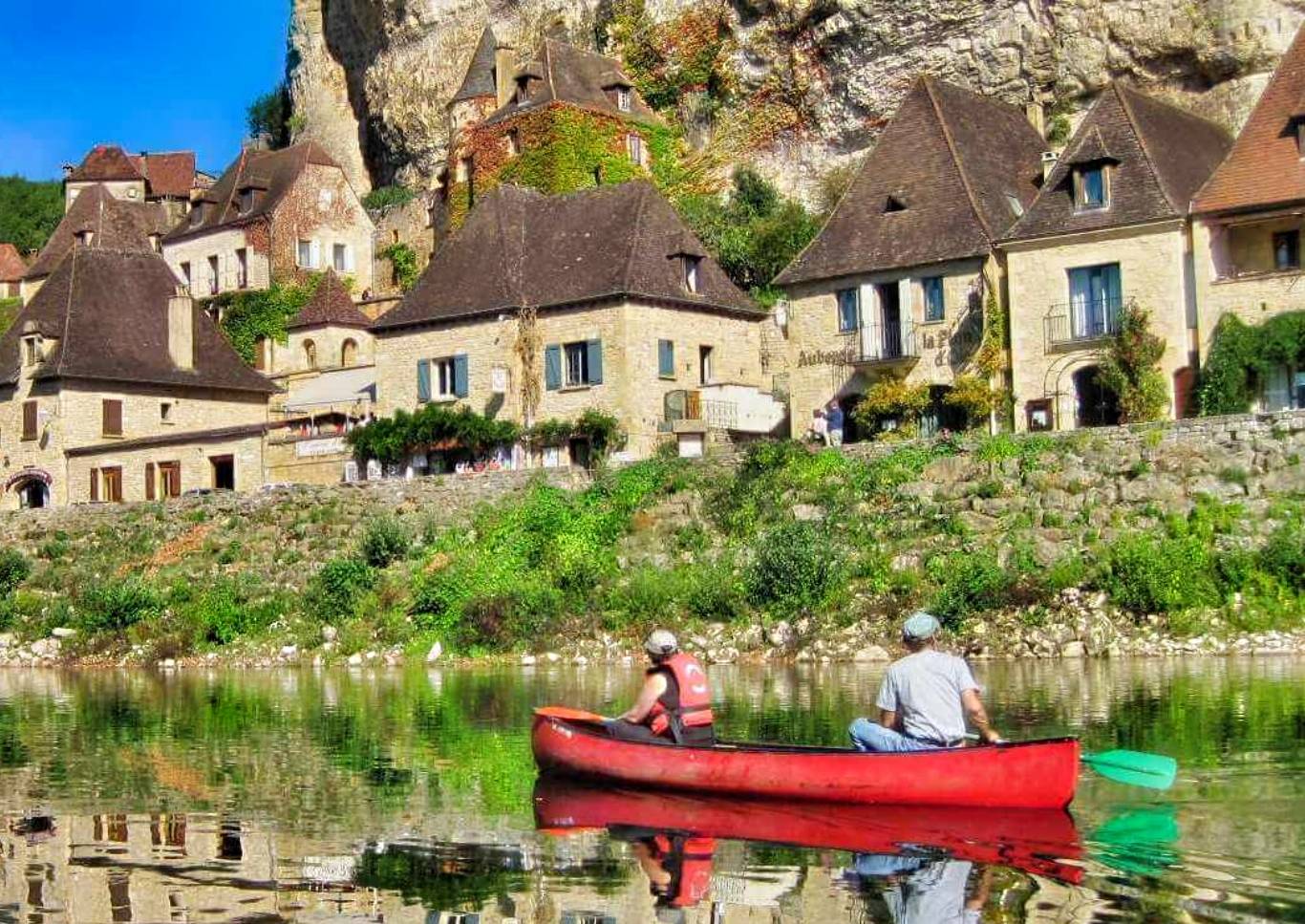 Would you like to?
Canoe past feudal era chateaux
✦
Discover the renowned cuisine of Pèrigord
✦
Explore small villages tucked under towering limestone cliffs
✦
Picnic on the riverbank with fresh baked breads
✦
Discover rural french culture
Inn to Inn Canoeing in France
Paddle through the picturesque and historically rich countryside, stroll around charming villages, and feast on delectable regional cuisine! Visit historic towns like Rocamadour, Sarlat and Lacave. Stop for lunch meals in cafes along the river in small stone villages. Get a taste of fine wine at night in hotels nestled in restored historical buildings.
As you follow the smooth course of the Dordogne River through the rural countryside, you will paddle between neat rows of poplar trees, past quaint farmlands, and towards inviting feudal chateaux. Along the route, you will explore the impressive Padirac Cave, walk the beautiful historic districts of villages and medieval towns, taste the delicious dishes and fine wines of renowned restaurants, and relax at night in lovely boutique hotels. See the most scenic sites France has to offer, from castles in the cliffs to delightful local cafes, on this serene canoe tour.
♡
Add tour to My Bucket List
💖
Saved on My Bucket List
Scheduled Dates
5 May 2024
1 Sep 2024
4 May 2025
Classic Inns $3750 per person
Book My Spot
Go Private
Spring & Fall are best for canoeing.
Plan Private Trip
More details?
Download a detailed itinerary with route profiles & more, to read and share with friends.
Download Itinerary
Paddling the Dordogne itinerary
Arrive Brive-le-Gaillarde, explore to Rocamadour & Carennac
We'll meet at Brive-le-Galliarde's airport and then head south to explore of bit of Perigord away from the river, Enjoy a walking tour around the fabled feudal town of Rocamadour and Gouffre de Padirac cave, before reaching ou hotel in quaint little Carennac. Enjoy your first feast of the rich, delicious cuisine de Perigord.
Relax: Free to explore until dinner
Eat: Dinner
Sleep: Hostellerie Fenelon
Paddle Carennac to Saint Sozy
Your first day canoeing the Dordogne is a leisurely paddle through rural French countryside, poplars trees and farmlands line the river, as you work your way downstream, passing a couple of picturesque little villages Belvedere de Copeyre and Creyesse. Our hotel is in St Sozy is a short stroll way from the riverside.
Paddle: 11 mi / 18 km
Eat: Breakfast, Lunch, Dinner
Sleep: La Terrasse
Chateau paddling to Souillac, lunch in Lacave
Continuing the journey downstream today, we will be passing by a couple of feudal chateaux and stopping for a stroll around the village of Lacave. we'll enjoy a quick bite of lunch at Le Pont de l'Ouysse which has been run by the same family for five generations. Then continue down stream to Souillac, the first sizable town we have encountered on our journey.
Paddle: 11 mi / 18 km
Eat: Breakfast, Lunch, Dinner
Sleep: La Vieille Auberge
Downstream via Rouffillac, Chateau d'Aillac to Carsac
We leave the Department of Lot behind today and officially enter the Dordogne. Our paddling takes us past Le Rouffillac and on towards the ruins of Chateau d'Aillac. Our longest day of paddling winds down in Carsac-Aillac at a nice riverside hotel Perhaps a bit of pool relaxation before another fantastic Perigord menu.
Paddle: 14 mi / 23 km
Eat: Breakfast, Lunch, Dinner
Sleep: La Villa Romaine
Walk the historic walled city of Domme, Paddle to La Rogue Gageac
Our goal for today is the photogenic feudal village of La Roque Gageac snuggled up against multicolored cliffs, a favorite stopping point along this river. But before we get there we will break for walk around the old walled city of Domme, perched on a plateau above the river.
Paddle: 9 mi / 14 km
Eat: Breakfast, Lunch, Dinner
Sleep: La Belle Étoile
Paddle to Beynac, visit Sarlat
Sadly today is the last day of paddling, as we continue downstream we will check out Chateau de la Malartrie and wander around the village of Chateau de Castelnaud-la-Chapelle before finishing the paddling at Chateau de Beynac. We say goodbye to the Dordogne and drive up the medieval town Sarlat-la-Canada. Explore the old cathedral before finishing our tour with dinner at one of the best restaurants in the region and bedding down in luxury in the historic center of town.
Paddle: 9 mi / 14 km
Eat: Breakfast, Lunch, Dinner
Sleep: Plaza Madeleine
Shuttle back to Brive
After breakfast we will shuttle folks back to Brive-le-Gaillarde Airport, bidding everyone a fond adieu and bon voyage.
Travel: Shuttle to airport
Eat: Breakfast
Getting There
The Canoeing the Dorgogne Tour meets and ends at Brive-Souillac Airport in Brive-la-Gaillarde, France.
Guests should plan their flights to arrive in Brive-la-Gaillarde before 10:00 (10 am) on Day 1 of the tour and their departing flights after 12:00 (noon) on Day 7.
Brive-la-Gaillarde airport code: BVE Local Time: GMT+1
Travel Tip: Travelers already in France can travel by train to Brive-la-Gaillarde, but need to arrive in time to reach the airport by the time noted above.
Documents Please
Passports are required for all guests. Visas maybe required depending on your nationality, check with the nearest Embassy of France.
Whatcha Gonna Get
Expert local bilingual guides
Entrance and activity fees
Handpicked lodges, ensuite rooms, double occupancy
Daily breakfast, lunch, snacks*
Dinners featuring fine local cuisine*
Baggage transfer between hotels
Free use of canoe and safety gear
Airport pick up & drop off
*as noted in itinerary
Ready to Ride? Sign Up Today!
Your Group, Your Date
You, your family and friends, your preferred date, our handcrafted tour routes, privately guided, the ultimate adventure getaway.
Classic Inns from $3925
Tour is available From April through October, but rivers crowded in late July through August.
Request My Private Date
Join a Scheduled Departure
Join a group of like minded travelers (8 guests max) on one of the dates below:
2024:  5 May ✦ 1 Sep
2025:  4 May
Classic Inns: $3750 per person, double occupancy
Single Room: +$750 Deposit: $350
Book Now