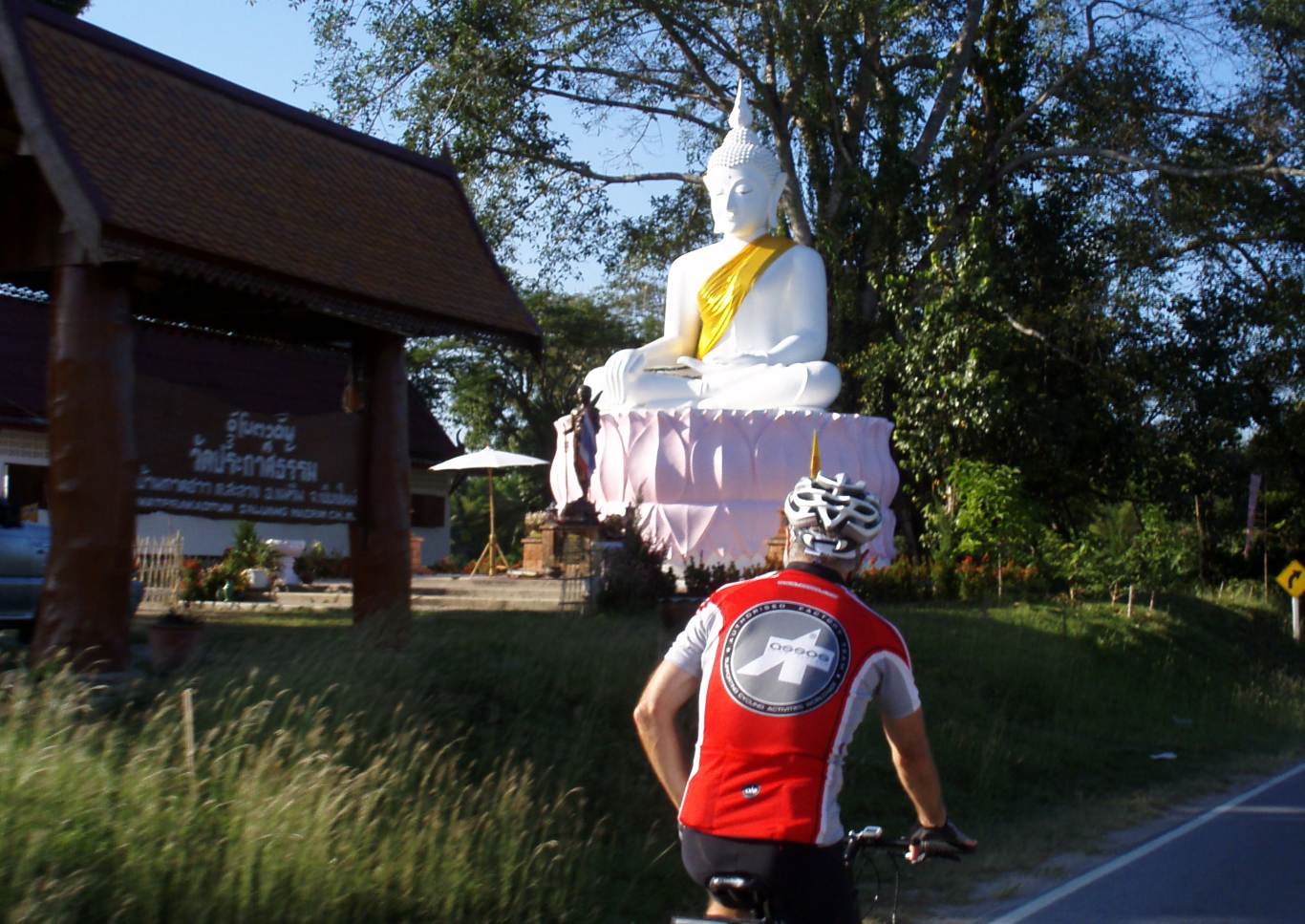 Would you like to?
Enjoy Lanna style Thai cuisine
✦
Explore the 700 year old ruins of Wiang Lo
✦
Cycle lush green teak forests
✦
Visit Wat Cahelom Phrakiat's floating stuphas
✦
Relax at a hot spring fed waterfall
Chiang Mai to Chiang Rai Bike Tour
Cycling Secret Roads Chiang Mai to Chiang Rai
Embark on an unforgettable cycling adventure through the cultural gems and picturesque landscapes of northern Thailand. This thrilling journey immerses you in the heart of local traditions, delectable cuisine, and ancient history. Pedal through serene rural countryside, passing vibrant farmlands and charming villages, where colorful temples and bustling markets await. Discover hidden treasures like the awe-inspiring Wat Chaloem Phrakiat with its floating stupas and the remarkable ruins of Wiang Lo, an ancient northern kingdom.
Indulge in the beauty of nature at Phu Sang National Park and Ta Mok Waterfall. Throughout the tour, savor authentic Thai dishes at riverside gems and local favorites. Immerse yourself in the culture, from visiting handicraft shops to exploring teak wood temples and fascinating museums. As you bid farewell, carrying cherished memories, know that this adventure has brought you closer to the vibrant soul of Thailand. Get ready to embark on an exhilarating journey that combines the thrill of cycling with the discovery of local culture, history, and flavors in one unforgettable experience.
♡
Add tour to My Bucket List
💖
Saved on My Bucket List
Scheduled Dates
15 Oct 2023
5 Nov 2023
17 Dec 2023
21 Jan 2024
18 Feb 2024
30 Jun 2024
13 Oct 2024
10 Nov 2024
15 Dec 2024
20 Jan 2025
17 Feb 2025
29 Jun 2025
$1959 per person
Book My Spot
Go Private
Oct to Feb is best for cycling.
Plan Private Trip
More details?
Download a detailed itinerary with route profiles & more, to read and share with friends.
Download Itinerary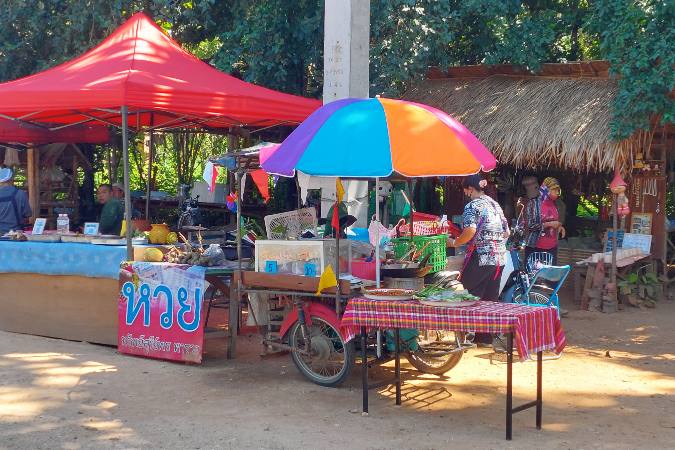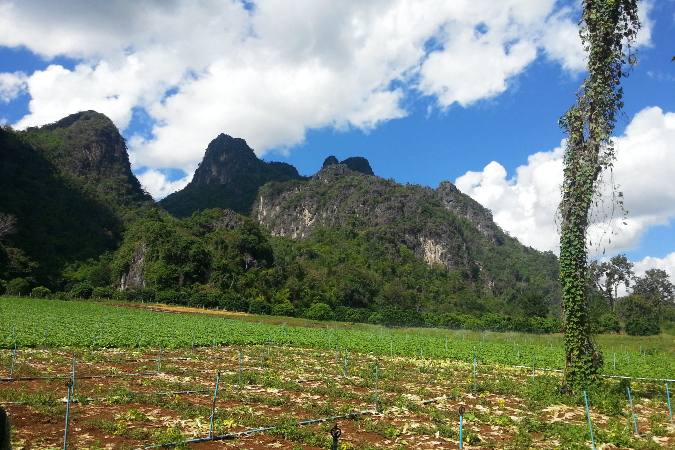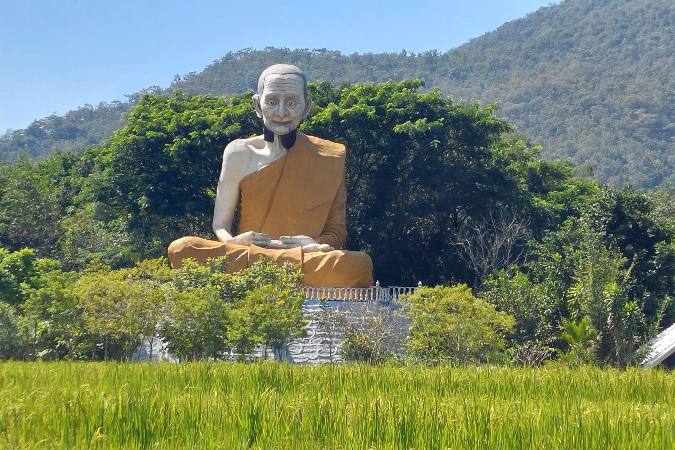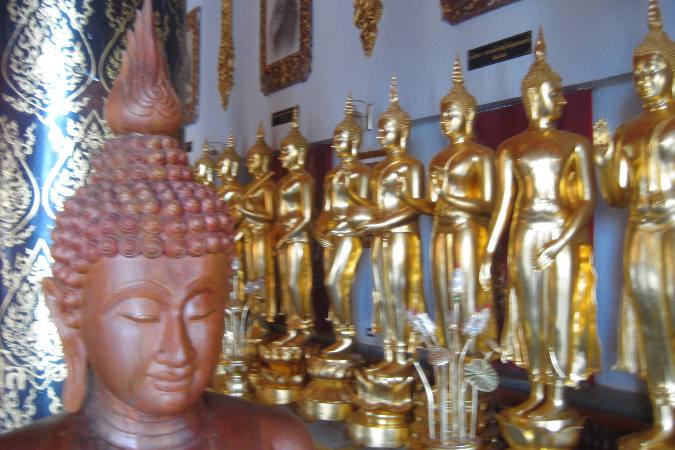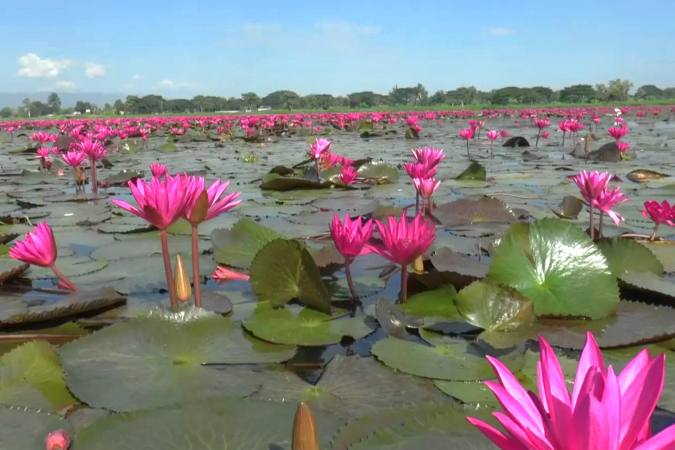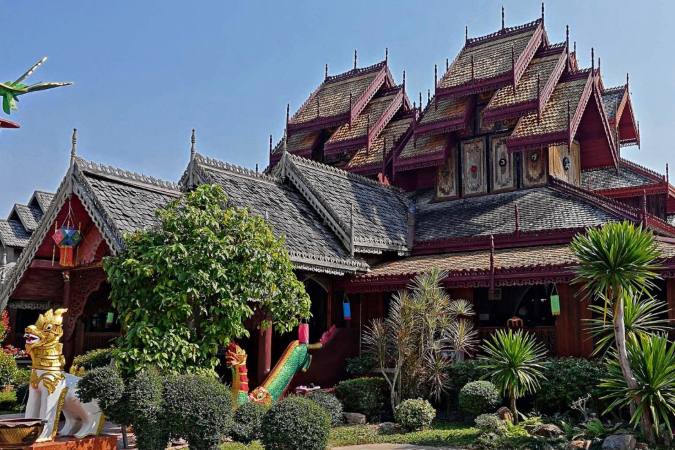 Thailand bicycle tour day by day details
Welcome to Vibrant Chiang Mai: Bike Fitting and Cultural Orientation
As the sun begins to set, join our enthusiastic guide team and fellow adventurers at our charming hotel nestled in the heart of Chiang Mai's Old City. Get ready to embark on an extraordinary journey of local immersion and discovery. During orientation, we'll not only fit you to your trusty bicycle but also introduce you to the vibrant tapestry of Chiang Mai's culture. We'll kick off the adventure with a delectable welcome dinner at a hidden gem, a tiny riverside restaurant on the enchanting banks of the Ping River. Get ready to tantalize your taste buds with some of the best Thai cuisine Chiang Mai has to offer.
Relax: Free to explore until dinner
Eat: Dinner
Sleep: The Rim Chiang Mai
Rural Cycling to Pang Hai Village: Cave Exploration and Temple Visit
After a delicious breakfast, we'll whisk you away from the hustle and bustle of the city, avoiding the morning rush hour traffic. Our journey begins with a visit to local handicraft shops, where you can witness skilled artisans at work, preserving ancient traditions. Then, we'll venture into the tranquil countryside of Chiang Mai, pedaling through picturesque landscapes. Prepare to be awestruck as we visit Wat Tham Mae On, a magnificent temple nestled within an expansive limestone cave complex. Our day's destination is the charming mountain village of Pang Hai, where we'll experience the warm embrace of traditional wooden Thai houses and immerse ourselves in the local way of life.
Ride: 26 mi / 42 km, Land: hilly, slow climb
Eat: Breakfast, Lunch, Dinner
Sleep: Lanna Pang Hai Homestay
Scenic Mountain Roads: National Park Expedition and Majestic Temple
Today, we embark on a breathtaking ride through the verdant forests of Chae Son National Park. Enveloped by the soothing shade of teak and other tropical hardwoods, we'll traverse peaceful mountain roads, far from the hustle of urban life. As we emerge from the lush foliage, a magnificent sight awaits us: Wat Chaloem Phrakiat Phrachomklao Rachanusorn, adorned with ethereal white stupas seemingly floating in the sky. After rejuvenating at our hotel, we'll journey to the summit of the peak to explore this awe-inspiring temple and its celestial stupas up close.
Ride: 33 mi / 54 km, Land: long slow climb
Eat: Breakfast, Lunch, Dinner
Sleep: Leelawaddee Resort
Rural Serenity: Farmland Cycling and Lakeside Retreat in Phayao
After our exhilarating mountain rides, today is all about immersing ourselves in the idyllic flatlands that define this region. Our route meanders through picturesque farmlands, where vibrant towns punctuated by colorful temples and bustling fresh markets await our arrival. Indulge in the authentic charm of rural Thailand as we conclude our ride at the enchanting Ta Mok Waterfall, its cascading veils of water creating a soothing ambiance. From there, we'll drive to Phayao, bypassing busy main roads, and unwind at our lakeside hotel, basking in the tranquility of Phayao Lake.
Ride: 35 mi / 57 km, Land: flat
Eat: Breakfast, Lunch, Dinner
Sleep: Nagatara Resort
Unveiling Ancient Secrets: Ruins, Teak Temples, and Cultural Heritage
To make the most of our day, we'll begin with a short shuttle ride to the outskirts of Chiang Mai, evading the morning traffic. As we embark on a leisurely ride, picturesque farmlands and vibrant villages will greet us along the way, showcasing the timeless beauty of rural life. Prepare to be transported back in time as we switch to samlors, traditional pedicabs driven by village residents, to explore the remarkable ruins of Wiang Lo, one of the three original northern kingdoms alongside Sukhothai and Chiang Saen. Continuing our cultural odyssey, we'll visit the extraordinary Wat Nantaram, an exquisite teak wood temple, and immerse ourselves in the Tai Lue People's heritage at Wat Phrathat Sob Wean, featuring a captivating museum.
Ride: 48 mi / 76 km, Land: flat
Eat: Breakfast, Lunch, Dinner
Sleep: Rico Resort
Nature's Bounty: National Park Adventure and Culinary Delights in Chiang Rai
After savoring a delightful breakfast, we set off on our bicycles to discover the pristine beauty of Phu Sang National Park, where a refreshing waterfall fed by natural hot springs awaits our arrival. Taking in the park's splendor, we'll then turn our handlebars towards Chiang Rai, our journey unfolding amidst gently rolling rural terrain. Along the way, we'll traverse authentic Thai villages and towns, capturing the essence of local life. Our cycling expedition culminates at the vibrant Wiang Thoeng Municipal Market, a lively hub where you can indulge in a true sensory feast, from fresh fruits to delectable cooked foods, vibrant clothes, and intriguing household goods. Afterward, we'll shuttle into Chiang Rai, coming together for a memorable final dinner brimming with the tantalizing flavors of Thailand.
Ride: 29 mi / 47 km, Land: mix flat & small hills
Eat: Breakfast, Lunch, Dinner
Sleep: Nak Nakara Hotel
Farewell, But Not Goodbye: Departure and New Adventures Await
After a hearty breakfast, we'll arrange shuttle services to Chiang Rai Airport, bidding farewell to our incredible journey and each other. Whether you're heading home or embarking on new adventures, we part ways with a fond "Sawasdee khap" and the memories of our captivating exploration of Chiang Mai's local culture, foods, and history from a truly immersive, local perspective.
Travel: Shuttle to airport
Eat: Breakfast
Good Gear
Pedalers provides Merida Speeders, a lightweight, flatbar, sport road bike. Bianchi Kuma mountain bikes are also available, but the roads are all nicely paved.
As a safe health measure, guests are asked to bring their own helmets and waterbottles for cycling. If necessary these can be purchased economically in Thailand.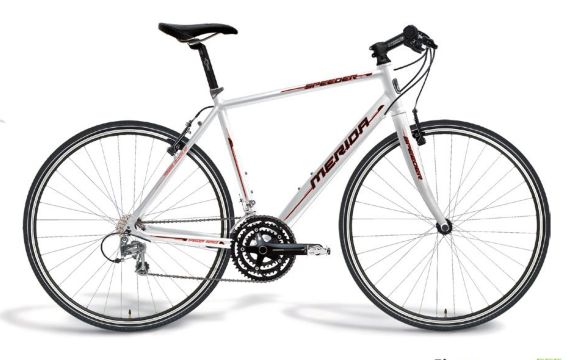 Good Eats
Discover the best of northern Thai cuisine each night with our Guide Curated Menus. Your guide team has found the best dIshes to try at each of the restaurants we visit at dinner time.
Perhaps some delicately fried morning glory with a seafood sauce. Or try some nam prick, a roasted Thai chili dip eaten with fresh vegies or pork skins. Discover Lanna dishes such a pork curry or Sai Ua, a spicy northern Thai sausage.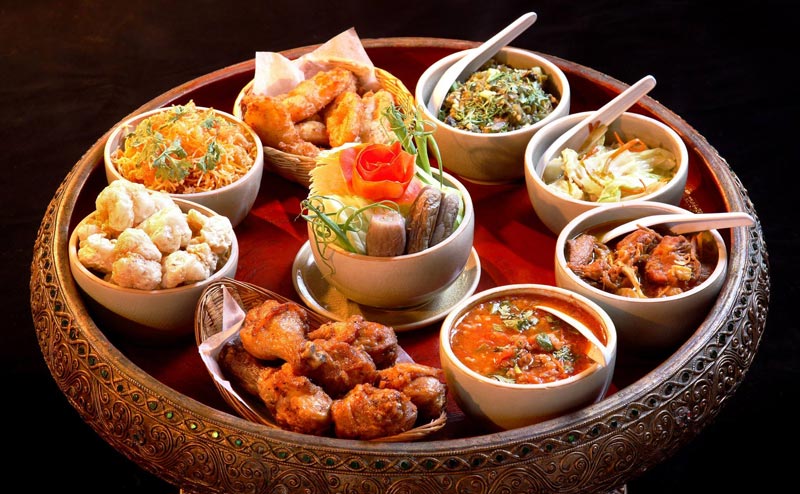 Getting There
The Chiang Mai to Chiang Rai tour meets at Chiang Mai International Airport in Chiang Mai, Thailand and ends at Chiang Rai International Airport in Chiang Rai. Guides will meet arriving flights, between 9:00 and 14:00
Guests should plan their flights to arrive in Chiang Mai before 14:00 (2 pm) on Day 1 of the tour and their departing flights from Chiang Rai after 10:00 (10 am) on Day 7.
Chiang Mai Airport code: CNX Chiang Rai Airport code: CEI Local Time: GMT+7
Travel Tip: Buying your domestic flight from Bangkok to Chiang Mai and back from Chiang Rai separately from your international flight to Thailand is often a better value. But do leave sufficient time between flights (3 hours suggested).
Documents Please
Passports are required for all guests. Visas maybe required depending on your nationality, check with the nearest Embassy of Thailand.
Whatcha Gonna Get
Expert local bilingual guides
Entrance and activity fees
Handpicked lodges, ensuite rooms, double occupancy
Daily breakfast, lunch, snacks*
Dinners featuring fine local cuisine*
Unlimited drinking water**
Support van for baggage and lifts
Free use of bicycles
Airport pick up & drop off
*as noted in itinerary
**during activity
Ready to Ride? Sign Up Today!
Your Group, Your Date
You, your family and friends, your preferred date, our handcrafted tour routes, privately guided, the ultimate adventure getaway.
Classic Inns from $2050
Tour is available June to February. Oct to Feb is best.
Request My Private Date
Join a Scheduled Departure
Join a group of like minded travelers (8 guests max) on one of the dates below:
2023: 15 Oct ✦ 5 Nov ✦ 17 Dec
2024: 21 Jan ✦ 18 Feb ✦ 30 Jun ✦ 13 Oct ✦ 10 Nov ✦ 15 Dec
2025: 20 Jan ✦ 17 Feb ✦ 29 Jun
: $1959 per person, double occupancy
Single Room: +$450 Deposit: $300
Book Now