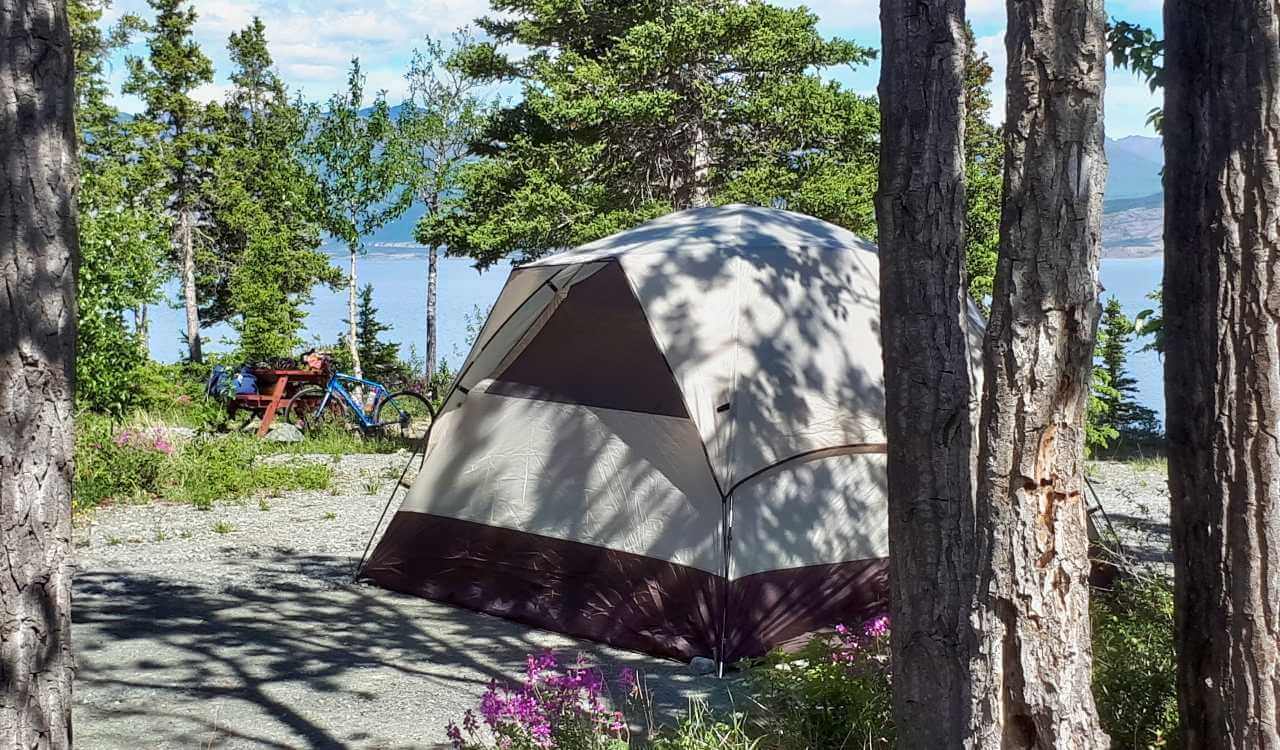 Million Star Nights
Bed Down Under the Stars After a Day of Adventure
Picture yourself sitting under the open skies, surrounded by majestic mountains, swapping incredible stories with your fellow adventurers. At Pedalers, we know the true joy of camping and we bring that experience to our thrilling cycling tours and adventure travel.
Now, when you think of camping, you might imagine roughing it with dirt, bugs, and pit toilets. But hold on! That's not our style. We carefully select campgrounds that offer the best of both worlds: breathtaking locations and top-notch amenities. Imagine enjoying hot showers, running water, and flush toilets at our overnight stops. And that's not all! Along the Alaska Highway, we even treat you to mouthwatering homemade pies and cinnamon rolls from the camp's bakery. Our campsites are strategically placed in picturesque regions, nestled among snow-capped peaks, beside stunning lakes, or beneath the fragrant canopy of fir trees.
But comfort is key, too. As the evening settles in, our large dining canopy is set up, providing shelter in case a shower decides to join the party. We've got you covered with comfy folding chairs for each guest. And if those pesky insects try to gatecrash, we'll wrap our shelter with a mosquito bar, keeping the wildlife at bay while we enjoy our delicious meals and share captivating tales.
Now, let's talk gear! Don't worry if you don't have any. Pedalers has got you covered. We provide all the necessary camping gear, including spacious five-person tents for just two guests, cozy sleeping bags with removable flannel liners for those chilly nights, and plush mattresses to ensure a good night's sleep.
We're not only passionate about adventure; we're environmentally responsible too! Say goodbye to throwaway paper goods and plastic cups. At Pedalers, we equip each guest with a full set of washable, reusable dishes and utensils. After mealtime, you can easily clean up at our convenient dishwashing stations. Plus, we're all about sustainability. All our drinks, from beer to sodas and juices, come in recyclable containers, and our drinking water is sourced from refillable jugs.
So, get ready to embark on an unforgettable journey where local expertise meets the thrill of outdoor exploration. With Pedalers, you'll experience the wonders of nature, make lifelong memories, and enjoy the camaraderie of fellow adventurers, all while embracing the fun and excitement of cycling tours and adventure travel. Let's hit the road and create epic stories together!