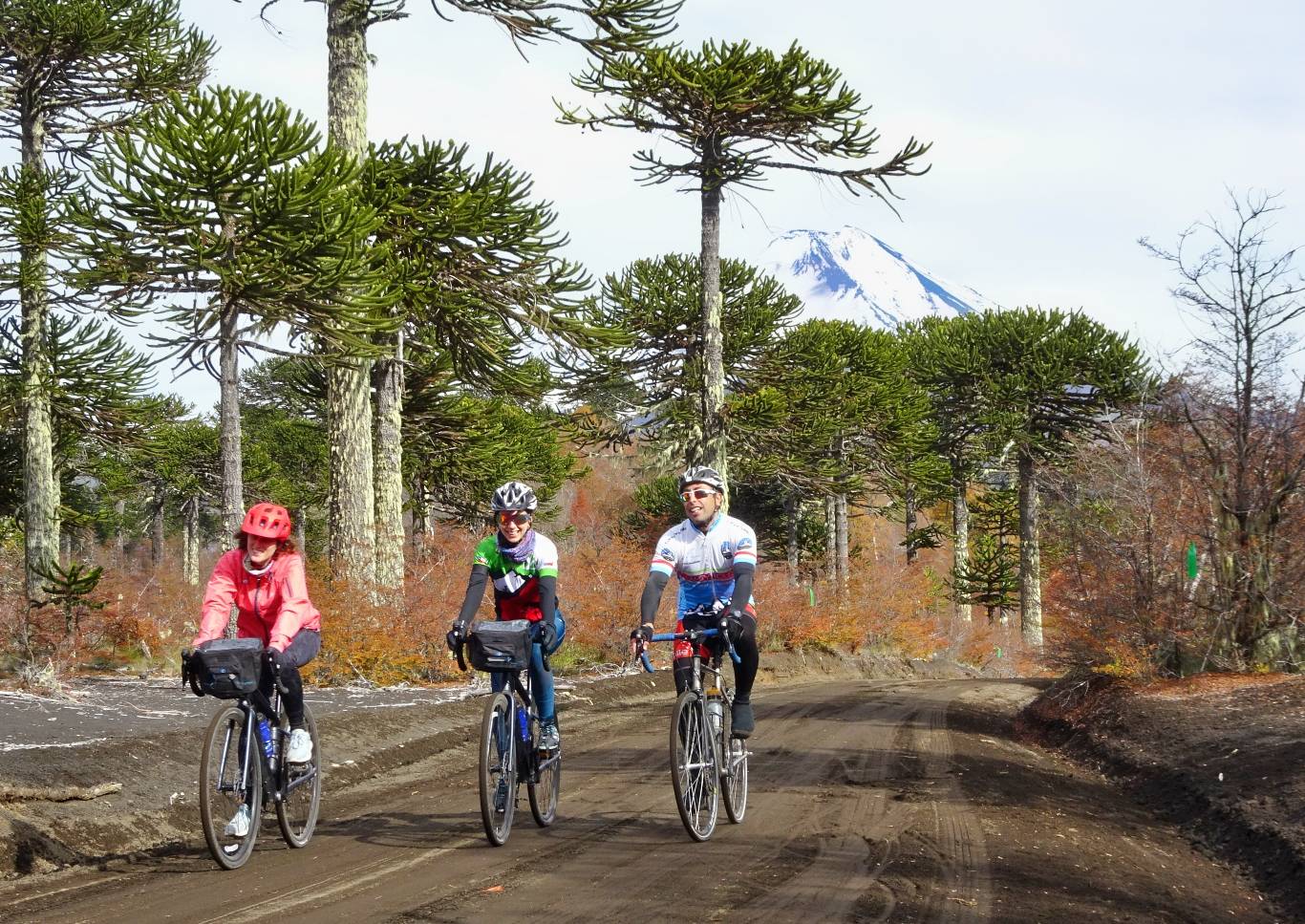 Would you like to?
Cycle the back roads of Chilean national parks
✦
Soak in natural hot spring fed pools
✦
Discover Chilean cuisine and regional wines
✦
Experience the Lakes & Volcanoes district
✦
Enjoy tastings of locally brewed craft beers
Secret Way: Lakes & Volcanoes
Bicycling the backroads of Lakes & Volcanoes
The dramatic landscapes of the Lakes & Volcanoes region in Chile have long appealed to cyclists, but the traffic on the highways dampened the enthusiasm. Pedalers' Chilean team has mapped out a route using small park service roads that takes you from lake to lake through this wonderful area, without hitting the big roads.
Imagine cycling along scenic lake shores, wildflowers dotting the alpine meadows with snow capped volcanoes reaching skyward as a backdrop. Pedal through forests of the unique Monkey Puzzle Tree, explore hot springs and small villages. The ride takes in the Kütralkura Geopark and Conguillío National Park, highlighting their wonders. We will take a day off the bikes for a delightful hike through Conguillío National Park. Even our hotels on this route are unique bedding down one night on a working horse farm, another night at a local brewery and several with hot springs on the premises.
♡
Add tour to My Bucket List
💖
Saved on My Bucket List
Scheduled Dates
10 Dec 2023
25 Mar 2024
9 Dec 2024
24 Mar 2025
Première Inns $5450 per person
Book My Spot
Go Private
Nov thru April is good weather for cycling.
Plan Private Trip
More details?
Download a detailed itinerary with route profiles & more, to read and share with friends.
Download Itinerary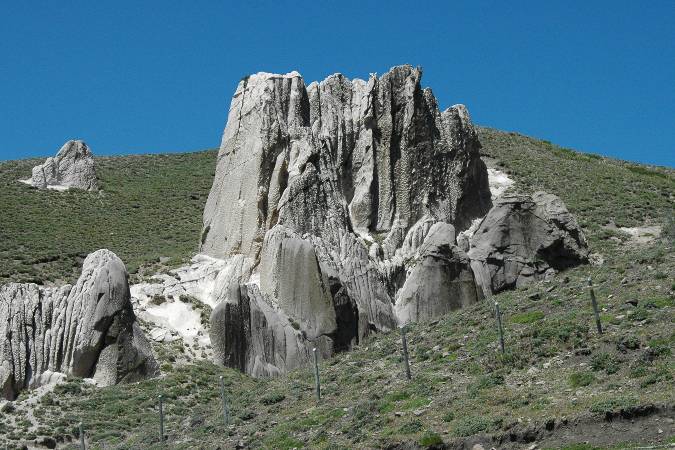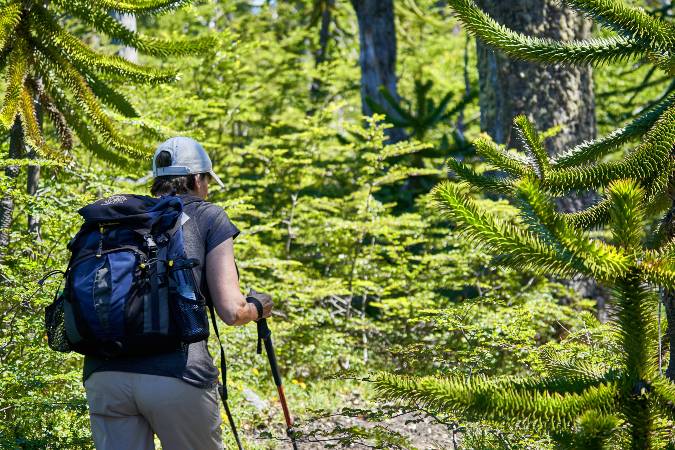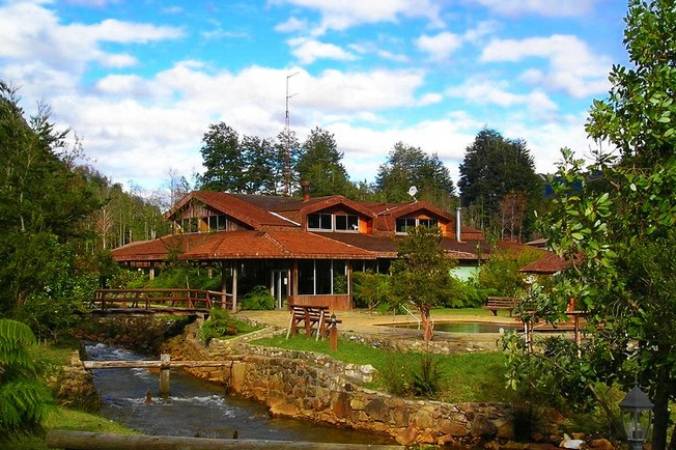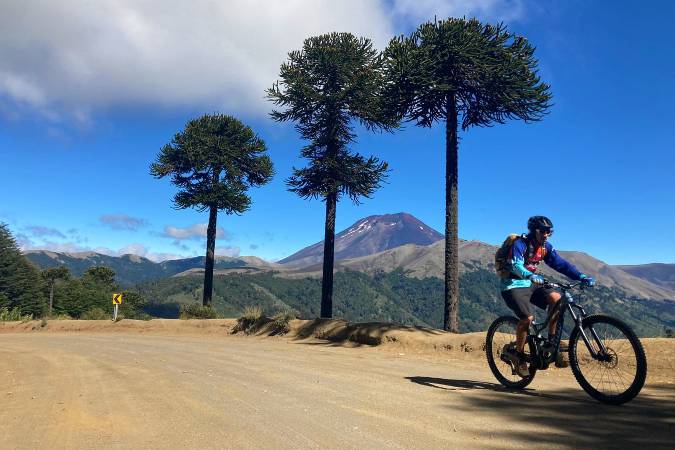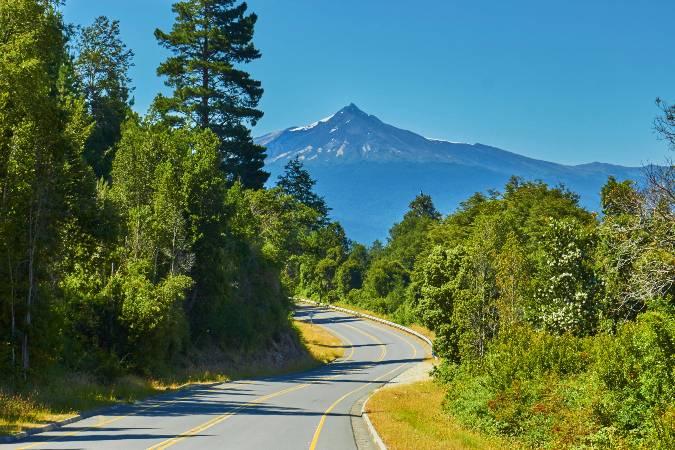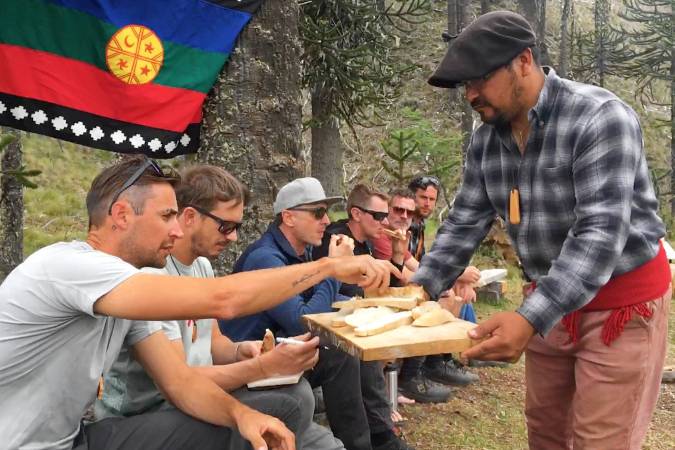 Chile bicycle tour day by day details
Arrival in Chile
Your guide team will be awaiting your arrival in Temuco. You have the day free to explore the town and rest up from your flights. In the evening, we'll have an orientation and briefing session before our Welcome Dinner together in one of our favorite restaurants in Temuco.
Relax: Free day until dinner
Eat: Dinner
Sleep: Dreams Temuco Hotel
Temuco Inspector Fernandez to Tolhuaca National Park
We start with a transfer to the small villageof Inspector Fernandez. This village is part of the UNESCO Biosphere Reserve. Here we'll get the bikes ready before starting our Chile bike tour with a 35 mile warm up ride towards the national park, with Tolhuaca volcano in sight and surrounded by ancient araucaria trees. We'll arrive at our lodge with offers natural hot springs and a geyser in an incredible setting. In the evening, gather for our first dinner together.
Ride: 57 km, Land: hilly
Eat: Breakfast, Lunch, Dinner
Sleep: Termas de Melleco Hotel
Kütralkura Geopark, from Termas de Malleco to Termas de Manzanar
Today we bike 32 miles from one hot springs lodge to another one As we ride our bikes, we'll leave Termas de Malleco and descend on a dirt road towards the city of Curacautín. Here we'll hit asphalt and continue towards the village of Manzanar, where our next hot spring lodge is waiting for us.
Ride: 52 km, Land: hilly
Eat: Breakfast, Lunch, Dinner
Sleep: Termas de Manzanar Lodge
Kütralkura Geopark, Manzanar to Lonquimay
After breakfast we ride to old train station of Manzanar, where we pick up the old railway that now has been turned into a bike trail. The 7 mile bike trail traverses several fun tunnels before ending at the old station of Malalcahuello village We continue biking on asphalt for another 5 miles that ascend to an old mountain road called "cuesta las raices". Here we hit the dirt and continue biking for another 14 miles This mountain pass is surrounded by monkey puzzle trees and with amazing views over Lonquimay volcano. It is the heart of the Pewenche, one of the first nations of this part of Chile. Finally, we arrive at Lonquimay village and our lodge brewery. Tonight, enjoy local beers with dinner at the brewery lodge.
Ride: 42 km, Land: hilly
Eat: Breakfast, Lunch, Dinner
Sleep: Lonquimay Brewery & Lodge
Conguillío National Park Ride
We'll shuttle from Lonquimay to Curacautín, then start biking from the city's main square towards Conguillío National Park and Llaima Volcano. This national park crossing will be one of your favorite rides. Its scenery has inspired BBC documentary series called Walking with Dinosaurs. The first 13 miles are done on asphalt and then we switch to 19 miles of dirt and gravel all the way until we arrive to the lodge. We'll pedal alongside 4 beautiful volcanic lakes, such as Captrén Conguillío, Arcoiris and Verde. Our lodge, La Baita, is Chile's first ecolodge, with many awards in sustainability.
Ride: 52 km, Land: hilly
Eat: Breakfast, Lunch, Dinner
Sleep: La Baita Eco-Lodge
Sierra Nevada Trail in Conguillío National Park
After breakfast at La Baita Lodge, we will have a short drive, followed by hiking along the Sierra Nevada trail surrounded by native trees, including ancient monkey puzzle trees or araucarias. We will hear and spot many endemic birds such as the chucao tapaculo, the Magellan woodpecker and the Andean condor. The trail has 3 dramatic viewpoints, and we'll enjoy them all. Each one of them with different angles to take in the views of the Conguillío Lake, Llaima and Sierra Nevada volcanoes. After spending some time eating our packed lunch, taking pictures and enjoying the amazing view, we'll hike back to the bottom of the trail and visit Playa Linda (pretty beach). Later, we'll head back to our ecolodge and relax before dinner.
Walk: 12km / 7 mi Land: hilly
Eat: Breakfast, Lunch, Dinner
Sleep: La Baita Eco-Lodge
Conguillío NP Lake Colico Santa Amalia Ranch
Another day in the saddle and a very special one. We'll start biking from our ecolodge and as we exit the national park, we can visit the Truful Truful canyon, one of the highlights of the Geopark. Then we hit asphalt again for the great part of the day, covering a total distance of 46 miles. We'll pedal by historic towns such as Melipeuco and Cunco, Finally, we head to Lake Colico and arrive at a private ranch where we are greeted by the owners, a family that raises polo horses.
Ride: 75 km, Land: hilly
Eat: Breakfast, Lunch, Dinner
Sleep: Santa Amalia Ranch
Andean road , Lake Colico to Curarrehue village
After a week traveling in Chile's Lake Volcano District, you have probably realized that we are following a Scenic Road called "Ruta Escénica Lagos Volcanes". We'll drive for one hour from Santa Amalia Ranch to Trafampulli village at the east shore of Lake Colico. Here we get on the saddles and start biking a 59 mile mountain road. Be ready for a long hard day, as it will be hilly, dusty and only gravel, 110% worth it. The monkey puzzle trees will be the witnesses of our efforts to beat the mountain road. Finally, we arrive at a nice lodge by the Panqui valley near Curarrehue.
Ride: 96 km, Land: hilly
Eat: Breakfast, Lunch, Dinner
Sleep: Kila Tai Tai Lodge
The Transvolcanic Crossing
Today we'll start riding from our lodge, on a 56 mile mixed surface route that combines gravel, asphalt and dirt. We begin by following the famous Trancura river until we get to the village of Palguin. From there, we start climbing to the entrance of Villarrica National Park, where we hit a mix of gravel and dirt road. Here we'll be completely immersed in a native forest, between 2 volcanoes Villarrica and Quetrupillán. As we finish the 12 mile ascent, we start descending on a double track trail that covers the rest of the park's boundaries. Then, the road widens and shortly turns into asphalt, where we'll eat lunch at a local quincho run by local settlers. After our meal, we'll bike across the village of Coñaripe located by the shores of Lake Calafquen and finally ride the last 9 miles until we arrive at our lodge with natural hot springs to enjoy a soak.
Ride: 90 km, Land: hilly
Eat: Breakfast, Lunch, Dinner
Sleep: Termas de Coñaripe Lodge
Chile's 7 Lake Route
Each day brings new beauty on this tour, and today is no exception. On our last day on the bikes, we will ride one of Chile's most scenic roads, The Seven Lake Route. We'll pedal 24 miles alongside the shores of two beautiful lakes, Pellaifa and Neltume. This road is a mix of gravel and smooth asphalt, usually very quiet as almost no vehicles drive here. As soon as we leave behind Lake Neltume we hit asphalt, and only 8 miles will keep us from arriving at the Biological Reserve Huilo Huilo. Here we'll stay overnight at an incredible lake front hotel, located by Pirihueico lake. You can swim in the lake and relax all the afternoon. At night, we'll enjoy a farewell dinner together.
Ride: 38 km, Land: hilly
Eat: Breakfast, Lunch, Dinner
Sleep: Marina del Fuy Hotel
Huilo Huilo Temuco's Airport
Sadly, it's time to say good bye to the beautiful Lake Volcano District of Chile. After breakfast, we'll visit Huilo Huilo waterfall and the visitor's center, looking for that special souvenirs to bring home. Later we'll load up and drive to Temuco Airport to catch your flight home or wherever your travels take you next. It's been a trip you will always remember!
Travel: Shuttle to airport
Eat: Breakfast
Getting There
The Chile: Lakes & Volcanoes meets and ends at La Araucanía International Airport in Temuco, Chile
Guests should plan their flights to arrive in Temuco before 16:00 (4 pm) on Day 1 of the tour and their departing flights after 13:00 (1 pm) on Day 11.
Temuco Airport code: ZCO Local Time: GMT-3
Documents Please
Passports are required for all guests. Visas maybe required depending on your nationality, check with the nearest Embassy of Chile.
Whatcha Gonna Get
Expert local bilingual guides
Entrance and activity fees
Handpicked lodges, ensuite rooms, double occupancy
Daily breakfast, lunch, snacks*
Dinners featuring fine local cuisine*
Unlimited drinking water**
Support van for baggage and lifts
Free use of bicycles
Airport pick up & drop off
*as noted in itinerary
**during activity
Ready to Ride? Sign Up Today!
Your Group, Your Date
You, your family and friends, your preferred date, our handcrafted tour routes, privately guided, the ultimate adventure getaway.
Classic Inns from $5500
Tour is available from November through April, first weeks of February very crowded.
Request My Private Date
Join a Scheduled Departure
Join a group of like minded travelers (8 guests max) on one of the dates below:
2023: 10 Dec
2024: 25 Mar ✦ 9 Dec
2025: 24 Mar
Première Inns: $5450 per person, double occupancy
Single Room: +$995 Deposit: $500
Book Now