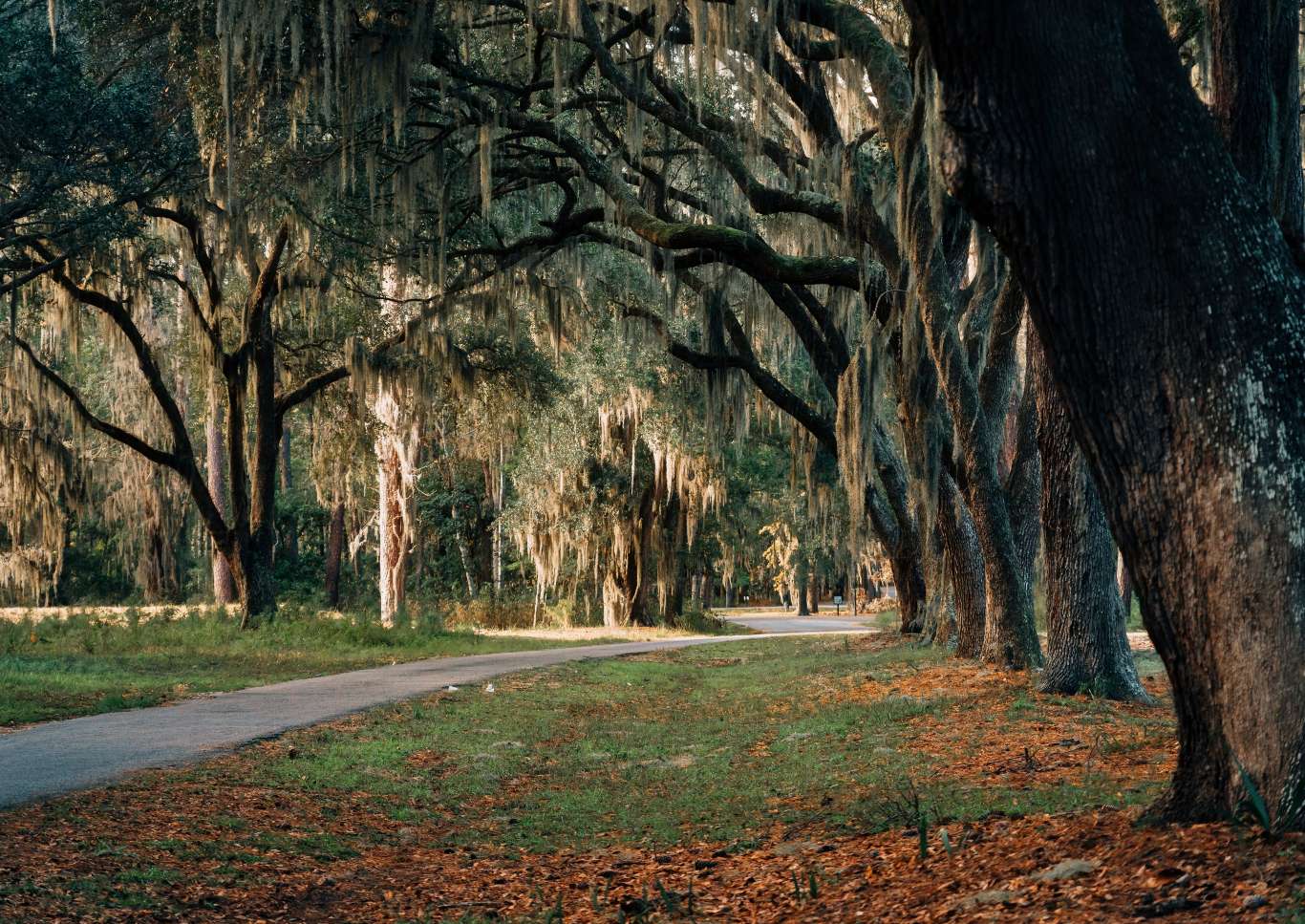 Would you like to?
Enjoy seafood fresh from the oceans
✦
Walk the ramparts of Castillo de San Marco
✦
Explore the antique shops of historic Micanopy
✦
Bike free of traffic on Rail Trails
✦
Enjoy tastings of Florida brewed craft beers
Historic North Florida Bike Tour
Bicycling Florida's Hidden Wonders
Cycling Florida provides the opportunity to discover more than just Disney and Miami. Learn about Florida's rich history as you cycle the beautiful landscape, acquaint yourself with unique flora and fauna, and savour slow-smoked BBQ, fresh seafood, and cool craft beers!
The Historic North Florida Cycling Tour starts off within the Steinhatchee fishing village, where you will bike one of Florida's famous limestone trails. The route continues over an old trestle bridge, through untamed forests, past expansive farmlands, and into quaint small towns. You will pedal the beautiful Nature Coast Trail to historic Micanopy, where you can wander amongst the ancient oaks that drip with Spanish moss and browse the antique shops and art galleries. Then, you will cycle even farther back in history as you cross the St John, one of the few rivers in the world that flows south to north, and reach St Augustine, America's oldest continually inhabited city. Here, you are free to explore the historic district, visit some of the many museums, stroll the impressive ramparts of the 350-year-old Castillo de San Marcos, and relax on the water.
Due to damage in Steinhatchee from Hurricane Idalia, Pedalers' fall dates for the North Florida tour will start inland in Branford along the Suwannee River. Contact us for more details.
♡
Add tour to My Bucket List
💖
Saved on My Bucket List
Scheduled Dates
15 Oct 2023
25 Mar 2024
22 Apr 2024
6 May 2024
23 Sep 2024
21 Oct 2024
24 Mar 2025
21 Apr 2025
5 May 2025
Classic Inns $3295 per person
Book My Spot
Go Private
Mar - May and Sept - Nov are best for cycling.
Plan Private Trip
More details?
Download a detailed itinerary with route profiles & more, to read and share with friends.
Download Itinerary
Florida bicycle tour day by day details
Meet in Gainesville, warm up ride to Steinhatchee Falls.
Your group will meet at Gainesville Regional Airport around lunch time, then shuttle to Steinhatchee, a fishing port on the Gulf Coast of Florida. We'll get the bikes fitted and enjoy a warmup ride to Steinhatchee Falls and Rise, including a ride on one of Florida's renowned limestone roads. Later we welcome everyone with a great seafood dinner at one of Steinhatchee's better restaurants.
Ride: 18 mi / 29 km, Land: flat
Eat: Dinner
Sleep: Steinhatchee Landing
Cycle through pine forests and small rural towns, bike the Nature Coast Rail Trail
We will head out for a local breakfast, then cycle through parts of the Steinhatchee Wildlife Management Area along quiet backroads. Reaching Cross City we pick up the Nature Coast Rail Trail, a beautifully paved bike route that keeps us off the highways and roads for most of the rest of our ride today. The ride takes us through farmlands, small towns and forests to Old Town, where it crosses the Suwannee River on an old trestle bridge. Reaching Fanning Springs we turn south for a bit, then back across the Suwannee to our motel for the night, simple lodging with a magnificent riverfront location. Small town charm and southern cooking highlights our dinner choice to tonight.
Ride: 40 mi / 64 km, Land: flat
Eat: Breakfast, Lunch, Dinner
Sleep: Suwannee Gables Marina
Bike the Nature Coast Trail, through horse farm country, bed down in historic Micanopy.
We will bike to breakfast in Fanning Springs, before continuing along the Nature Coast Trail to the old rail station in Trenton. From Trenton we ride south towards the horse farm region of Florida, considered to be the Horse Capital of the World and renowned for its thoroughbreds. We only pass through a small slice of this massive region enroute to historic Micanopy. This afternoon wander the main street of Micanopy, poking around in antique dealers, art galleries and bric-a-brac shops, before relaxing in our 1850's era Bed & Breakfast. And no trip to Florida is complete without at least one BBQ dinner and the diminutive cafe you enjoy tonight is ranked in the Top 5 in all of barbecue joints in Florida. We will also enjoy a tasting of the excellent craft beers from several breweries in Gainesville.
Ride: 43 mi / 69 km, Land: flat few small hills
Eat: Breakfast, Lunch, Dinner
Sleep: Herlong Mansion
Visit Majorie Kenning Rawlins home, bike to the St John River, enjoy historical Inn.
The boomers among us may recall a story and film - The Yearling by Majorie Kinnan Rawlings, set in 1870s Florida, today we cycle past her home in Cross Creek, the area that inspired the book. Nowadays, a small fishing town, Cross Creek itself connects two large lakes (Orange & Lochloosa), we'll stop for a quick look at her house before cycling through this region dotted with numerous small lakes and ponds. We'll check out a bit of the ill-fated Cross Florida Barge Canal before reaching Palatka, our stop for the night. Palatka sits on the banks of the St John River one of the few rivers in the world that flows south to north. As we are getting closer to the Atlantic coast, seafood is again on the menu.
Ride: 54 mi / 86 km, Land: flat few small hills
Eat: Breakfast, Lunch, Dinner
Sleep: Grand Gables Inn
Ride the Palatka Rail Trail to the Atlantic Ocean, walk the streets of 450 year old St Augustine
After breakfast we pick up another of the Florida Rail Trails, taking us first across the St John's River on Memorial Bridge and then through the pine forests and sandy dunes of coastal Florida towards St Augustine. Unfortunately it is not completed all the way yet, you will will pop out onto the local roads and finish our ride into St Augustine. St Augustine is America's oldest continually inhabited city, founded by Spanish explorers in 1565. Your short 30 miles of flat cycling will give you lots of time to explore this picturesque city. Perhaps explore the historic district, limited to foot traffic only, stroll the ramparts of the 350 year old Castillo de San Marcos or just sit on the balcony of our bed & breakfast in the historic district and people watch. Our final dinner will be a short stroll away, where ocean fresh seafood meets traditional southern cooking, plus maybe a few craft beers from the local microbreweries.
Ride: 30 mi / 48 km, Land: flat
Eat: Breakfast, Lunch, Dinner
Sleep: St George Inn
Return to Gainesville Airport for your flights home.
Our cycling holiday must come to an end today. We will shuttle back to the Gainesville Airport in our vans, one last chance to enjoy the scenery through which you pedaled for the last few days. See ya'll later.
Travel: Shuttle to airport
Eat: Breakfast
Getting There
The Historic North Florida Bike Tour meets and ends at Gainesville Regional Airport. Guides will meet arriving flights, between 9:00 and 13:00
Guests should plan their flights to arrive in Gainesville before 13:00 (1 pm) on Day 1 of the tour and their departing flights after 13:00 (1 pm) on Day 6.
Gainesville Airport code: GNV Local Time: GMT-5
Travel Tip: Parking is available at Gainesville Regional Airport for folks planning to drive to the tour ($10 per day).
Documents Please
Passports are required for all guests who do not hold US citizenship. Visas maybe required depending on your nationality, check with the nearest American embassy.
Whatcha Gonna Get
Expert local guides
Entrance and activity fees
Handpicked lodges, ensuite rooms, double occupancy
Daily breakfast, lunch, snacks*
Dinners featuring fine local cuisine*
Unlimited drinking water**
Support van for baggage and lifts
Free use of bicycles
Airport pick up & drop off
*as noted in itinerary
**during activity
Ready to Ride? Sign Up Today!
Your Group, Your Date
You, your family and friends, your preferred date, our handcrafted tour routes, privately guided, the ultimate adventure getaway.
Classic Inns from $3395
Available year round, but March - May and Sept - Nov are the best times to cycle.
Request My Private Date
Join a Scheduled Departure
Join a group of like minded travelers (8 guests max) on one of the dates below:
2023: 15 Oct (full)
2024: 25 Mar ✦ 22 Apr ✦ 6 May ✦ 23 Sep ✦ 21 Oct
2025: 24 Mar ✦ 21 Apr ✦ 5 May
Classic Inns: $3295 per person, double occupancy
Single Room: +$650 Deposit: $300
Book Now