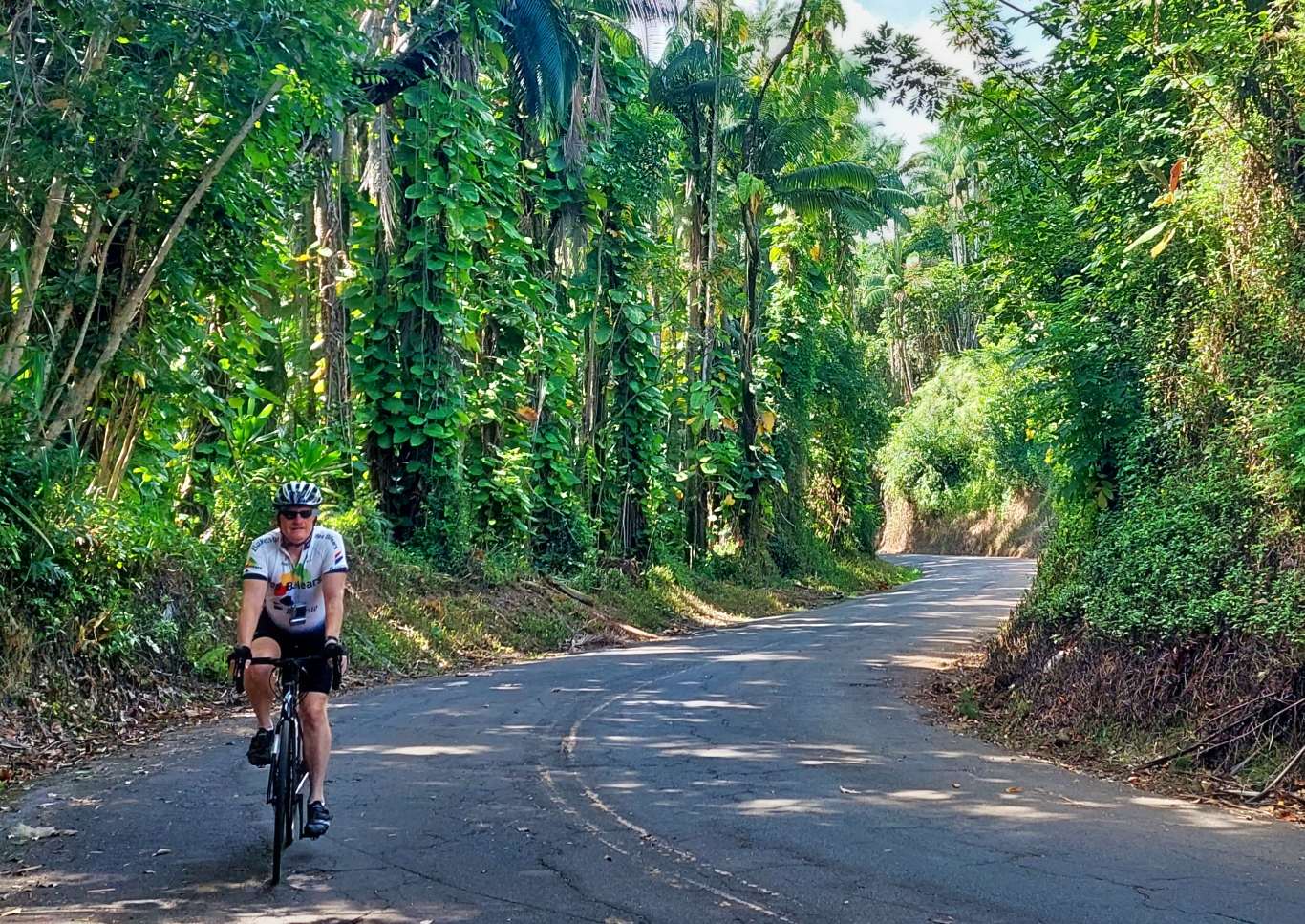 Would you like to?
Cycle entirely around the Big Island
✦
Go out for broke da mouth grinds
✦
Explore the active volcano at Kilauea
✦
Bike through Kona coffee country
✦
Talk story on the lanai of historic plantation inns
Big Island of Hawaii Bike Tour
Big Island of Hawaii Cycling
Truly experience Aloha on an 8 day Hawaii bike tour through the Big Island's wonders, away from resort chains and tourist traps, as you cycle the lush landscapes of tropical forests and beautiful beaches and dine on delicious local cuisine!.
Our Hawaii Cycling Tour takes you past captivating coffee plantations, sweeping lava fields, and vast macadamia orchards. As you circle the coast, you will stop at the Punalu'u Beach, where you can get close to the wild sea turtles, symbols of good luck, that bask on the black sands, and the Volcano National Park, where you can take a hike to see fresh flowing lava at sunset. After a leisurely downhill coast into historic Hilo, the route rolls into the traditional Hamakua Coast region, which highlights the most scenic aspects of Hawaii's small communities, flourishing forests, and astounding blue waters. The trip's grand finale follows the breath-taking Kohala Mountain Road to the Ironman route, curling around the coast to the sacred Puʻukoholā Heiau and Lapakhi Historic Park.
Along the route, you will get to stay in historic plantation houses, now converted into boutique accommodations, and dine on 'onolicious grinds' (Hawaiian slang for 'delicious local food'), including freshly caught seafood from the surrounding ocean and locally grown produce.
♡
Add tour to My Bucket List
💖
Saved on My Bucket List
Scheduled Dates
10 Mar 2024
7 Apr 2024
8 Sep 2024
6 Oct 2024
9 Mar 2025
6 Apr 2025
Classic Inns $5175 per person
Book My Spot
Go Private
Spring and fall are best for cycling Hawaii.
Plan Private Trip
More details?
Download a detailed itinerary with route profiles & more, to read and share with friends.
Download Itinerary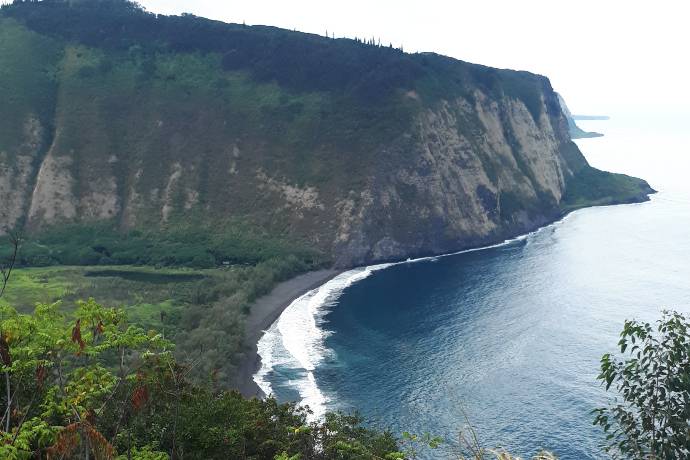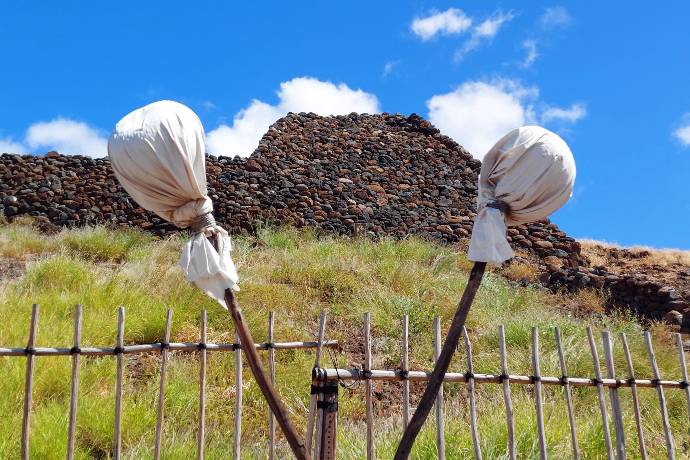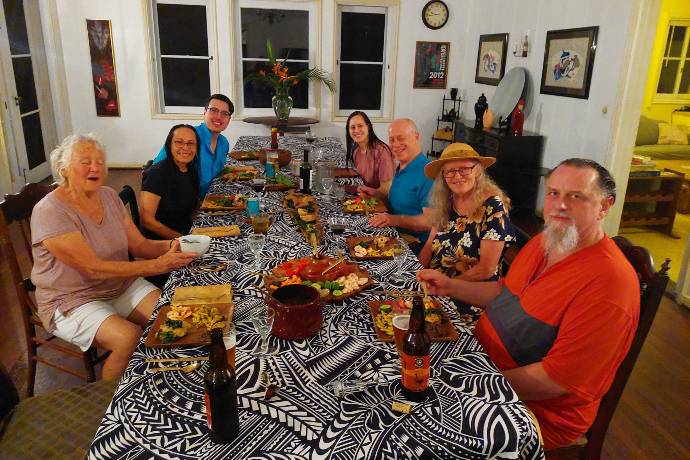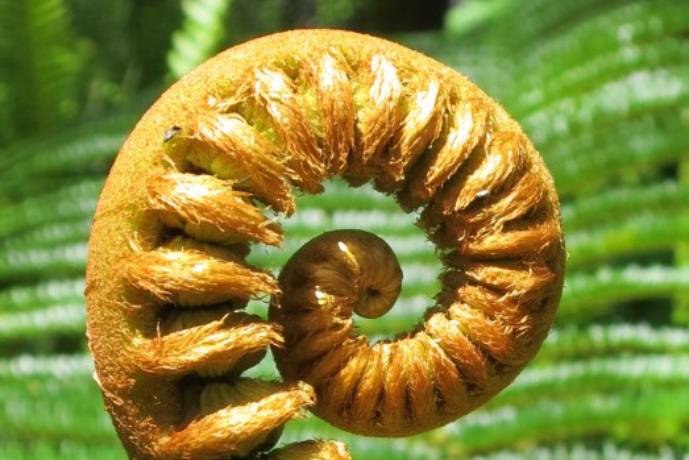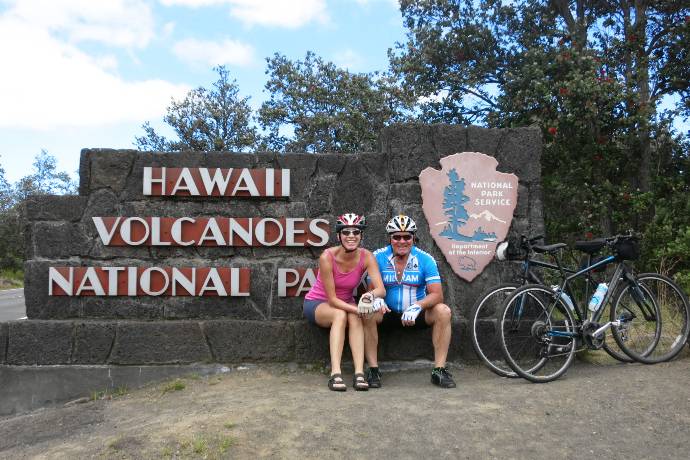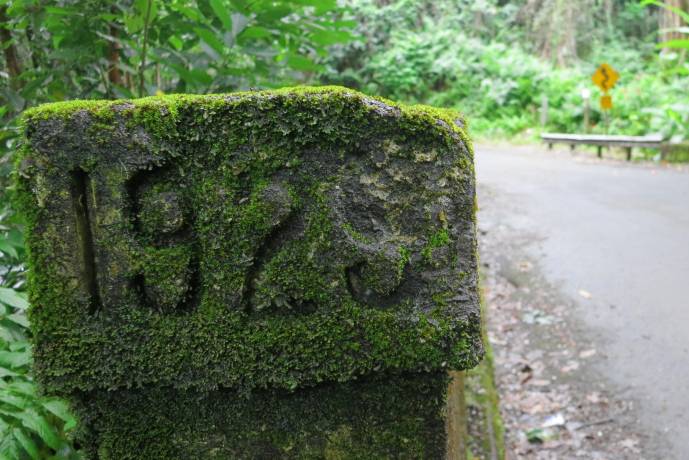 Hawaii bicycle tour day by day details
Arrive Kailua Kona, explore the old town, watch sunset from Humpies while enjoying local grinds (food) and local microbrews.
Our Island Dream begins in Kailua Kona, as we meet your inbound flights. As we have no activities planned, the day is yours to explore town or relax poolside after the long flight. We'll gather for orientation, then enjoy sunset and dinner at a nearby cafe that features local grinds (food) and big assortment of island craft beers.
Relax: Free time until dinner
Eat: Dinner
Sleep: Royal Kona Resort
Discover Kona coffee, cycle through the plantations, enjoy a tasting, then descend through macadamia plantations to Pahala.
Rather than cycling through the morning rush, we will shuttle up to coffee country to start our ride today. Our rolling ride takes us past numerous coffee farms, quaint country towns and vast lava fields, en route to the southern most city in the USA of Waiohinu. We continue along the coast to the plantation town of Pahala with its vast Macadamia orchards, where we bed down in some historic plantation houses.
Ride: 59 mi, Land: hilly
Eat: Breakfast, Lunch, Dinner
Sleep: Pahala Plantation
Look for sea turtles at Punalu'u Black Sand Beach, then ride to Volcanoes National Park.
Today is a short ride taking us up to Volcano National Park. It is a continuous climb, but only a couple of percent grade so easily done by even beginner cyclists. Before we start up, we will take a warm up side trip to the Punalu'u Black Sand Beach, where we may encounter Honu or sea turtles. Upon reaching Volcano Village, you have the afternoon free to explore, perhaps a wine tasting at Volcano Winery or a spin into the National Park. If conditions are good, we will have an early dinner and then hike out to see the fresh flowing lava at sunset. 25 mi
Ride: 25 mi, Land: long slow climb
Eat: Breakfast, Lunch, Dinner
Sleep: Kilauea Lodge
Cycle the rim road around Kilauea Crater, then relax with a 30 mile downhill coast the historic Hilo town.
Another leisurely day is in store. After breakfast we will explore the Crater Loop Road inside the park, enjoy lunch at Lava Rock Cafe and reward ourselves with a 30 mile downhill run to Hilo. Visit to an orchid farm en route and then upon arrival in historic Hilo you have the balance of the day free to do as you please.
Ride: 30 mi, Land: downhill
Eat: Breakfast, Lunch
Sleep: Hilo Hawaiian Hotel
One of Hawaii's most scenic rides, the Hamakua Coast, thick rainforests, tropical gardens and the sea always to your right.
Hawaii's scenic Hamakua Coast highlights today's ride. This region which was heavily dependent of agriculture, still reflects traditional Hawaii. Small communities line the winding road, with the wooden walled, tin roofed houses. We pedal down diminutive side roads through lush tropical forests, enjoy Hawaii's best smoothies and take in the sweeping vistas of blue Pacific waters. Tonight we bed down in Honoka'a, another old plantation town.
Ride: 43 mi, Land: hilly
Eat: Breakfast, Lunch, Dinner
Sleep: Waipio Wayside B&B
Visit Waipio Valley, landing site for the ancient Polynesian migration, bed down in the cowboy town of Waimea.
After breakfast we enjoy an out'n back ride to Waipio Valley, where the Polynesians first landed, with its black sand beach and towering valley sides. A quick bite at Tex's Drive Inn, famous for its malasadas, the up along the original Queen Mamalahoa Highway to the paniola town of Waimea, home the the US's largest privately owned ranch. Dinner finds us at the local microbrewery for some island favorites.
Ride: 33 mi, Land: two moderate climbs, then downhill
Eat: Breakfast, Lunch, Dinner
Sleep: Waimea Country Lodge
Bike the Kohala Mountain Road to Hawi, then challenge the Ironman course to Kawaihae and the sacred Puʻukoholā Heiau.
Our last day of riding takes us along the Kohala Mountain Road with its dramatic views, then down to diminutive Hawi. Picking up the Ironman route, we roll along the coast, with the historic sites of Puʻukoholā Heiau National Historic Site and Lapakahi Historical Park, provide some diversions from our pedaling, before reaching Hapuna Beach the end of our riding. We end our tour at one of Kailua's best seaside restaurants.
Ride: 40 mi, Land: flat
Eat: Breakfast, Lunch, Dinner
Sleep: Royal Kona Resort
Bid the islands aloha, enroute to your next adventure.
Sadly, all things must end and we must say goodbye to Hawaii. Shuttles to Kailua Kona Airport will be provided. a hui hou kakou
Travel: Shuttle to airport
Eat: Breakfast
Getting There
The Big Island of Hawaii Bike Tour meets and ends at Ellison Onizuka Kona International Airport in Keahole, Hawaii. Guides will meet arriving flights, between 9:00 and 15:00
Guests should plan their flights to arrive in Kona before 15:00 (3 pm) on Day 1 of the tour and their departing flights after 10:00 (10 am) on Day 8.
Ellison Onizuka Kona Airport code: KOA Local Time: GMT-10
Travel Tip: Sometimes better fares can be found to Honolulu, with a separate inter-island flight to KOA. But do leave sufficient time between flights (3 hours suggested).
Documents Please
Passports are required for all guests who do not hold US citizenship. Visas maybe required depending on your nationality, check with the nearest American embassy.
Whatcha Gonna Get
Expert local guides
Entrance and activity fees
Handpicked lodges, ensuite rooms, double occupancy
Daily breakfast, lunch, snacks*
Dinners featuring fine local cuisine*
Unlimited drinking water**
Support van for baggage and lifts
Free use of bicycles
Airport pick up & drop off
*as noted in itinerary
**during activity
Ready to Ride? Sign Up Today!
Your Group, Your Date
You, your family and friends, your preferred date, our handcrafted tour routes, privately guided, the ultimate adventure getaway.
Classic Inns from $5375
Tour is available year round, July, August, Christmas & New Years are crowded.
Request My Private Date
Join a Scheduled Departure
Join a group of like minded travelers (8 guests max) on one of the dates below:
2024: 10 Mar ✦ 7 Apr ✦ 8 Sep ✦ 6 Oct
2025:  9 Mar ✦ 6 Apr
Classic Inns: $5175 per person, double occupancy
Single Room: +$1025 Deposit: $500
Book Now