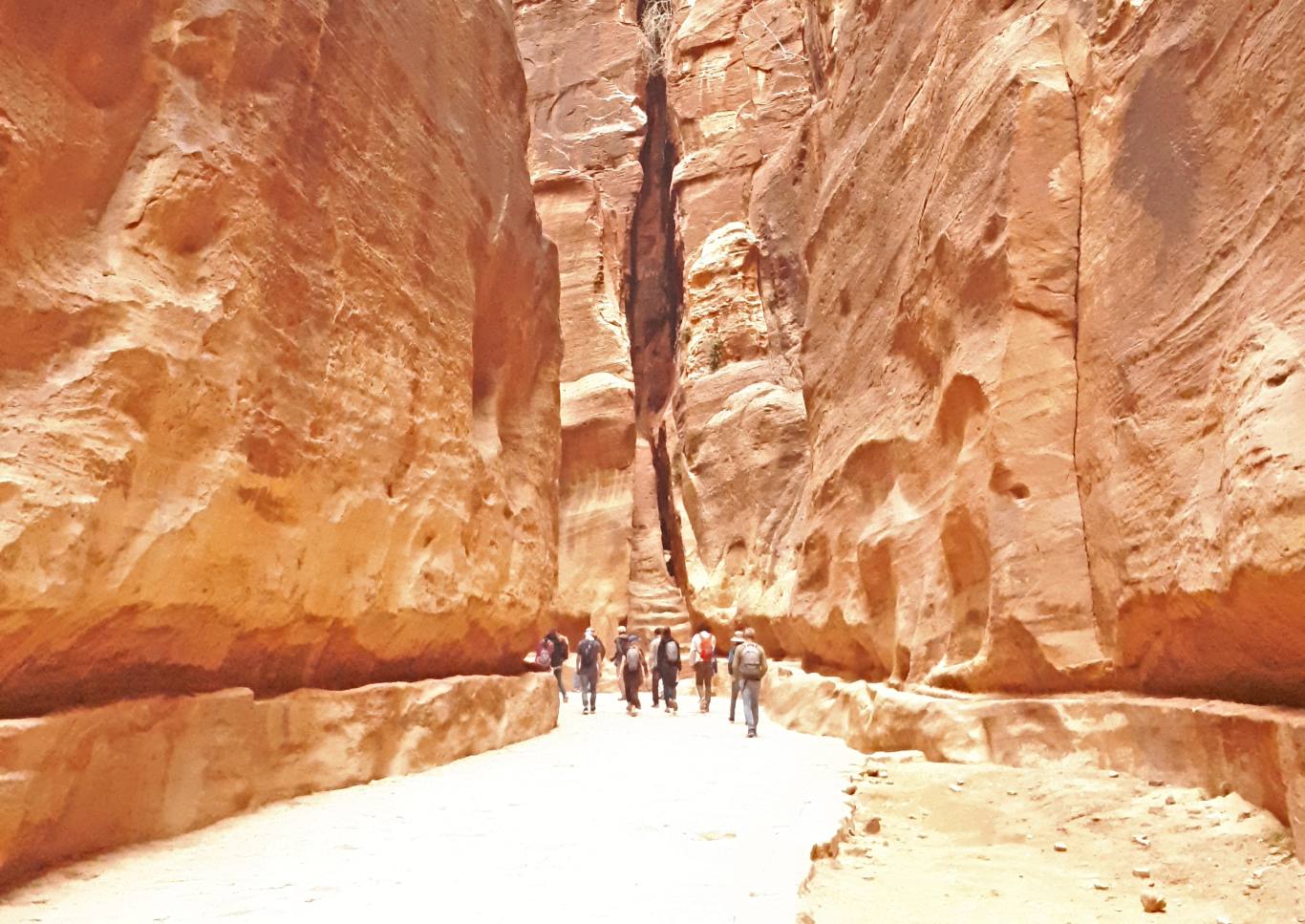 Would you like to?
Relax under star filled skies in Wadi Rum
✦
Walk the narrow canyons of Petra
✦
Bicycle Jordan's quiet side roads
✦
Explore the Dana Biosphere Reserve
✦
Try Bedouin dishes prepared by local villagers
Cycling Jordan Sea Sand History
Bicycling Jordan's Many Wonders
Pedalers' Cycling Jordan introduces you to this country, its people, history and foods. Explore the carved city of Petra and take a dip in the Dead Sea, cross the barren Wadi Rum Desert and also meet the Bedouin tribe of desert nomads, explore the Dana Nature Preserve. Head out to quiet local cafes and lodges to taste the best of regional cuisine, wander through ancient ruins with guides who know and love their homeland. With the cycling and experiences in Jordan we are sure you will crave to be back. Enjoy several traditional lunches taken at Bedouin camps along the route prepared by the family specially for our group.
Start in Amman, one of the oldest cities in the world, then venture to Mount Nebo, the place where Moses looked out across the Jordan River to the Promised Land. Ride the Madaba plains to the Dead Sea, the lowest geographical point on earth, and explore the intricate architecture of ancient Crusader Castles. Walk among the towering cliffs of Petra, home to temples, sacrificial alters, and hundreds of elaborate tombs, and enjoy the beauty of the desert as you bike the Disi Mud Flats. All along your trip, taste the finest regional cuisine at local restaurants, meet members of a nomadic tribe, stay in traditionally styled lodges, and look up at night to see a desert sky full of stars.
♡
Add tour to My Bucket List
💖
Saved on My Bucket List
Go Private
This tour is only available as a Private Date. Spring & Fall are best for cycling.
Plan Private Trip
More details?
Download a detailed itinerary with route profiles & more, to read and share with friends.
Download Itinerary
Jordan bicycle tour day by day details
Arrival & Welcome Dinner
Arrive at Amman Airport, where we will meet you, assist with immigration and then transfer to your hotel in Amman. Amman is one of the oldest cities in the world, inhabited since the bronze age. The city is growing into a modern city, but retains its character and history. Depending on your flight arrival time, you may have free time to explore on your own. At 6pm meet your guide to get to know each other and go through the trip details, then you'll head to a local restaurant for a welcome dinner.
Relax: Free time until dinner
Eat: Dinner
Sleep: La Locanda
Amman - Madaba - Mount Nebo - Cycle to Dead Sea - Dead Sea
After breakfast, you will drive South to the city of Madaba. Visit Saint George church, that has one of the oldest mosaic maps of the Holy Land. Then drive to Mount Nebo, the spot where Moses looked out across the Jordan River to the Promised Land. Then the group will ride across the Madaba plains, descending along the Panorama road to the Dead Sea. En route we will stop for lunch prepared by a local family from Madaba.
Ride: 34 mi / 55 km, Land: hilly
Eat: Breakfast, Lunch, Dinner
Sleep: Holiday Inn Dead Sea
Dead Sea - Cycle Along Dead Sea Coast - Karak
After a good breakfast, start your 2nd cycling day from your hotel towards South along the Dead Sea coast line. Dead Sea is the lowest geographical point on earth. Located at -400m below sea level. The myth says that its water and mud will take you back to your childhood. Cycling today is flat and easy with few gentle climbs no longer than 1.2km. Once cycle is over, you will be transferred to the city of Karak where your guide will take you for dinner at a local family house.
Ride: 28 mi / 45 km, Land: flat, small hills
Eat: Breakfast, Lunch, Dinner
Sleep: Falcon Rock Hotel
Karak - Karak Castle - Cycle Karak to Wadi Hasa - Dana
Start you day with a visit to Karak castle, an ancient Crusader Castle, where you can explore the maze of stone-vaulted halls and passageways. The city of Karak was the capital of Moab and the castle dominates the skyline. The castle provides an impressive insight into the architectural and military skills of the Crusaders. Later, start cycling right after the city of Karak, this section passes through rural countryside and then races downhill along the King's Highway passing the Tanour Dam just outside of Karak Governorate limits. Reaching Wadi Hasa, take a transfer to Dana Nature Reserve for overnight.
Ride: 28 mi / 45 km, Land: hilly
Eat: Breakfast, Lunch, Dinner
Sleep: Feynan Eco Lodge
Dana - Cycle Dana to Petra - Petra
We leave Dana village with a very short transfer and start cycling along the Kings Highway all the way to Petra. En Route, you'll make a short detour to visit Shobak castle, the first of the series of Crusader Castles built in Jordan; which was constructed by Baldwin I in 1115 and only surrendered in 1189 to the Great Salahdin. From Shobak onwards, we cycle towards Little Petra for a quick visit then continue cycling the last 10 kms on road to your hotel in Petra. Somewhere on the side of the road, we will have a lunch with a local family. Check in into your hotel, have some rest and then guide will take you for dinner at a restaurant in the town of Wadi Musa.
Ride: 37 mi / 60 km, Land: flat
Eat: Breakfast, Lunch, Dinner
Sleep: Petra Guesthouse
Petra - Full Day Petra visit - Petra.
A full day to explore Petra where you will leave your hotel and head to the Petra visitors center,enter the city through 1 km long narrow gorge which is flanked either side by 80m high cliffs! Notice the dazzling colors and formations of the rocks. The site is massive, and contains hundreds of elaborated rock-cut tombs, a treasury, Roman-style theaters, temples, sacrificial altars and colonnaded streets. Then continue into the city, viewing the amphitheater, exploring its many caves and tombs. If you feel courageous, want to avoid the crowds and discover some less visited monuments in Petra you can visit sites such as the Monestary, the Khubtha Mountain, Al Madras trail or the High Place of sacrifice You will follow a steep climb up ancient Nabataean steps to near the summit of Al Khubtha to enjoy the magnificent panorama overlooking the Treasury, then descending to Petra main entrance.
Hiking: 7 mi / 12 km, Land: flat and hills
Eat: Breakfast, Lunch, Dinner
Sleep: Petra Guesthouse
Petra - Rajif - Cycle Rajif to Wadi Rum - Wadi Rum
After breakfast, take a transfer to just past the small town of Rajif at the top of the large hill after Petra. Start cycling where the pavement meets the dirt just after turning off the main King's Highway and begin a long descent off-road towards Wadi Rum. Lunch will be provided by a local bedouin family en route. After lunch, you will continue cycling to Wadi Rum across some sandy segments. Once the ride is over, Jeeps will take you for a 2hr ride then to your overnight place in the desert where you will enjoy looking at the stars.
Ride: 28 mi / 45 km, Land: flat
Eat: Breakfast, Lunch, Dinner
Sleep: Rahayeb Desert Camp
Wadi Rum - Cycle Disi salt flats - Amman
After having your morning breakfast, Jeeps will transfer you to Rum Village where you will start your final cycling day on the Disi Mud Flats, a nice and easy day where you will enjoy the beauty of the desert on two wheels. Once cycling is over, say goodbye to your cycling crew and head back to Amman.
Ride: 22 mi / 35 km, Land: flat
Eat: Breakfast, Lunch, Dinner
Sleep: La Locanda
Amman - Queen Alia International Airport - Departure
Pick up from your hotel in Amman and transfer to Queen Alia International Airport for departure.
Travel: Shuttle to airport
Eat: Breakfast
Getting There
The Cycling Jordan Tour meets and ends at Queen Alia International Airport in Amman, Jordan. Guides will meet arriving flights, between 9:00 and 14:00
Guests should plan their flights to arrive in Chiang Mai before 14:00 (2 pm) on Day 1 of the tour and their departing flights after 10:00 (10 am) on Day 9.
Amman Airport code: AMM Local Time: GMT+3
Documents Please
Passports are required for all guests. Visas maybe required depending on your nationality, check with the nearest Embassy of Jordan.
Whatcha Gonna Get
Expert local bilingual guides
Entrance and activity fees
Handpicked lodges, ensuite rooms, double occupancy
Daily breakfast, lunch, snacks*
Dinners featuring fine local cuisine*
Unlimited drinking water**
Support van for baggage and lifts
Free use of bicycles
Airport pick up & drop off
*as noted in itinerary
**during activity
Ready to Ride? Sign Up Today!
Your Group, Your Date
You, your family and friends, your preferred date, our handcrafted tour routes, privately guided, the ultimate adventure getaway.
Classic Inns from $4150
The tour is available year round, with Spring (Mar - May) and Fall (Sep - Nov) being the best time.
Request My Private Date