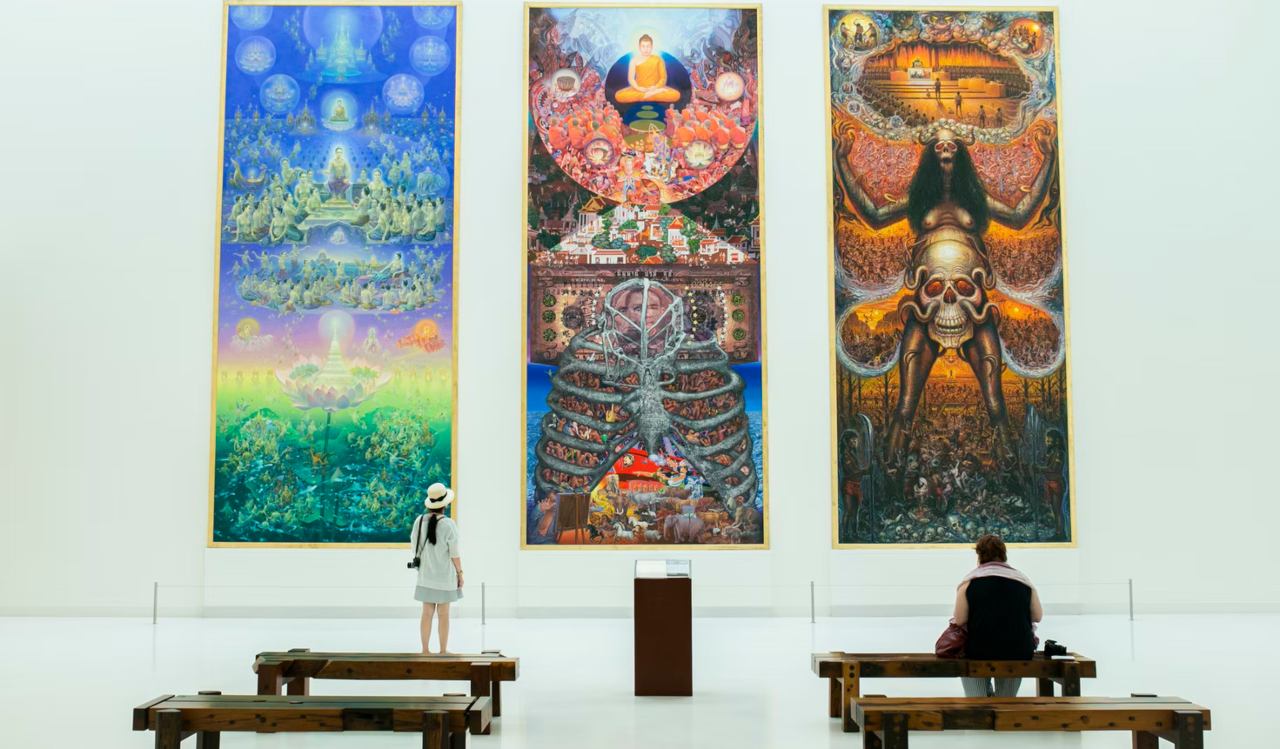 Bangkok's 7 Best Museum
Get off the beaten tourist path
Also known as Krung Thep Maha Nakhon*, Bangkok is the capital and the most populated city in Thailand. It's a city that everyone should try to visit if they can at least once. With things to see like Wat Traimit (the largest solid gold Buddha on the globe!) and Khao San Road with its hostels and traditional Thai eateries, this city will keep you entertained for days – and nights – on end.
The Chao Phraya River transports visitors and locals all over this bustling destination, and the city is also full of gorgeous temples and shrines. But the museums are where to go if you want to learn more about Bangkok's history. You have to leave your large bags at one of Bangkok's luggage storage sites though because they are not allowed in museums. Explore without the burden of bags and see as much as you can!
Jim Thompson House
This is a whole complex of six historic Thai buildings with stunning architecture, Asian art, and antiques. Named after the American businessman who designed and owned the complex, this museum was constructed in 1959 and features his personal collection as well as others that were donated.
One of the main features is the collection of Buddhist sculptures from busts to huge standing statues. One of the oldest is the bust made of brown limestone from Lopburi in the 8th century. Other collectibles include a French map from the 1600s and hundreds of paintings on wood, paper, and cloth.
The National Museum of Bangkok
This is the main branch of the National Museums of Thailand and one of the largest in Southeast Asia. In the Front Palace, or the former palace of the vice king, you will see art and artifacts dating back thousands of years. Opened in 1874, it has the largest collection of local art in Thailand.
There are 12 halls to explore with relics owned by King Rama IV, prehistory items like weapons, stones, and masks as well as textiles and even musical instruments. In the North Wing Building, you can find items from the Dvaravati and Lopburi periods from 1250 CE and the prehistory gallery with a variety of relics.
Museum of Contemporary Art of Bangkok
Also known as MOCA, this art gallery has a huge collection of over 800 items in a five-story building. The modern building itself is a work of art, made to look like one large piece of granite. The collection has pieces that will hold your attention for hours and even the benches are art.The fifth floor is dedicated to Victorian European painters like Bundit Padungvichian, Denpong Wongsaroj, and Lampu Kansanoh. You can also see works done by Prateep Kochabua, Hem Vejakorn, and Thawan Duchanee. It is one of the largest contemporary art museums in Thailand and well worth the trip.
Museum of Counterfeit Goods
This interesting museum has more than 4,000 pieces of counterfeit goods that were seized due to copyright, patent, or trademark infringement. It has 14 sections including electrical devices, drugs and alcohol, household items, cosmetics, and clothing.
Some of the most unusual things you may not expect to see are office products like glue, pencils, and books as well as automotive parts, food, and paper products. You can also learn more about forgery, the officials who seized many of the goods, and how they were discovered.
Museum of Siam
In a huge neoclassical house, the Museum of Siam features antiquities like old dusty mannequins, historical artifacts, and old household items from traditional Thai homes. The guided tour answers the question of what being Thai means, or you can just explore on your own to learn culture and traditions.
The motto of the museum is Play and Learn as it caters to families with children. There is a vast array of interactive exhibits where both kids and adults can learn more about Bangkok and Thailand. Each of the rooms has its own theme. Some of these include "Village Life," "Typically Thai," and the "War Room."
Bangkok Art and Cultural Center
If you like all sorts of culture and art, the BACC is where you want to go in Bangkok. This place has design, film, theater, music, and art in all different forms. There is a large art gallery featuring a variety of artworks by local and international artists.
Besides the arts and culture exhibits, you can also take a hand at creating your own art at one of the craft shops, learn more in the art library, or see a show in one of the performance spaces. There is even a café to refuel and a gift shop for souvenirs.
Bangkok Folk Museum
Also known as the Bangkokian Museum, this is a fantastic attraction for anyone who wants to find out more about 20th century objects and architecture owned in Thailand. The museum houses artifacts from the Suravadee family and provides insight into the lifestyle they led during and after World War Two. If you like modern history and architecture, this museum is a must-see.
Besides these museums and galleries, the city boasts a plethora of other museums you can explore and enjoy. In fact, there are more than 70 of them from the Vimanmek Palace (currently closed for renovation) and Bangkok Doll Museum, to the Museum of Animal Parasitology and the Patpong Museum. Be sure to bring a camera!
Bangkok is a popular pre-tour destination for guests on many of Pedalers' Thailand bicycle tours and Bhutan multisport adventures.
*The actual full name of the city is a tongue twister: Krung Thep Mahanakhon Amon Rattanakosin Mahinthara Ayuthaya Mahadilok Phop Noppharat Ratchathani Burirom Udomratchaniwet Mahasathan Amon Piman Awatan Sathit Sakkathattiya Witsanukam Prasit.