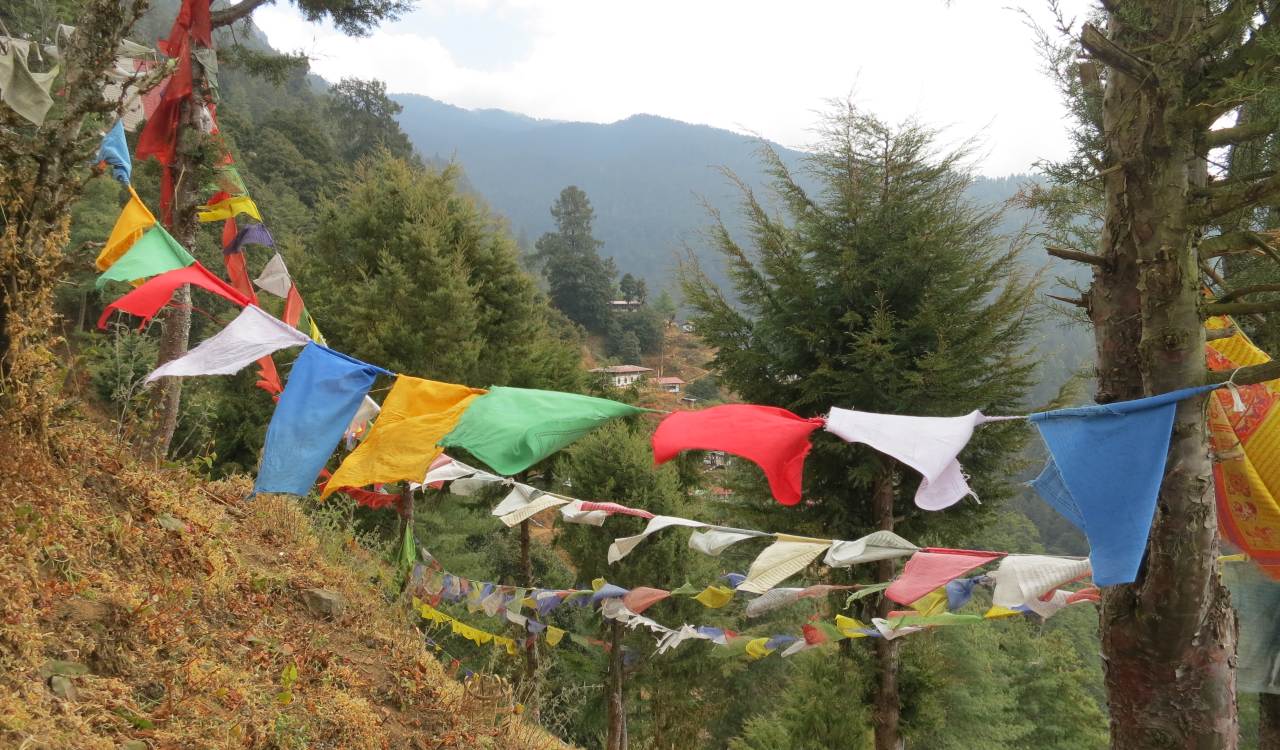 Bhutan - Hidden Himalayan Jewel
A Secret Cycling & Hiking Destination
In this day and age, it is rare that we find a patch of civilization untouched by the rampant modernization of our daily lives. Amid the beeping cell phones, flickering televisions, and humming computers, we have almost forgotten what it means to be truly one with the earth.
Bhutan, also known as Druk Yul or the "Land of the Thunder Dragon," is a secluded kingdom miraculously untouched by the modern world, offering shelter from the glow of neon lights and the stale taste of fast food. Welcome to a paradise where the ancient culture is perfectly preserved in a Garden of Eden with rich plant, animal and bird life, and the friendly people live in harmony with nature. Welcome to Bhutan.
A step back in time
Bhutan did not allow tourists into the country until 1974, and those early travelers could only enter Bhutan on foot over high mountain passes or across the plains of Assam and West Bengal, as Druk Air did not begin flights outside the country until 1983. Today, entry into Bhutan is somewhat easier, but still, upon entering the country, one senses the peace and tranquility that comes from a deep respect for tradition.
It is clear that Bhutan does things differently when you know that the country measures Gross National Happiness and not Gross National Product. The ban on television and the Internet was only lifted in 1999, and fresh air fanatics can breathe a sigh of relief because tobacco is banned throughout the country. Bhutan has taken its time to develop, learning from the mistakes of others. It is one of the best places in the world to bring traditional Buddhist culture to life.
Rich flora and fauna
For such a small kingdom, there are many treasures of nature to be discovered in Bhutan. The landscape ranges from subtropical plains to the heights of the Himalayas, and there is a wide variety of wildlife in these pristine ecosystems. The eastern Himalayan region of Bhutan has been recognized as a "Global Diversity Hotspot" by the World Wildlife Federation.
At least seven hundred different bird species have been counted in Bhutan, as it lies at the center of 221 endemic bird areas worldwide. Some of the rarest endangered species found here include the White-bellied Heron, Pallas' Fish Eagle, and Blyth's Kingfisher. The forests and mountains are also home to many amazing mammals such as Bengal tigers, red pandas, barking deer, golden langur and elephants.
Bhutanese Culture
Bhutan's geographic remoteness amidst the Himalayan mountains has been instrumental in preserving the country's unique culture. Buddhism is the main religion and religious belief permeates all aspects of life. Each village has its own dzong, a fortress surrounded by high walls that houses all religion and administration.
All citizens of Bhutan wear traditional dress in public, including the knee-length robe with belt (known as gho) for men and colorful ankle-length dresses for women.
Religious festivals known as tsechu are held every year. These are large social gatherings where people in remote villages come together to celebrate with colorful costumes, fantastic masks and traditional dances. At most tsechu, the throne relief is unrolled, a tapestry depicting a seated Guru Rinpoche (a wise guru of Vajrayana Buddhism) surrounded by sacred beings. It is said that just looking at this sacred tapestry purifies the viewer of sins.
Explore Bhutan on our adventure tours
Our Bhutan Multisport Tour offers a taste of Shangri-La as we spend 8 days hiking, biking and rafting in western Bhutan. We will hike to remote fortified temples and sample chili and cheese prepared in half a dozen different ways. You will have the rare opportunity to see the fabled Tiger's Nest Monastery from the inside, as most tours only view the outside from a nearby vantage point. Our Heart of Bhutan Bike Tour will immerse you in the fascinating culture of this beautiful country during its journey from Paro to Jakar and then to remote Haa Valley.