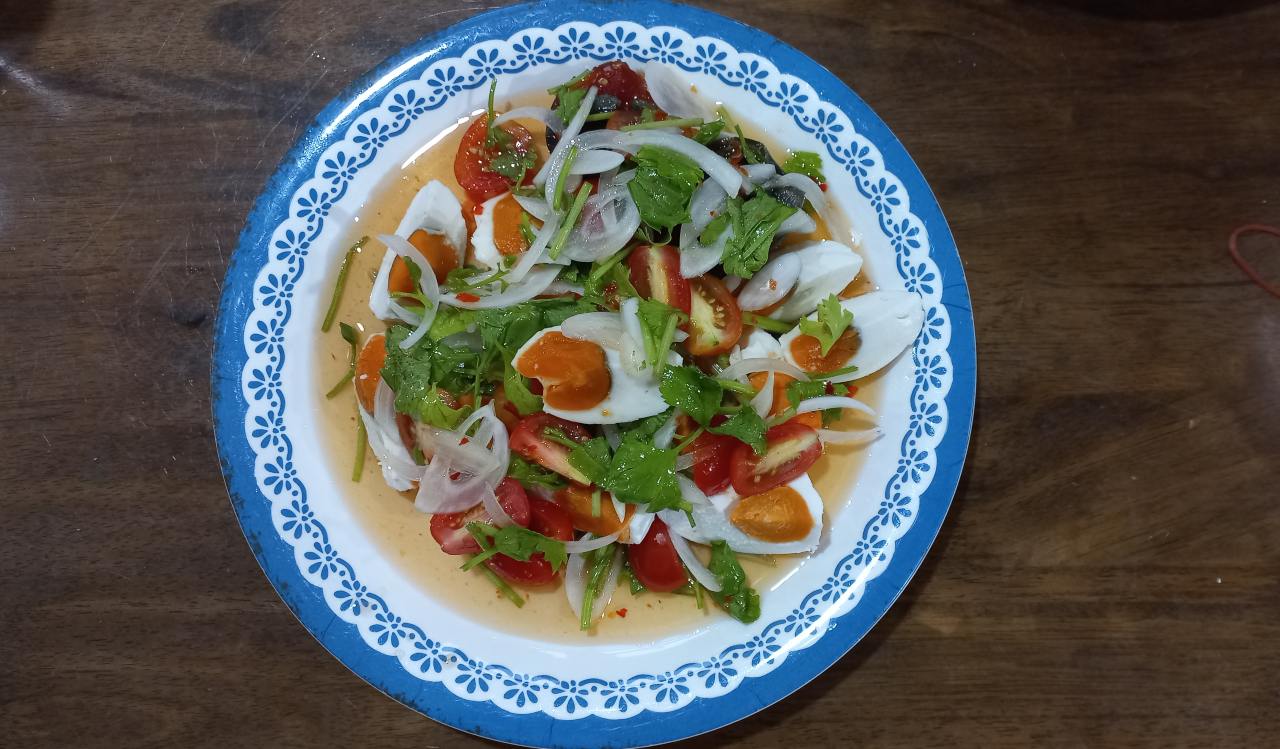 Thai Salted Duck Egg Salad
Yam Kai Khem - A guide favorite
Ingredients:

Hard boiled Salted Eggs: 4 or 5 eggs
Thai Sweet Chili Sauce: 2 tbsp
Thai Fish Sauce: 1 tbsp
Lemon juice: 2 tbsp
Sugar: 1 1/2 tbsp
MSG: 1/4 tsp
Sliced Onions: 1/3 cup
Sliced Celery: 1/3 cup
Cherry Tomatoes Quartered: 1/2 cup
Fresh Chilies, chopped (optional to taste)
Preparation:

If not already cooked from store, hard boil the Salted Duck Eggs. Peel off shells and sliced length wise into quarters or sixths. Arrange them on your serving dish.

Mix the flavorings together in a small bowl, then add onions, celery, tomatoes, chilies (if desired) to bowl, mix with flavors and pour over the salted eggs.
Make your own salted eggs:

If your local Asian grocery store doesn't offer salted eggs, it is not difficult to make your own.
Ingredients:

Fresh duck eggs, well washed
Rock or table salt
Large mouth jar or deep bowl
Preparation:

Bring water to a boil and start adding salt. Use enough water to completely cover all the eggs in the jar or bowl. Keep adding more salt until no more will dissolve. Then remove from heat and allow to cool to room temperature.

Put eggs in jar, cover with water and put the lid on. Eggs will float so you need to make sure the lid keeps them under water. Let sit at room temperature for at least 2 weeks, a month even better. Pour off salt water, the keep in refrigerator until ready to use. They make a good fried egg for brekkie as well.