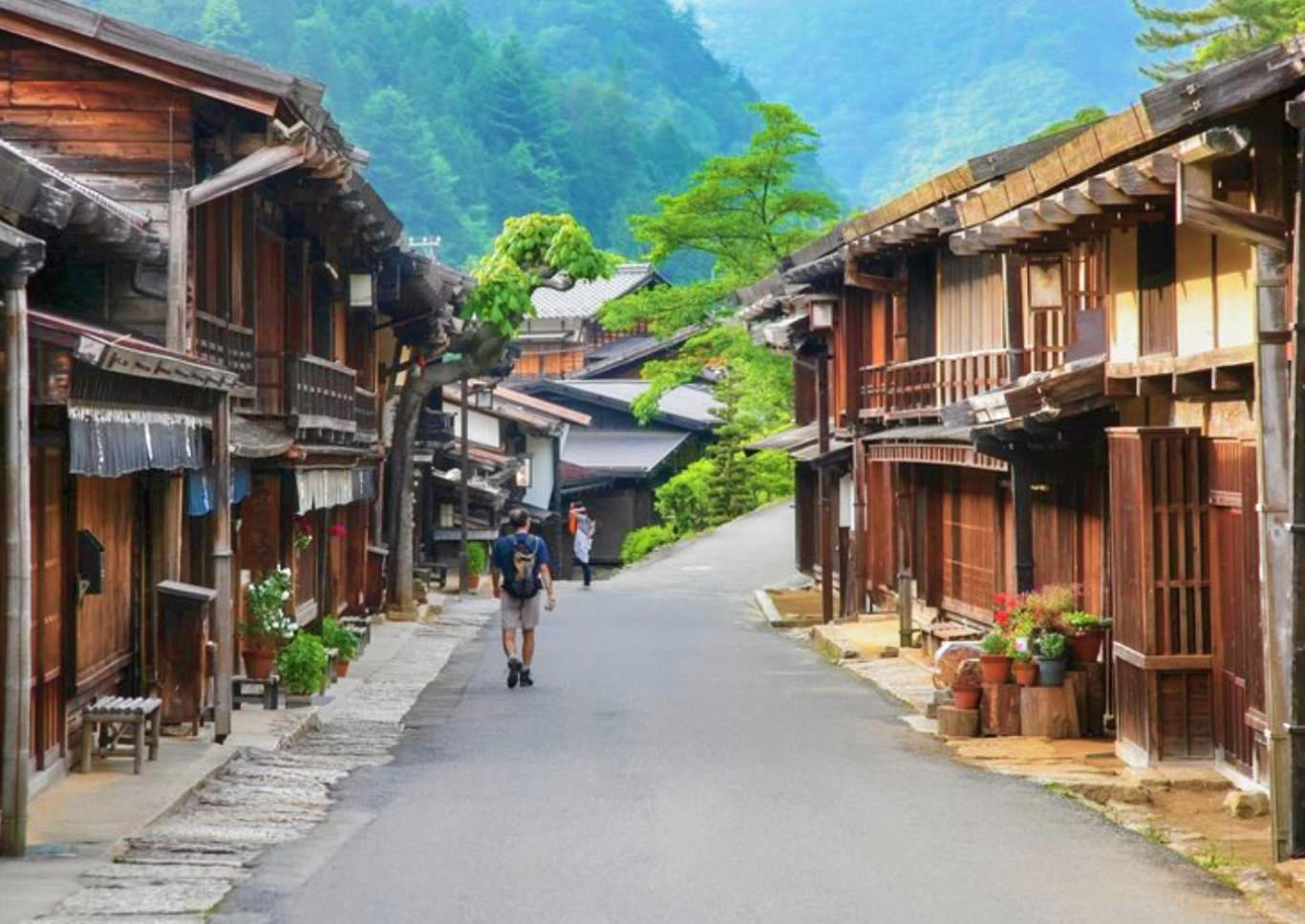 Would you like to?
Walk the pathways of ancient emperors
✦
Bed down in traditional inns
✦
Discover Japan's incredible cuisine
✦
Get an insider's perspective on life in rural Japan
✦
Immerse yourself in Japanese life
Walk the Paths of Ancient Japanese Emperors
Want to taste the Japanese cuisine in a traditional Ryokans? Join our Japan walk along the ancient Nakasendo route used by the emperors during the Edo period. Follow in the footsteps of Edo Period Emperors as you walk among valleys and forests, explore ancient villages, and dine on authentic cuisine!
The Japanese Walking Tour follows Nakasendo Way, the very path that Emperors once took on their journey to Kyoto. As you take this historic trail, you will encounter the preserved post-town of Tsumago, the peaceful hot-springs at Kiso-Fukushima, and the sacred Gongentaki Falls, whose god - the story goes- brought victory to a Japanese General. On foot and on train, gaze out at the picturesque mountains and weave through enchanting forests of bamboo and Japanese cedar. The route takes you to villages with artisan shops, restaurants and inns with delicious traditional dishes, and even the ancient Matsumoto Castle, one of the country's premier historic landmarks. As you walk in the shadow of the emperors, spend your nights in luxurious Ryokan and family style minishuku, traditional Japanese lodgings for the royalty and lesser members of the entourage.
♡
Add tour to My Bucket List
💖
Saved on My Bucket List
Scheduled Dates
23 Oct 2023
15 Apr 2024
21 Oct 2024
14 Apr 2025
Classic Inns $5475 per person
Book My Spot
Go Private
Spring & Fall are the best for walking.
Plan Private Trip
More details?
Download a detailed itinerary with route profiles & more, to read and share with friends.
Download Itinerary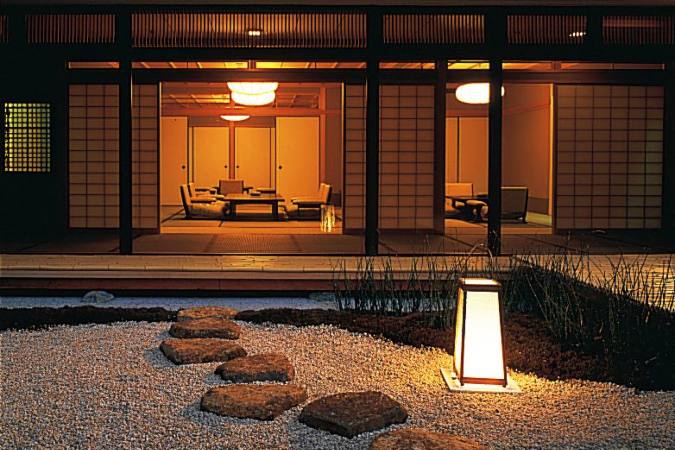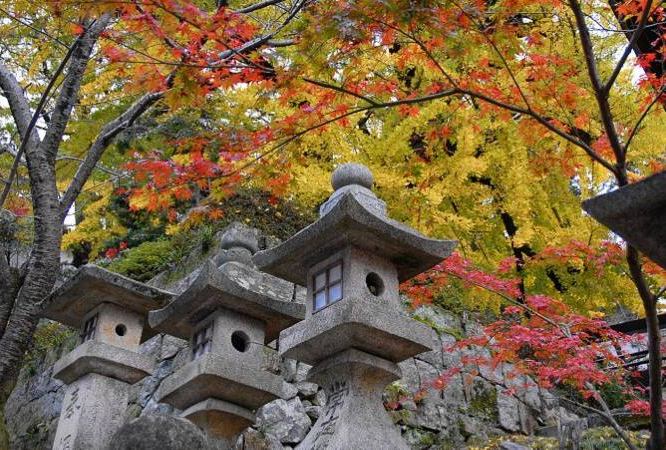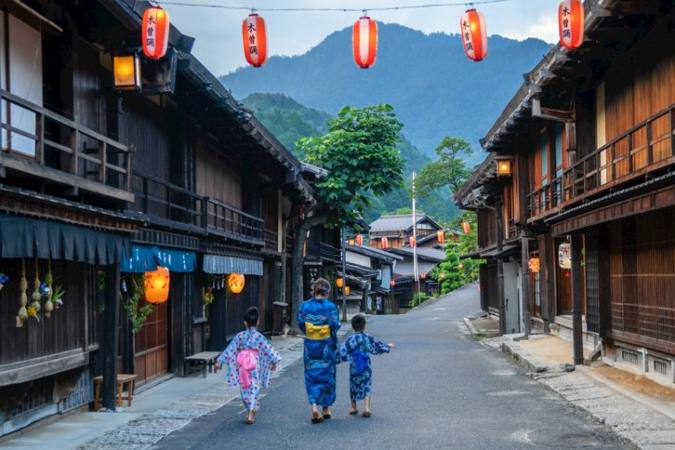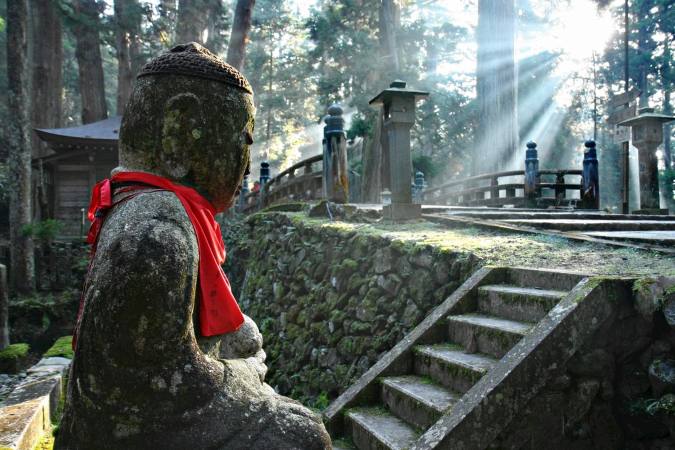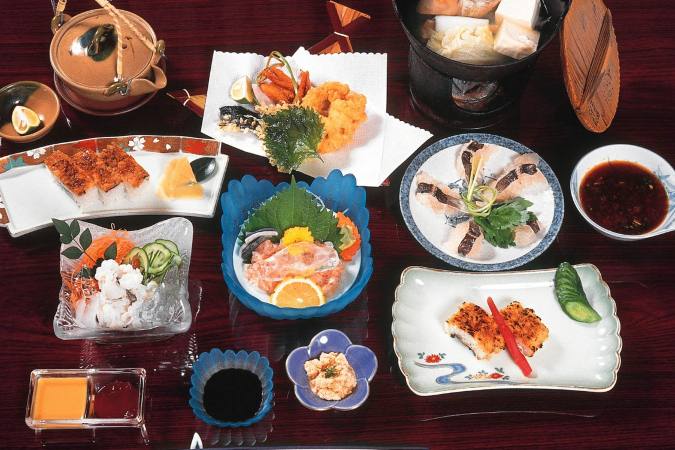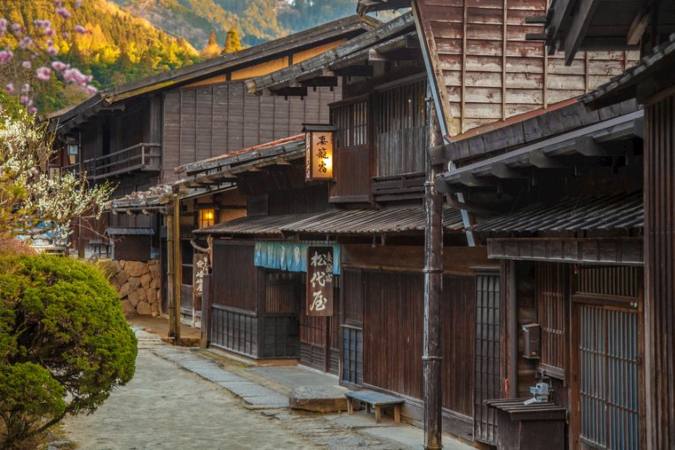 Japan walking tour day by day details
Meet in Tokyo, travel by train and bus to Magome
Today you meet your guide for the trip and begin your journey on the Nakasendo Trail by traveling to the post town of Magome. Almost completely destroyed by fire in 1895, the town has been lovingly brought back to life with the combined hard work of the Japanese Government and the local residents. Once checked in to our traditional accommodation for the night, we have the remainder of the day to explore the small shops dotted along the main street of the town or walk up to a viewpoint that offers spectacular views of the area.
Travel: Train to Magome
Eat: on your own
Sleep: Hanasarasa
Walk from Magome to Tsumago
Our journey along the Nakasendo Trail truly begins today with a walk over Magome Pass to Tsumago, one of the best-preserved and most evocative of the Nakasendo post-towns. Spend the night at a family-run Minshuku in Tsumago or the nearby hamlet of O-Tsumago, with a delicious home-cooked Japanese dinner and breakfast included.
Walk: 5.2 mi / 8.3 km Ups & Downs: +326m / 1,069 ft and -430m / 1,410 ft
Eat: Breakfast, Lunch, Dinner
Sleep: Daikichi Minshuku
Walk from Tsumago to Nojiri
The longest day on the trail is a beautiful and varied hike from Tsumago to Nojiri. The trail travels through small valleys and past forests of bamboo and Japanese cedar, through some of the least-developed scenery on the tour. We will then continue by train to Kiso-Fukushima. Stay at a lovely hot-spring Ryokan set in a peaceful valley above the town. Complimentary transfer from the station is provided by the Ryokan. The Ryokan has lovely indoor and outdoor hot-spring baths.
Walk: 11.5 mi / 18.4 km Ups & Downs: +723m / 2,275 ft and -644m / 2,112 ft
Eat: Breakfast, Lunch, Dinner
Sleep: Komanoyu Ryokan
Morning walk to Gongentaki Falls. Afternoon visit to local Sake Brewery
Today we'll take a picturesque but short walk to Gongentaki Falls. During the Heian period, the General Kiso Yoshinaka fought fiercely with the powerful Heike clan. It is said that he prayed to the god of Gongentaki Waterfall, Ontake Daigongen, for victory. The trail will take us along a river path with a steep ascent to the falls, from here we'll enjoy the gentle descent back into the town with its wonderful views. After lunch, we'll visit a traditional sake brewery to learn about how sake is made. Sake is only brewed in the cooler months, when the delicate koji molds can work their magic and provide the necessary fermentation.
Walk: 4.3 mi / 7 km Ups & Downs: +632m / 2,075 ft and -637m / 2,090 ft
Eat: Breakfast, Lunch, Dinner
Sleep: Komanoyu Ryokan
Walk from Kiso-Fukushima to Narai
The Ryokan will drive us back to Kiso-Fukushima after breakfast for us to take the short journey from Kiso-Fukushima to Yabuhara, the starting point for the hike over the Torii pass to Narai. We'll have a chance to explore this atmospheric village before check-in to our family-run inn in the heart of the village for the evening.
Walk: 3.9 mi / 6.2 km Ups & Downs: +344m / 1,128 ft and -270m / 885 ft
Eat: Breakfast, Lunch, Dinner
Sleep: Iseya Minshuku
Walk from Narai to Kiso-Hirasawa
After breakfast, we'll begin the short walk to the town of Kiso-Hirasawa, famous for its lacquer ware. We'll spend time exploring the small shops selling beautifully-crafted tableware and furniture, learning about the how these are made. From here we board a train at Kiso-Hirasawa station for your onward journey to Karuizawa for your final overnight stay.
Walk: 1.6 mi / 2.5 km, Land: flat
Eat: Breakfast, Lunch, Dinner
Sleep: Nakadanaso Ryokan
Onward travel to Tokyo
After breakfast we begin our journey back to Tokyo where our tour ends.
Travel: Train to Tokyo
Eat: Breakfast
Good Eats
Always ranked in the top ten of cuisines worldwide, Japanese food is a delight both visually and for its taste. Dinners at the minshukus and ryokan on this tour are traditional Kaiseki Ryori, with many small dishes of vegetables, fish, meats and more.
A typical dinner could consist of: shiizakana (appetizers served with Japanese sake),mukouzuke (sashimi – slices of raw fish), kuchitori (a small side dish), suimono (a soup), nimono (simmered vegetables), kounomono (Japanese pickles), yakimono (grilled fish) and more.
Good Sleep
Our Nakasendo trip features a number of nights in traditional, historic inns either minshuku or ryokan. These inns orginated back in the era of when the emperors and their courts walked from palace to palace and these inns sprung up along the trails to accommodate the parties.
Arriving at a ryokan is an experience in itself. The hostess, okami , dressed in a kimono, comes to welcome the guests. Once you take your shoes off , put on the slippers made available at the entrance. An employee, still in a kimono, then comes to take over from the okami and accompany the customers to their room.
Getting There
The Walking the Nakasendo tour meets in Tokyo, Japan at the Shinagawa Prince Hotel and ends at Tokyo Station.
Guests should plan their flights to arrive in Tokyo before 06:00 (6 am) on Day 1 of the tour and their departing flights after 12:00 (noon) on Day 7.
Narita Airport code: NRT Haneda Airport cdoe: HND Local Time: GMT+9
Travel Tip: Most flight schedules require arriving in Tokyo the day before. Accommodation at Shinagawa Prince is available.
Documents Please
Passports are required for all guests. Visas maybe required depending on your nationality, check with the nearest Embassy of Japan.
Whatcha Gonna Get
Expert local bilingual guides
Entrance and activity fees
Handpicked lodges, ensuite rooms, double occupancy
Daily breakfast, lunch, snacks*
Dinners featuring fine local cuisine*
Unlimited drinking water**
Train and bus travel*
Pre-tour hotel in Tokyo
*as noted in itinerary
**during activity
Ready to Ride? Sign Up Today!
Your Group, Your Date
You, your family and friends, your preferred date, our handcrafted tour routes, privately guided, the ultimate adventure getaway.
Classic Inns from $5575
Spring (Mar-May) & Fall (Sep-Nov) are the best times for walking.
Request My Private Date
Join a Scheduled Departure
Join a group of like minded travelers (8 guests max) on one of the dates below:
2023: 23 Oct
2024: 15 Apr ✦ 21 Oct
2025: 14 Apr
Classic Inns: $5475 per person, double occupancy
Single Room: +$n/a Deposit: $550
Book Now