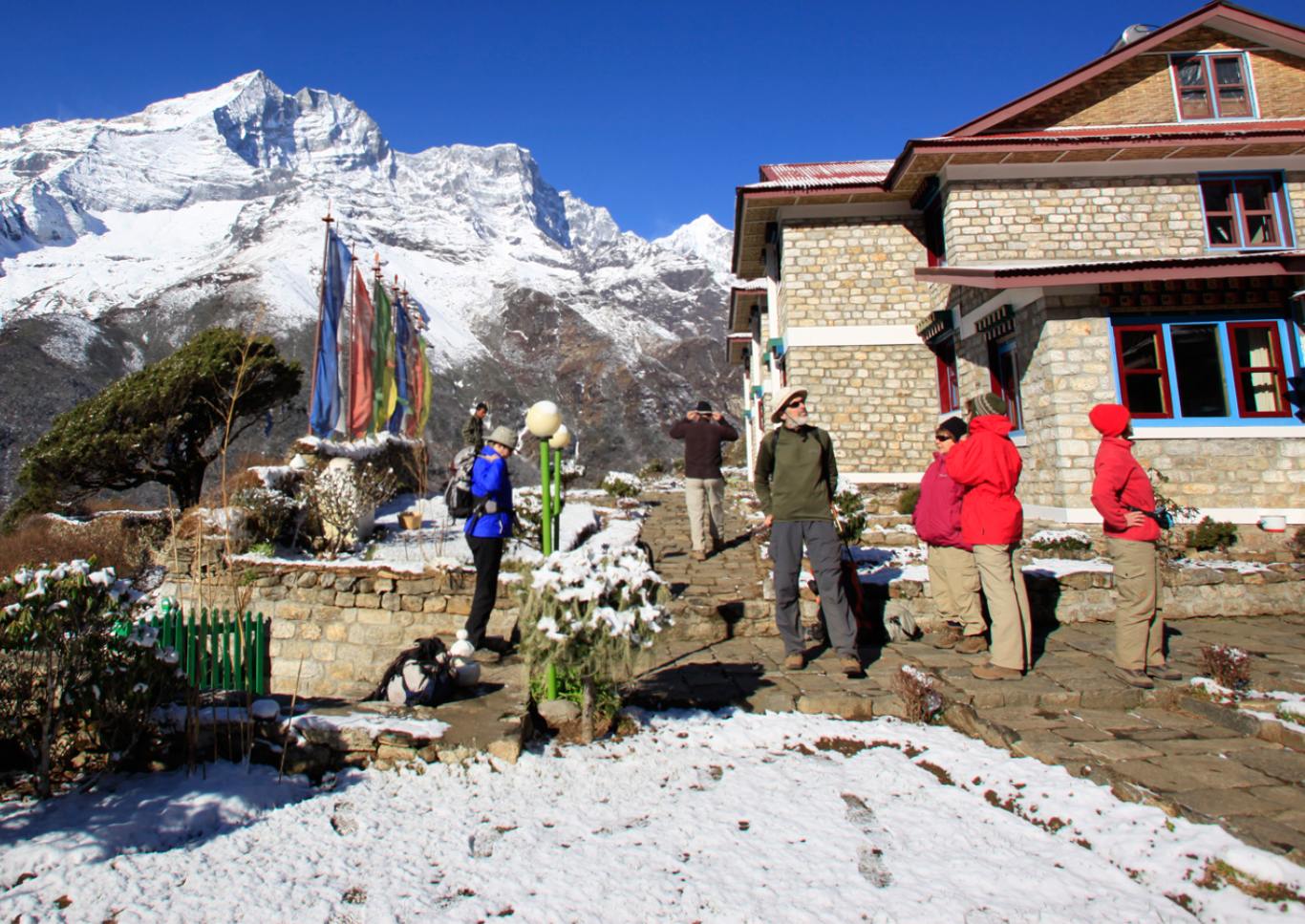 Would you like to?
Walk deep into the heart of the Himalayas
✦
Relax in comfortable inns at night
✦
Trek to dramatic overlooks
✦
Wander the markets of Kathmandu
✦
Discover the simple but tasty foods of Nepal
Teahouse Trek in the Himalayas
Trek Nepal in Comfort
Interact and experience the hospitality of the Sherpa people on our treks in Nepal. Follow the infamous trek towards Everest, stopping in picturesque villages, visiting sacred temples, and spending nights in upscale tea houses!
This Nepal Trekking Tour takes you from the city of Kathmandu through the rural Dudh Kosi valley, where the air is full of bird songs and prayer flags and the mountain is lined with brightly painted tea houses. Then, the route leads past deep gorges, wispy waterfalls, and pine forests, until it arrives at the edge of the Everest National Park. Spend your days walking the region's most beautiful trails, discovering ancient monasteries and temples, and wandering through exciting villages. Throughout your journey, experience the renowned hospitality of the Sherpa people as Sip a glass of sweetened tea and relax in comfort telling tales of the day in Dwarikas for our Kathmandu stay and upscale teahouses on the trek. Relax in luxury in Dwarikas at night in a upscale tea houses and sip a glass of Chang (millet beer).
♡
Add tour to My Bucket List
💖
Saved on My Bucket List
Go Private
This tour is only available as a Private Date. Spring & Fall are best for trekking.
Plan Private Trip
More details?
Download a detailed itinerary with route profiles & more, to read and share with friends.
Download Itinerary
Nepal hiking tour day by day details
Arrival at Kathmandu, transfer to our hotel.
Your arriving flight will be met our guide team, who will transfer you to your hotel. To accommodate a widely varied flight schedule, we have no group activities planned just a chance to relax and get used to being in the Himalayas.
Relax: Free day
Meals: none
Sleep: Darwikas
Half Day Sightseeing, Pashupatinath, Boudhanath.
After breakfast we will head out to explore some of Kathmandu's unique temples and religious sites, plus stroll through the markets a bit. We will visit Pashupatinath on the banks of the Bagmati Rive and the Boudhanath, two important sites for the Hindus and Buddhist. Then gather in the evening for a welcome dinner.
Walk: Leisurely city stroll
Eat: Breakfast, Lunch, Dinner
Sleep: Darwikas
Flight to Lukla.
On arrival at Lukla, check in at the Summit Lodge, Lukla. After an early lunch, take a walk up Bom Danda (app. 3000m) to its village, an ideal way to acclimatize and prepare for the days ahead. Walking along, you get very good views of Lukla and its airfield. Return to the lodge for dinner and overnight.
Walk: 3-4 hours Highest Altitude: 2743m
Eat: Breakfast, Lunch, Dinner
Sleep: ESL Lukla
Trek to Monjo.
An early start after breakfast is planned to avoid the rush of trekkers and porters arriving from Kathmandu. Passing by lovely Sherpa settlements, along gentle undulating trails and enjoying the marvelous scenery of the Dudh Kosi valley, we arrive at the village of Phakding (8700'/2652m). After a break for lunch, we continue on for approximately three more hours to Monjo. The sounds of plodding porters with transistor radios stuck to their ears, the cacophony of ma yriad languages, strange sounding birds, the sight of porters, loads aside, resting outside tea houses, weather-beaten, windblown trekkers winding their way back to Lukla, prayer flag a-flutter, the brightly painted tea houses and of course the dramatic scenery are memories to treasure of this first day on the trail.
Walk: 5-6 hours Highest Altitude: 2850m
Eat: Breakfast, Lunch, Dinner
Sleep: ESL Monjo
DAY Excursion to Thachok Danda.
Today, to assist acclimatization, your Sherpa guide will take you on a day's hike to Thakchok Danda, which lies a little above 9842'/3000m. From this vantage point the views of Kongde Ri, Thamserku and Numbur Himal are quite stupendous. The total excursion will take about 6 hours.
Walk: 5-6 hours Highest Altitude: 3000m
Eat: Breakfast, Lunch, Dinner
Sleep: ESL Monjo
Trek to Namche Bazar.
This will be one of the harder days physically on your trek so take it slowly. The path itself is full of interesting sights. Not least of these will be your first view of Everest as you get higher up the trail. From the lodge it is 15 minutes to the Everest National Park boundary and already the scenery is vastly impressive, with deep gorges, bare vertical rock faces, pine forests on some steep slopes and wispy waterfalls. Cross the tremendously impressive suspension bridge, spanning a deep chasm. The path then zig-zags up through the forest where trees pack themselves in between giant boulders and cliffs. If you are lucky, you may well see small herds of thar, a small deer-like animal. Eventually you pull into Namche Bazaar, its Sherpa houses built one above the other on the steep sides of a sloping mountain bowl. The narrow streets at its center are a mixture of cyber cafes, souvenir shops and places where you can rent/buy any piece of equipment under the sun. Namche is a bustling place and the hub of everything that goes on in the Everest region. All expeditions pass through here on their way to the peaks, and there is a huge cross section of nationalities staying in lodges or camping. In the afternoon trek to the view point for a panoramic view of the mountains ranging from Everest, Lhotse, Nuptse, Ama Dablam, Thamserku and more.
Walk: 3-4 hours Highest Altitude: 3400m
Eat: Breakfast, Lunch, Dinner
Sleep: Hotel Namache
Trek to Tashinga.
In the morning you have time to take in the sights and visit the museum, later we take the trail to Tashinga, following the classical approach route to Everest. Keeping to the almost level, winding trail for about 2 1/2 hours, we make a slight detour off the main trail to arrive at the lodge within the next 15 minutes.
Walk: 3-4 hours Highest Altitude: 3450
Eat: Breakfast, Lunch, Dinner
Sleep: ESL Tashinga
Day excursion to Tengboche Monastery.
Across the valley from the lodge, one can see the trail sloping diagonally up towards the famous monastery of Tengboche. The day begins with a descent to the small hamlet of Phunki Tenga, beside the Dudh Kosi. From here we cross a suspension bridge before beginning a steep ascent for about an hour. This part of the trek is quite heavily forested by rhododendron and pine, so it is well shaded and cool. Once out of the forest, the trail becomes gentle and gradual for another 1.5 hours, all the way up to the monastery. The setting of Tengboche is magical and it is incredible to think that the temple was burned down a few years ago and re-built largely through the efforts of the Sir Edmund Hillary Trust. After lunch explorations of the monastery and its surroundings.
Walk: 5-6 hours Highest Altitude: 3873
Eat: Breakfast, Lunch, Dinner
Sleep: ESL Tashinga
Trek to Mende.
Leaving Tashinga. retrace the trail to Namche Bazar for about an hour to detour off the main trail, taking the trail leading to Khumjung village (3770 mts). The path leads gently up the shallow valley and into Khumjung, the education center of Khumbu. Time permitting, visit the Khumjung monastery and Kunde hospital. Taking the high trail above Namche Bazar, bypass Syangboche airport and head north west. The valley ahead is extremely rugged but beautiful and as one wanders along the forest track, you might chance upon monal pheasants or small herds of thar. At the small village of Tesho, turn off the main trail and make your way slowly up a closed valley. The last half hour climb to Mende, is short, steep and guaranteed to take your breath away. This is where the past few days of hiking into shape will be appreciated ! Once at the lodge, however, the awesome views and commanding location will make the extra effort of getting there well worth while.
Walk: 5-6 hours Highest Altitude: 3840m
Eat: Breakfast, Lunch, Dinner
Sleep: ESL Mende
Day excursion to Thame.
Half an hour down from the Mende Lodge, the trail connects with the old Tibetan trading trail. The path is well formed, wide and mostly easy walking all the way to the village of Thame. Thame is very original in many aspects and perhaps one of the prettiest villages in the Khumbu. It has a scattering of houses, stone-fenced fields and a backdrop of massive snow and icy summits. Visit the Thame monastery, one of the oldest in the region. Sherpa Tenzing Norgay's house, where he lived with his first wife, is situated near the top end of the village. Thame is, in fact, home to two of Nepal's most famous mountaineers: Ang Rita Sherpa who summited Everest eleven times and Apa Sherpa, who outdid his fellow climber by making it 18 times to the top of Everest!
Walk: 5-6 hours Highest Altitude: 3801
Eat: Breakfast, Lunch, Dinner
Sleep: ESL Mende
Return trek to Monjo (5-6 hrs)
Before beginning the descent down to Monjo visit the Laudo monastery 15 minutes above Mende. The main temple is only 40 years old and was used until recently as a meditation school for western Buddhists students. It has a remarkable meditation room built underneath a huge rock, where people go on retreat for 3 years /3 months/3days. The most friendly caretaker in the whole of Khumbu will be more than happy to serve butter tea and explain a little about the monastery. Retrace along the same route to Phurte and from here take the lower trail to Namche. After three hours of easy walking we arrive at Namche Bazar for lunch. The rest of the trail is an easy descent to Monjo.
Walk: 5-6 hours
Eat: Breakfast, Lunch, Dinner
Sleep: ESL Monjo
Trek via GUMILA Monastery to LUKLA (5-6 hrs)
The return trek to Lukla follows a slightly different route so as to avoid walking through Phakding again. Keeping to a trail high above, on the other side of the Dudh Kosi, we visit the old Gumila monastery before descending down to the main trail. After a short lunch break at Thada Kosi, at the base of the Kusum Kangru Himal we continue for a further two hours or so before we reach Lukla.
Walk: 5-6 hours
Eat: Breakfast, Lunch, Dinner
Sleep: ESL Lukla
Fly to Kathmandu
Today we leave the mountains behind and fly back to Kathmandu. Please note that flights into Lukla are sometimes delayed due to weather conditions either in fog-bound Kathmandu or windy Lukla; be reassured that our staff in Lukla and in Kathmandu will be doing everything possible to minimize the inconvenience caused if this happens. Your patience in the trying circumstances, which can occur, will be greatly appreciated. Your final day of leisure in Kathmandu does of course provide a valuable cushion against missing your flight home, should the Lukla flight be delayed. On arrival in Kathmandu you will be met and transferred to the Hotel.
Relax: Fly to Kathmandu
Eat: Breakfast, Dinner
Sleep: Darwikas
leisure in Kathmandu
Time today to relax and reflect on your experiences and to complete any sightseeing and or last-minute shopping for gifts for your house sitter.
Relax: Free day i Kathmandu
Meals: Breakfast, Dinner
Sleep: Darwikas
Transfer to airport for departure
We will transfer you to the airport for your flights to more adventure.
Travel: Shuttle to airport
Eat: Breakfast
Getting There
The Nepal Bike Tour meets and ends at Tribhuvan International Airport in Kathmandu, Nepal. Guides will meet arriving flights, between 9:00 and 16:00
Guests should plan their flights to arrive in Kathmandu before 16:00 (4 pm) on Day 1 of the tour and their departing flights after 10:00 (10 am) on Day 15.
Kathmandu Airport code: KTM Local Time: GMT+5:45
Documents Please
Passports are required for all guests. Visas maybe required depending on your nationality, check with the nearest Embassy of Nepal.
Whatcha Gonna Get
Expert local bilingual guides
Entrance and activity fees
Handpicked lodges, ensuite rooms, double occupancy
Daily breakfast, lunch, snacks*
Dinners featuring fine local cuisine*
Unlimited drinking water**
Support van for baggage and lifts
Luggage porterage during trek
Airport pick up & drop off
*as noted in itinerary
**during activity
Ready to Ride? Sign Up Today!
Your Group, Your Date
You, your family and friends, your preferred date, our handcrafted tour routes, privately guided, the ultimate adventure getaway.
Classic Inns from $4525
Spring (Apr-May) & Fall (Sep-Oct) are the best times to go.
Request My Private Date