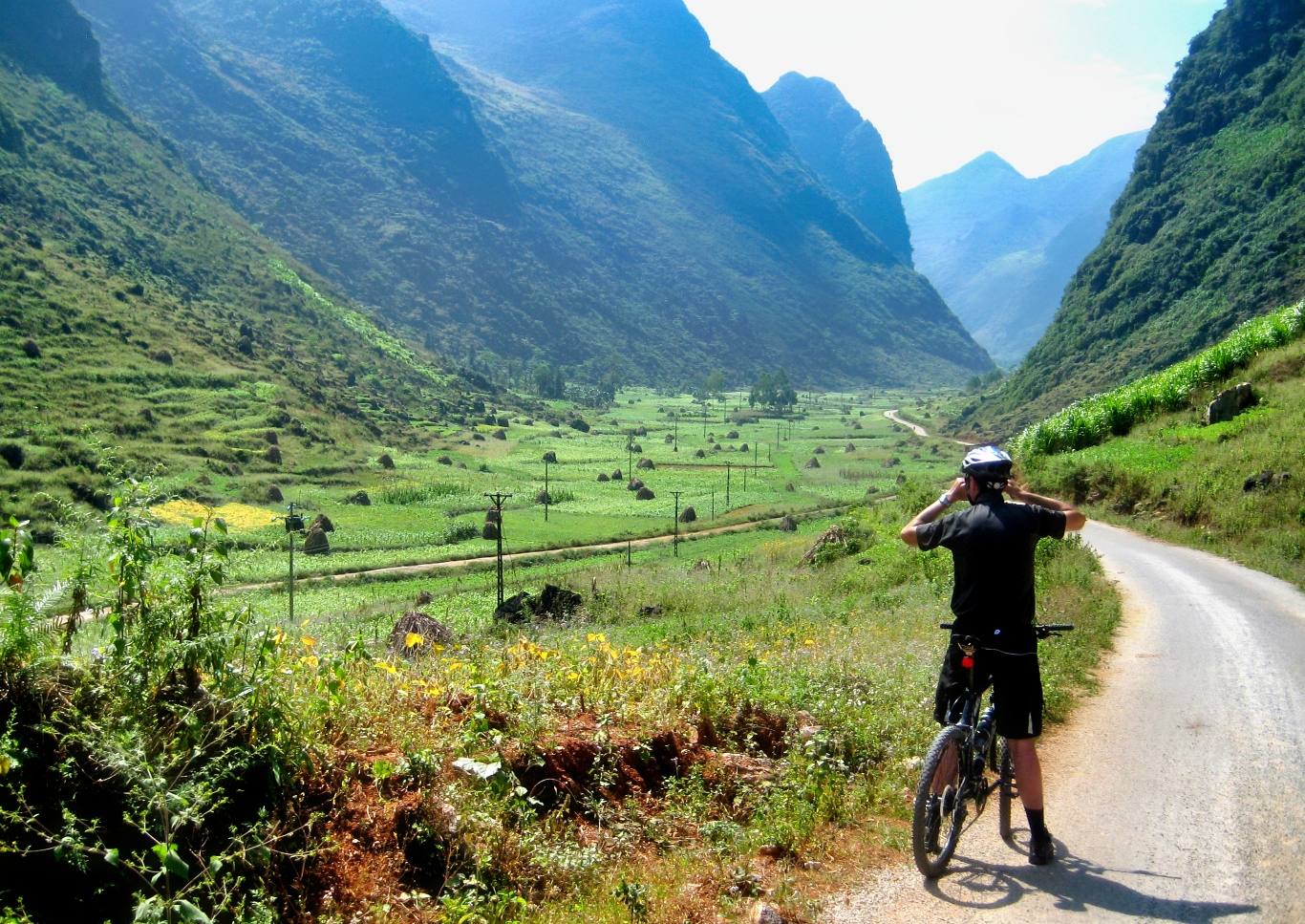 Would you like to?
Cycle through dramatic karst landscapes
✦
Taste the incredible Vietnamese cuisine
✦
Sail through Ha Long Bay by junk
✦
Experience life in rural ethnic villages
✦
Relax in outstanding historic hotels & resorts
Bicycling Hidden Northern Vietnam
The north part of Vietnam stands in contrast to the modern bustling cities and beach resorts of South Vietnam. Discover Nom Hoa Chuoi (banana flower salad) or Bun Bo Nam Bo (noodle soup, no soup. Cycle on the tourist path by bike in the hills country and Hop into sea kayaks to explore the islands of Han La Bay up close. From rich farmlands to limestone grottoes, the many natural wonders of the countryside await you on this North Vietnam Cycling Tour!
The North Vietnam Bike Tour takes you from the tree lined city of Hanoi to the rural countryside, where you will discover local ethnic people and villages tucked within towering karst cliffs, bike along emerald green rice paddies, and kayak to the beautiful islands of Ha Long Bay where nature and landscapes are a big part. You will venture deep into the picturesque landscape, exploring lush valleys, cascading waterfalls, gold-plated palaces, and dense rainforests. You will get to witness water buffalo in the wild and hunt for squid in the cover of night. Throughout your journey, you will be treated to delicious and exciting authentic dishes and premier accommodations.
♡
Add tour to My Bucket List
💖
Saved on My Bucket List
Scheduled Dates
22 Jan 2024
11 Nov 2024
21 Jan 2025
Première Inns $3150 per person
Book My Spot
Go Private
Oct to Feb best for cycling.
Plan Private Trip
More details?
Download a detailed itinerary with route profiles & more, to read and share with friends.
Download Itinerary
Vietnam bicycle tour day by day details
Arrive in Hanoi, water puppet performance, welcome dinner
Your guide will meet you are Hanoi's airport, then transfer downtown to our hotel. The day is free at your leisure until evening. We'll gather for a bit of tour orientation then head out for dinner at a local restaurant, your first taste of our guide curated menus, plus enjoy a water puppet show, where the puppeteers are actually standing in the water.
Relax: Free time until dinner
Eat: Dinner
Sleep: Anantole Hotel
Hanoi sightseeing by Vespa and street food tour
Start the day local style, exploring the city on an antique vespa scooter. You'll ride pillion while our experience local drivers pilot you through the hidden charms of Hanoi Old quarter and West Lake areas. Experience the magical moments of Hanoi waking up! Let us take you on a unique, early morning adventure riding pillion on one of our vintage Vespas. Experience the magical moments of Hanoi waking up! Of course breakfast is on tap with some freshly made, Banh Cuon, a mouth-watering healthy steamed rice rolls and a non-missable egg coffee. Later in the afternoon, we head back out on foot to experience the incredible variety of street foods that Hanoi has to offer. Not only will your taste buds be jumping with joy but this pastime is archetypal of the cities culture and the daily lives of the people. Sit down at any of the countless street food stalls and you will be met with delicious food and friendly smiles. And don't worry, you will be burning off the calories from all this eating in the days to come as we bike.
Explore: Walking and Vespa tour
Eat: Breakfast, Lunch, Dinner
Sleep: Anantole Hotel
Mai Chau by Bicycle
After breakfast we will shuttle out of Hanoi to quiet Bai Lang, where we will get you set up on the bikes and embark on the cycling portion of the tour. We will be pedaling to Thung Nai, a slow gradual climb into the hills. Reaching Thung Nai we will join a local family for lunch. Letting everyone digest a bit while shuttling to Cao Phong, we resume riding to our lodge in Mai Chau surrounded by lush landscapes.
Ride: 67 mi / 105 km, Land: hills
Eat: Breakfast, Lunch, Dinner
Sleep: Mai Chau Ecolodge
Mai Chau, cycling to Don Village (Pu Luong Nature Reserve)
This morning you will embark by bike and continue cycling west to Pu Luong Nature Reserve. The route gets a bit more challenging after the first 20km from Mai Chau as we will tackle the hills on small roads. But the beautiful views on the valleys and terraced rice fields, stops at the villages and interact with friendly locals, help keep the minds off the challenge. Arrive at the Pu Luong Retreat in the afternoon, a lovely spot nested between two streams at the foot of a limestone mountain. Spend the rest of the day at leisure enjoying the cascades and natural pools all around your private bungalow.
Ride: 43 mi / 70 km, Land: hills
Eat: Breakfast, Lunch, Dinner
Sleep: Pu Loung Retreat
Pu Luong Nature Reserve by bicycle
No need to pack this morning as you will enjoy a morning ride to nearby beautiful villages. You will stop in Ban Hieu, a remote village in Pu Luong Nature Reserve. This beautiful village is named after the stream running through it- Hieu stream which is originated from Pu Luong Peak. Unlike the above one, this village is famous for the giant waterwheels standing on the running water, surrounded by peaceful rice fields that turn yellow right in the harvest season. Breathtaking scenes in this village also include 5 waterfalls called Hieu waterfall that cool down the temperate in the whole area, especially in the summer. Visit to the waterfall before we cycle back to Don village, where we spend our second night.
Ride: 15 mi / 25 km, Land: hills
Eat: Breakfast, Lunch, Dinner
Sleep: Pu Loung Retreat
Pu Luong to Hoa Lu ancient capital of Vietnam
The towering karst cliffs line your route this morning, cycling to Hoa Lu, the 10th century capital of Dai Co Viet (as Vietnam was know as back then). Tour around the many palaces, pagodas, tombs and pavilions that were built by different dynasties. One of the most popular pieces of architecture is the Bao Thien Tue Palace, which was plated with gold and silver. After visiting, we keep cycling on the beautiful country lane to the scenic Tam Coc. Enjoy lunch in local restaurant in Tam Coc, then take a sampan on a river through the rice paddies to the grottoes of the sacred Tam Coc Caves. Enormous limestone karsts jut out from the green rice fields giving rise to this places other name, 'Halong on Land'. We will stop at Hang Mua (Dancing cave), enjoy climbing up over 500 steps to the summit. From the top of mountain, we can enjoy the dramatic panorama of Tem Coc rivers, canals and mountains. Overnight in Tam Coc.
Ride: 38 mi / 60 km, Land: hills
Eat: Breakfast, Lunch, Dinner
Sleep: Aravinda Resort 
cruise Halong Bay by junk
You have a leisurely morning before we leave for our drive to Hai Phong & enjoy the journey through the rich farmlands of the Red River Delta and the scenery of rice fields, water buffalo and everyday Vietnamese village life. In Hai Phong, embark for two nights onboard a luxurious junk, exploring away from the tourist hordes in Halong Bay. Today sail to Ao Ech area where we break out the sea kayaks for a bit of exploring, then on to the lesser visited areas of Tra Bau and Lan Ha Bay. After enjoying sunset over the Gulf of Tonkin, join the ship's chef for short cooking class before dinner.
Sail: kayak and sailing
Eat: Breakfast, Lunch, Dinner
Sleep: Peony Cruise
Halong Bay Cruise and bike to Viet Hai Village
Arise early if you wish for some Tai Chi on the deck before breakfast. Hop the shuttle craft to Viet Hai village on the nearby island, where we enjoy some cycling through the rainforest and tree tunnel to visit some local villages and discover island life. Enjoy lunch on the shuttle boat as we explore some areas out of reach of the junk, before returning for afternoon swims or a bit more sea kayaking. Perhaps the chef might show you how to prepare a few more Vietnamese dishes before dinner. Perhaps round out your day by trying your hand at night squid fishing.
Ride: 8 mi / 15 km, Land: flat
Eat: Breakfast, Lunch, Dinner
Sleep: Peony Cruise
Halong Bay back to Hanoi
More Tai Chi perhaps? After breakfast disembark to visit a limestone grotto, before sailing back to Hai Phong. We'll shuttle back to Hanoi, where you have the afternoon free to explore, relax, shop for gifts. Enjoy farewell dinner in one of the most popular local restaurants.
Relax: Sail back to port, transfer
Eat: Breakfast, Dinner
Sleep: Anantole Hotel
Departure
Drive to Hanoi airport for your onward flight. T?m bi?t
Travel: Shuttle to airport
Eat: Breakfast
Getting There
The North Vietnam Bike Tour meets and ends at Noi Bai International Airport in Hanoi, Vietnam
Guests should plan their flights to arrive in Hanoi before 14:00 (2 pm) on Day 1 of the tour and their departing flights after 10:00 (10 am) on Day 10.
Hanoi Airport code: HAN Local Time: GMT+7
Documents Please
Passports are required for all guests. Visas maybe required depending on your nationality, check with the nearest Embassy of Vietnam.
Whatcha Gonna Get
Expert local bilingual guides
Entrance and activity fees
Handpicked lodges, ensuite rooms, double occupancy
Private cabins on Ha Long Bay cruise
Daily breakfast, lunch, snacks*
Dinners featuring fine local cuisine*
Unlimited drinking water**
Support van for baggage and lifts
Free use of bicycles
Free use of sea kayaks in Ha Long Bay
Airport pick up & drop off
*as noted in itinerary
**during activity
Ready to Ride? Sign Up Today!
Your Group, Your Date
You, your family and friends, your preferred date, our handcrafted tour routes, privately guided, the ultimate adventure getaway.
Classic Inns from $3275
Tour is available year round. October through February is winter with cooler temperatures and no rain.
Request My Private Date
Join a Scheduled Departure
Join a group of like minded travelers (8 guests max) on one of the dates below:
2024: 22 Jan ✦ 11 Nov
2025: 21 Jan
Première Inns: $3150 per person, double occupancy
Single Room: +$750 Deposit: $300
Book Now