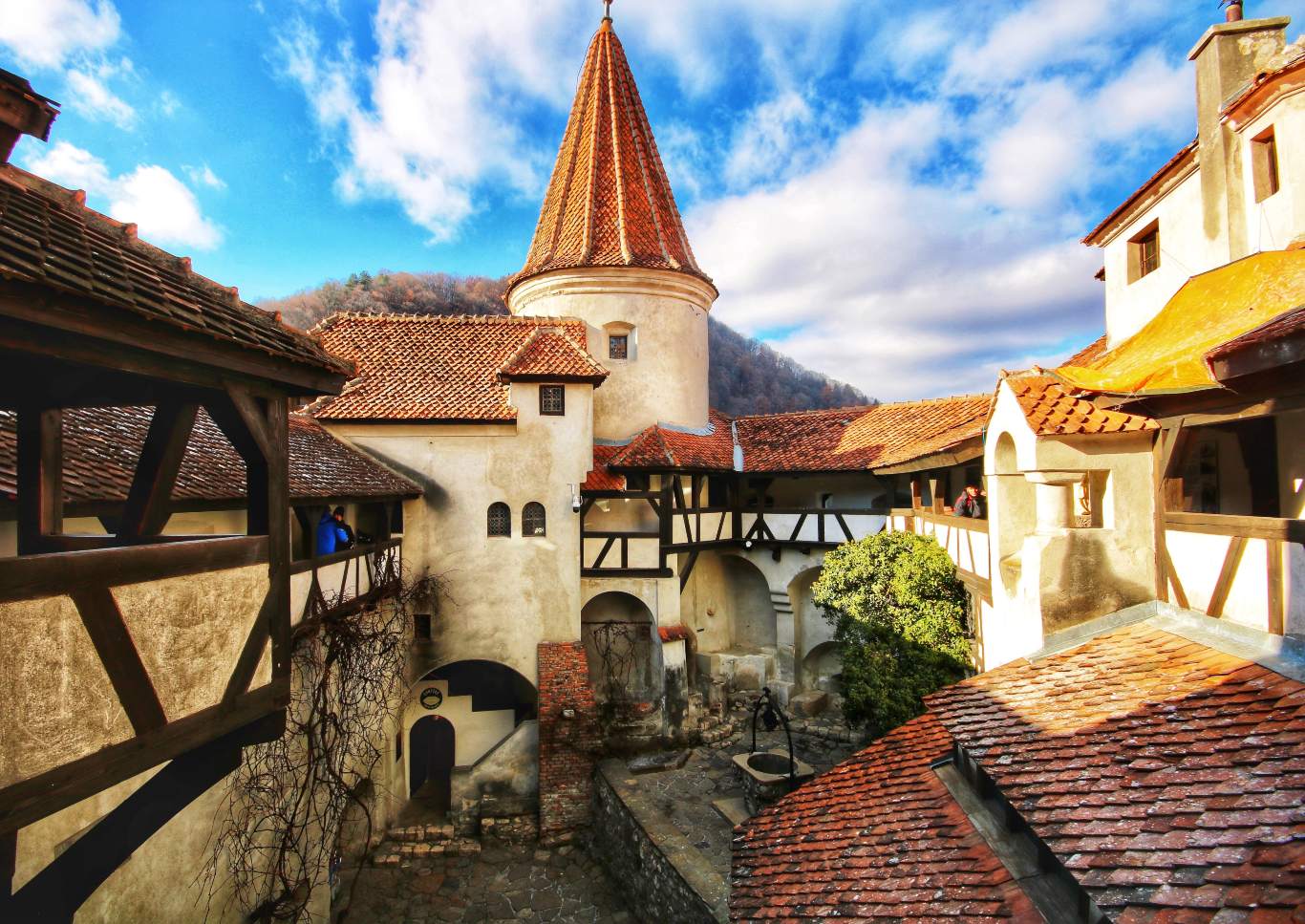 Would you like to?
Bicycle through the haunts of Dracula
✦
Enjoy home cooked lunches based on traditional recipes
✦
Explore untouched mediæval towns
✦
Soak in local mineral baths
✦
Bed down in local castles and mansions
Vampires? No, Wonderful Cycling in Romania
Join us for a 7-day journey by cycling through an extraordinary region of Europe on our Romania bike tours. Encounter pristine landscapes, explore well-preserved medieval villages, and enjoy excellent food and wine on this trip through Transylvania! Which has kept its history alive in old mansions and unspoiled villages with churches very unique to Transylvania.
On the Transylvania Bike Tour, you will experience the historical and cultural landmarks of this fascinating region, situated within a breath-taking and dramatic terrain. Cycle through the Postavarul Mountains, with splendid panoramic views and lush pine forests, to the famous Bram Castle, home to Dracula. Visit a fortified church and learn about the resiliency of the local community in the face of Turkish sieges. Travel rural roads where traditional ways of life persist and try your hand at old-fashioned brick and tile making. Along your trip, you will spend your days in fortresses and citadels and your nights in luxurious estates and resorts, dining on feasts fit for traditional noblemen and home-cooked recipes from local villagers.
♡
Add tour to My Bucket List
💖
Saved on My Bucket List
Go Private
This tour is only available as a Private Date. Best cycling is May, Sep & Oct.
Plan Private Trip
More details?
Download a detailed itinerary with route profiles & more, to read and share with friends.
Download Itinerary
Romania bicycle tour day by day details
Meet Bucharest, walking tour of Brasov
Your group of adventurers will meet at Bucharest's airport, then transfer to Brasov. Here you will stroll through the historic center, explore the most important landmarks of the town, discover one of Europe's narrowest street and visit the gothic Black Church. Dinner in one of the best traditional restaurants of Brasov follows, accompanied by a short introduction of the tour and a welcome package.
Walk: City exploration before dinner
Eat: Lunch, Dinner
Sleep: Bella Muzica
Cycle to Draculas Castle, visit Prejmer Fortified Church
After a wholesome breakfast, we start our day cycling up to Poiana Brasov ski resort (1030 m) on a panoramic road through Postavarul Mountains and with splendid views over the town of Brasov. After a pleasant descend through pine forests, we visit the dramatic Bran Castle, commonly known as Dracula's Castle. From Bran you will be transferred first to Prejmer Fortified Church, part of the the UNESCO World Heritage Sites in Transylvania, for a guided tour of this amazing fortification. Here you can be amazed by the powerful surrounding walls, the great architecture of the church and the incredible stories about how successful and well-organized was the local community in surviving the many Turkish sieges. Overnight and dinner in the authentic Mikes estate in the Szekely village of Zabola where you can relax and dine like a Transylvanian nobleman.
Ride: 20 mi / 32 km, Land: 600 meter climb, mountainous
Eat: Breakfast, Lunch, Dinner
Sleep: Zabola Estate
Cycling the Haromszek region, museums, craftshops
Your day starts with flat cycling through the Haromszek region, first we visit the the church from Ghelina dated from the 14th century and famous for its Gothic mural paintings, then historical center and the Crafts Museum in Targu Secuiesc. We continue our journey towards the village of Cernat where in the past more than 30 watermills operated to serve the needs of many villages in the region. We visit Szekeyland's biggest open-air museum, learn about the folk culture and architecture of the Szakelys, then we have a break at a cultural center built around a more than 150 years old watermill. Enjoy a home-cooked lunch prepared by the local women based on traditional recipes and learn about the old craft of milling. Finish our day climbing up to Balvanyos Resort to enjoy the mineral springs and a relaxing evening.
Ride: 40 mi / 65 km, Land: flat then gradual climb
Eat: Breakfast, Lunch, Dinner
Sleep: Grand Hotel Balvanyos
Cycling Mohos Peat-bog Natural Reserve and the Land of Woods
Today we head for the Baraolt region, known as the Land of Woods. Our first stop is the Mohos Peatbog Natural Reserve where we be introduced to its medicinal and carnivorous plants and St Anne Lake, where perhaps weather permitting a swim is in order. Descending from the crater rim, we ride through forests and along remote rural roads where locals still lives traditional lives. We will visit with an 80 year old lady and her working water mill, rest at the fizzy mineral water springs and bath of Batanii Mici or pay a visit to the local traditional brick and tile making workshop in the neighboring village.
Ride: 32 mi / 51 km, Land: flat
Eat: Breakfast, Lunch, Dinner
Sleep: Castle Hotel Daniel
Cycle to Racos Geological Complex and Saxon villages
Today first we visit the Racos Geological Complex, then say farewell to Szakelyland as we depart to explore the medieval heritage of the Saxon settlements located in the south-eastern part of Transylvania. After 1.5 h ride we reach Racos village where the mining activities revealed huge geologic sections (over 50 m height and 200 m in length) allowing you to observe the system's geological structure. From Racos we head towards Rupea fortress on paved country roads with optional stops at the ruins of the Hungarian Sukosd-Bethlen Castle and the Saxon fortified church of Homorod. Next is the beautiful Saxon village of Viscri. Upon arrival, we can visit the wool felt shop and its UNESCO-designated fortified church.
Ride: 36 mi / 59 km, Land: flat
Eat: Breakfast, Lunch, Dinner
Sleep: Viscri 125 Guesthouse
Ride the Saxony Bike Trail, explore the medieval citadel of Sighisoar
Today we cycle part of a network of trails which link Viscri with the other two neighboring villages of Mesendorf and Crit. In Mesendorf you can visit the Peasant Citadel, dating from 14-15thcenturies, while in Crit meet Mr Emil Pandrea, a skillful beekeeper, who has recently become the British Royal Court's honey provider and find out how he earned this position whilst sampling this sweet delicacy. We bod the bikes good bye in Crit and transfer to the medieval citadel of Sighisoara where a guided walking tour through the UNESCO protected citadel and to the Lower old center awaits you. During this tour you will have the chance to learn more about how nature and the territory influences the local food and the characteristics of the local gastronomy in the oldest school of Sighisoara. Try some typical cheese from the Tarnave area of the Transylvanian Highlands and taste some delicious pork specialties and some local white wines. Gather for a finale dinner tonight at our luxurious inn.
Ride: 15 mi / 24 km, Land: flat
Eat: Breakfast, Lunch, Dinner
Sleep: Fronius Residence
Farewell
We bid farewell to Transylvania and transfer back to the Bucharest Airport.
Travel: Shuttle to airport
Eat: Breakfast
Getting There
The Cycling Transylvania tour meets and ends at Henri Coandă International Airport in Bucharest, Romania.
Guests should plan their flights to arrive in Bucharest before 12:00 (noon) on Day 1 of the tour and their departing flights after 10:00 (10 am) on Day 7.
Bucharest Airport code: OTP Local Time: GMT+2
Documents Please
Passports are required for all guests. Visas maybe required depending on your nationality, check with the nearest Embassy of Romania.
Whatcha Gonna Get
Expert local bilingual guides
Entrance and activity fees
Handpicked lodges, ensuite rooms, double occupancy
Daily breakfast, lunch, snacks*
Dinners featuring fine local cuisine*
Unlimited drinking water**
Support van for baggage and lifts
Free use of bicycles
Airport pick up & drop off
*as noted in itinerary
**during activity
Ready to Ride? Sign Up Today!
Your Group, Your Date
You, your family and friends, your preferred date, our handcrafted tour routes, privately guided, the ultimate adventure getaway.
Classic Inns from €2950
The best months are May, September and October.
Request My Private Date