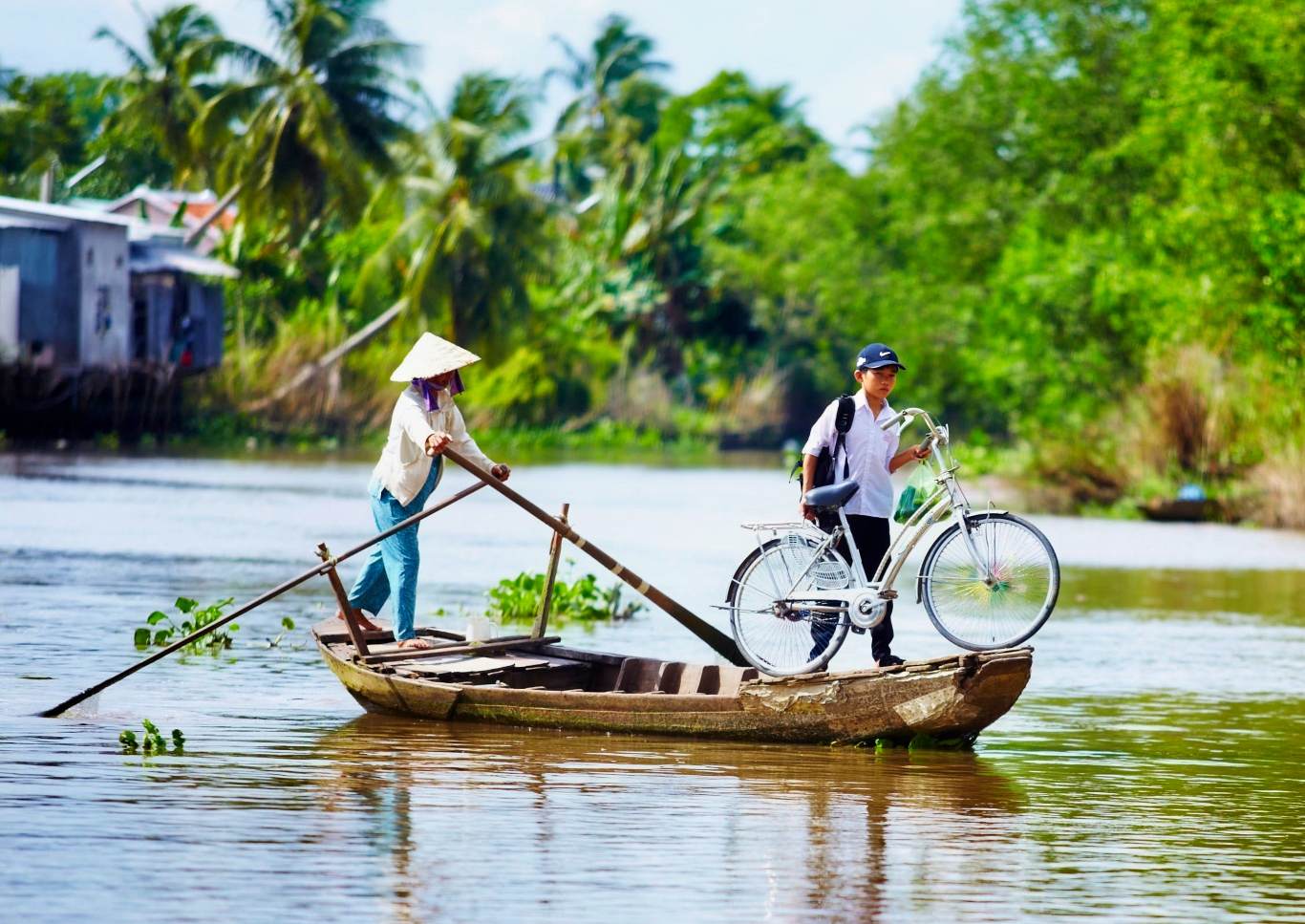 Would you like to?
Cycle through the Mekong Delta
✦
Discover Saigon street food with local students
✦
Bike from Pleiku to the coast
✦
Explore the fresh markets of Saigon
✦
Wander the ancient alleys of Hoi An
✦
Relax in outstanding historic hotels
South Vietnam Cycle & Cuisine
Three Tastes of Cycling Vietnam
Discover a more local side of southern Vietnam as you bike the most beautiful scenery and dine on the most delicious dishes on this cycling and cuisine tour!
Beginning in the colorful streets of Saigon, the tour takes you to famous local landmarks, a hidden restaurant, bustling night markets, and a craft brewery. Spend time exploring the Mekong Delta farms, small villages, farms, based out of a single luxury resort overlooking the Mekong. Then we cycle from the hill country to the sea along part of the notorious Ho Chi Minh Trail, bedding down in rural hotels, exploring everyday villages and the lives of villages in the hills. Ride through coffee plantations, pine tree forests, and green hills of tea until you reach the coastline. Along your journey, you will visit vibrant villages, meet friendly locals, eat authentic meals, and stay in luxurious accommodations. Visit the Hoi An and see for yourself the historic monuments of the country. This trip has a big focus on food, from joining students to explore street food by scooter, to visiting small rural restaurants and big city eateries specializing in local cuisine. Experience the wonderful foods and friendly peoples of southern Vietnam.
♡
Add tour to My Bucket List
💖
Saved on My Bucket List
Scheduled Dates
3 Dec 2023
8 Jan 2024
2 Dec 2024
7 Jan 2025
Première Inns $3150 per person
Book My Spot
Go Private
Year round, but Oct to Mar best for cycling.
Plan Private Trip
More details?
Download a detailed itinerary with route profiles & more, to read and share with friends.
Download Itinerary
Vietnam bicycle tour day by day details
Saigon arrival, explore on your own, welcome dinner
Your guides will be awaiting your arrival at Saigon's Ton Son Airport and then transferring to our delightful hotel in Saigon's historic riverside district. You have the balance of the afternoon free, before we reconvene for orientation and a welcome dinner.
Relax: Free to explore until dinner
Eat: Dinner
Sleep: The Majestic
Saigon walking tour& Evening street food by Vespa
After breakfast we will head out to explore Saigon's colorful streets and markets on foot. Among the many stops we will make are the Saigon Opera House, Ben Thanh Market, the chocolates shops at Maison Marou, the antique shops on Le Cong Kieu Street. To recharge from the walking we will visit SH Garden, a hidden restaurant tucked away atop an old apartment building. Delicious regional cuisine. After some down time back at the hotel, we will head out on antique vespa scooters to explore Saigon's bustling nighttime street food scene. Experienced local drivers will pilot us to a variety of food stops finishing at one of Saigon's craft breweries (no self-drive option).
Walk: City walking tour
Eat: Breakfast, Dinner
Sleep: The Majestic
Travel to Mekong Delta, bike & boat tour
Transfer about 2 hours to The Island Lodge in the Mekong Delta. Perhaps a dip in the pool before checking in. After lunch, we head out by boat and bicycle to explore the cocoa plantations and rural villages in the Mekong Delta.
Ride: 6 mi / 10 km, Land: flat & small hills
Eat: Breakfast
Sleep: The Island Lodge
Cycling Ben Tre
Through this very exclusive bike trek, enjoy Vietnamese countryside art of living of Ben Tre province. You will leave and come back on Unicorn Island using the local ferry boat to cross the Mekong river. As if you were born on those lands, you will discover the careful organization of the Coconut Jungle also known as the Coconut Paradise!
Ride: 19 mi / 30 km, Land: flat & small hills
Eat: Breakfast
Sleep: The Island Lodge
Transfer to Saigon, Flight to Pleiku
Morning free and easy. 12:00pm check out and transfer from your accommodation to the airport for the flight to Pleiku. Upon arrival at Pleiku airport, transfer to your hotel in center.
Travelflight to Pleiku
Eat: Breakfast
Sleep: Hoang Anh Gia Lai Hotel
Cycling Pleiku, Kon Tum
After breakfast, get on your bike and start a leisure ride out of the city, towards Bien Ho – the famous lake in Pleiku and in Central Highland. Cycle pass the coffee plantation, green hills of tea and pine tree forest. Lunch on the way. Reach Kon Tum in the afternoon. Kon Tum is a small highland town also well-known from the days of war. Our hotel in Kon Tum tonight is Hnam Chang Ngah, a development center for the young adults of the rural ethnic minorities.
Ride: 30 mi / 50 km, Land: hilly
Eat: Breakfast, Lunch, Dinner
Sleep: Hnam Chang Ngeh
Cycling Kon Tum, Phuoc Son
After breakfast, enjoy a full-day riding on undulating hills through some of the best scenery Vietnam has to offer. Transfer out of Kon Tum City, we pass through mountain valleys and thick forests adjacent to national parkland. The route also covers sections of the famed Ho Chi Minh Trail. Hill-tribe villages dot the landscape and we'll stop for lunch at one of these. After lunch, continue riding until sunset and then transfer to Phuoc Son. Overnight at local guesthouse in Phuoc Son.
Ride: 36 mi / 60 km, Land: small hills
Eat: Breakfast, Lunch, Dinner
Sleep: Be Chau Giang Hotel
Cycling Phuoc Son, Hoi An
After breakfast, pick up our bikes and enjoy the last full day in the saddle. We cycle uphill and downhill through the mountains of the central highlands, passing through green hills, jungle forests and sparse villages. Enjoy rolling hills and lush scenery all the way out of the small, picturesque town of Phuoc Son.

Transfer by support van/bus is available whenever you feel needed. Lunch at a local restaurant on the way. After lunch, transfer toward the coast, then you can cycle the leisure path along the sea towards your hotel in Hoi An. Check in your hotel and take a rest before your farewell dinner tonight.
Ride: 36 mi / 60 km, Land: flat
Eat: Breakfast, Lunch, Dinner
Sleep: Boutique Hoi An Resort
Hoi An free time
After breakfast we will head out for walk around the historic town center of Hoi An. The rest of the day is to your leisure.
Relax: Morning walk then free time
Eat: Breakfast
Sleep: Boutique Hoi An Resort
Transfer to Danang, Departure
Free time until transfer from your Hoi An hotel to Danang airport (with guide) for your departure flight.
Travel: Shuttle to airport
Eat: Breakfast
Getting There
The South Vietnam Cycle & Cuisine meets at Tan Son Nhat International Airport in Ho Ci Minh, Vietnam and ends at Da Nang International Airport in Danang, Vietnam
Guests should plan their flights to arrive in Ho Chi Minh before 12:00 (noon) on Day 1 of the tour and their departing flights after 10:00 (10 am) on Day 10.
Ho Chi Minh Airport code: SGN Danang Airport code: DAD Local Time: GMT+7
Documents Please
Passports are required for all guests. Visas maybe required depending on your nationality, check with the nearest Embassy of Vietnam.
Whatcha Gonna Get
Expert local bilingual guides
Entrance and activity fees
Handpicked lodges, ensuite rooms, double occupancy
Daily breakfast, lunch, snacks*
Dinners featuring fine local cuisine*
Unlimited drinking water**
Support van for baggage and lifts
Free use of bicycles
Airport pick up & drop off
*as noted in itinerary
**during activity
Ready to Ride? Sign Up Today!
Your Group, Your Date
You, your family and friends, your preferred date, our handcrafted tour routes, privately guided, the ultimate adventure getaway.
Classic Inns from $3275
Tour is available year round. October through February is winter with cooler temperatures and no rain.
Request My Private Date
Join a Scheduled Departure
Join a group of like minded travelers (8 guests max) on one of the dates below:
2023:  3 Dec
2024:  8 Jan ✦ 2 Dec
2025:  7 Jan
Première Inns: $3150 per person, double occupancy
Single Room: +$650 Deposit: $300
Book Now