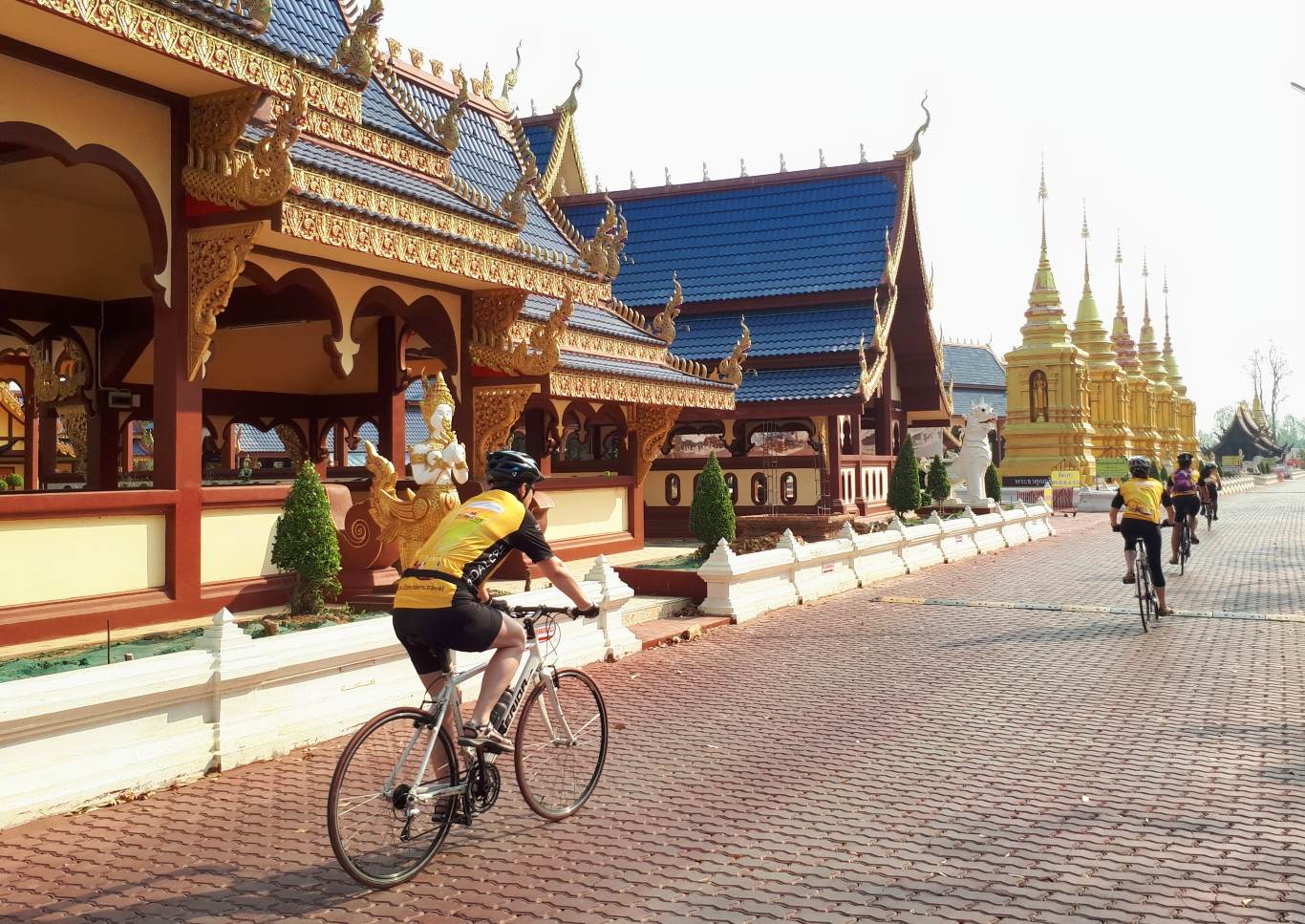 Would you like to?
Explore Sukhothai Historical Park
✦
Taste a wide variety of Thai cuisine
✦
Cycle quiet rural Thai roads
✦
Discover Thai culture from a locals perspective
✦
Bike along quiet roads with bike friendly drivers
Bangkok to Golden Triangle Bike Tour
The Original Thailand Bicycle Tour
A 14-day bike tour through Northern and Central Thailand as we cycle from one ancient, awe-inspiring attraction to the next. Immerse yourself in the beautiful landscape and rich culture of Thailand as you cycle through the country's geographical and historical wonders!
From Bangkok to Golden Triangle, this Thailand cycling tour takes you to the country's most ancient and awe-inspiring attractions. As you pass through serene agricultural plains, rolling foothills etched with rice paddies, and towering golden cliffs, you will explore the region's innumerable historical gems. The cave teeming with monkeys is even more spectacular for its bat flight at sunset, 10s of thousands swarming out of the cave. Ancient ruins at Kamphaeng Phet, 700-year-old tributes to kings at Sukhothai Historical Park, and a 1000-year old temple complex at Tham Tub Tao, to name a few. Throughout your journey, you will also feast on local foods, stop by a house to learn about palm sugar making, enjoy bbq at a hidden hot spring, discover outrageously good dinners (with guided curated menus) and a myriad of snacks guests get to try as they ride (be prepared to gain weight), learn tribal dancing, and stay in historic villages.
♡
Add tour to My Bucket List
💖
Saved on My Bucket List
Scheduled Dates
3 Dec 2023
17 Jan 2024
18 Nov 2024
16 Jan 2025
Classic Inns $3850 per person
Book My Spot
Go Private
Nov to Jan best for cycling.
Plan Private Trip
More details?
Download a detailed itinerary with route profiles & more, to read and share with friends.
Download Itinerary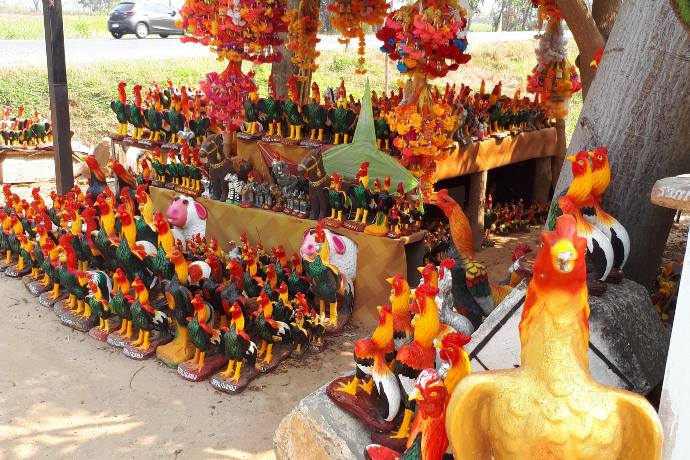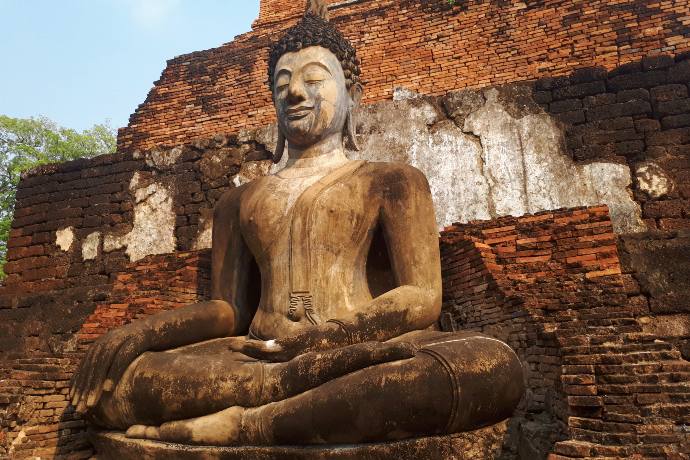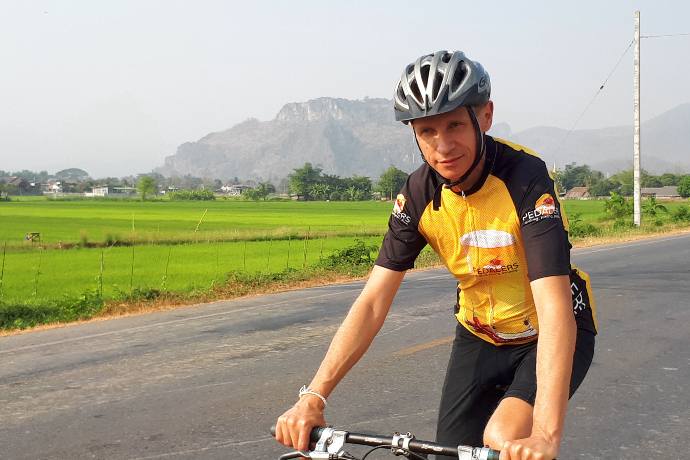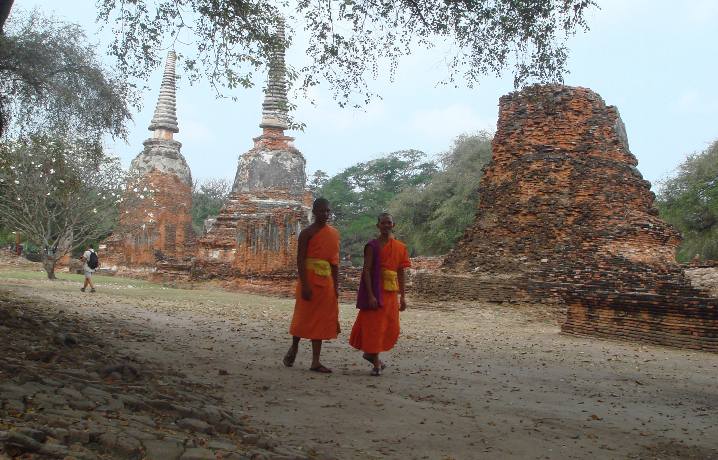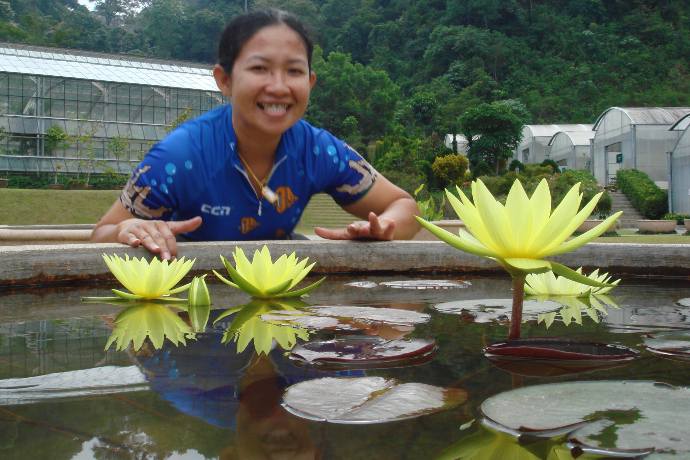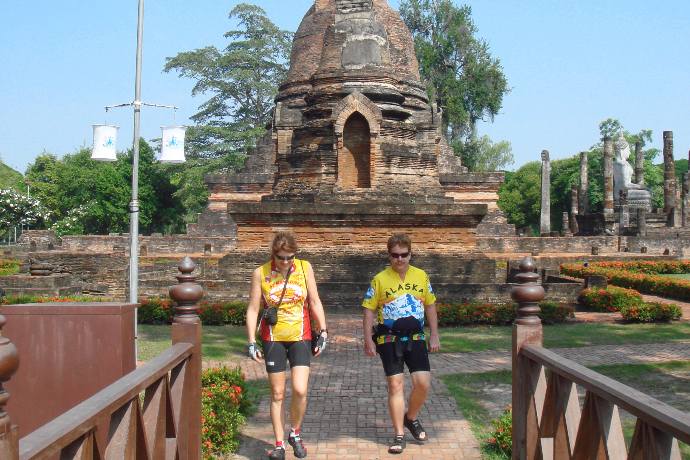 Cycling Bangkok to Golden Triangle itinerary
Shuttle to Ayutthaya for walking tour, launch fire balloons in Uthai Thani, welcome dinner riverside.
Your group will gather this morning at Bangkok's Suwarnabhumi Airport, then drive north of the city to ancient Ayutthaya. We'll embark on a walking tour to explore some the more significant ruins of this former capital city. After lunch, we continue north to the historic town town of Uthai Thani, our launching point for this cycling holiday. We enjoy dinner at a floating restaurant followed by the launching of traditional khom loy (Thai Fire Balloons) for good luck.Walk: 2 hours walking
Eat: Lunch, Dinner
Sleep: Payamai Resort
Ride through vast rice fields and colorful rural villages, visit the Monkey Temple at Wat Khao No, watch evening bat flight.
The first bike tour of the trip travels through the flat farmlands of the central Thailand, with emerald green rice fields stretching as far as the eye can see, punctuated by vibrantly colored temple complexes and wooden houses. Our small hotel tonight is tucked away just outside the tiny village Bahnpot Phisai. After reaching our hotel, we will shuttle over to explore Khao Noi, with its temple cave and thousands of monkeys roaming the grounds. At sunset we will be treated to one of nature's unique phenomenons, a sunset bat flight with thousands of bats weaving through the evening sky.
Ride: 61 mi / 98 km, Land: flat
Eat: Breakfast, Lunch, Dinner
Sleep: Signature @Khao No
Explore the Chao Prayao Valley and traditional farming techniques, dinner at the night market.
Continuing north along smaller farm roads, we may have the opportunity to witness traditional agricultural methods, duck powered pest control, sun drying of tapioca and peppers, wind winnowing of rice hulls. Our goal for the evening is Kamphaeng Phet, another of Thailand's ancient kingdoms, dating from the Sukhothai Era (500 to 700 years ago). We head out for dinner at the night market at a small, simple cafe with a fabulous chef.
Ride: 59 mi / 95 km, Land: flat
Eat: Breakfast, Lunch, Dinner
Sleep: Navarat Heritage Hotel
Discover the ancient ruins of Kamphaeng Phet, learn about making palm sugar candies, wind down in Sukhothai Historical Park.
In the morning we will pedal the short way through town to Kamphaeng Phet Historical Park. This UNESCO World Heritage Site has a section of ruins within the city containing the Imperial Temple complex among others and a second section tucked away in the forests outside the city. We will enjoy a walking tour of the first and then take our bikes for a ride through the second. From Kamphaeng Phet is it a short, scenic ride through rural Thailand to our next stop at the renowned ruins of Sukhothai and our hotel sitting just outside the historical park.
Ride: 53 mi / 85 km, Land: flat
Eat: Breakfast, Lunch, Dinner
Sleep: Legendha Resort
A free day to explore the 700 year old ruins of Sukhothai.
We start our day with a cycling trip through the Sukhothai Historical Park (a UNESCO World Heritage Site), where we will discover many fabulous ruins dating back some 500 to 700 years. The complex is an amazing tribute to the ancient kings and their visions. The afternoon is free to do as you please, relax poolside, stroll through town. For dinner, we will go "grazing" at the night food market, tasting an array of everyday Thai food, watching as the locals come to get their dinners (very few Thais have full kitchens at home, preferring to buy their prepared dinners at the markets).
Ride: 12 mi / 20 km, Land: flat
Eat: Breakfast, Dinner
Sleep: Legendha Resort
Cycle through rural Thailand to the crossroads town of Thoen.
We head north out of the agricultural regions and into the foothills of the northern mountains today. Much of the day is quite flat, but does give way to hills as we approach the crossroads town of Thoen. At one point during the ride, it appears that massive mountains block our way, but as we approach, we come to discover that they are really flat slabs of granite turned up on edge and are only a 100 feet thick, yet towering way above our heads. We will bed down tonight in Thoen.
Ride: 72 mi / 117 km, Land: small hills with big climb at end
Eat: Breakfast, Lunch, Dinner
Sleep: Sam Saen &nbsp

Roll through the hills to colorful Li, shuttle into Chiang Mai.
Our last bike ride of the first week follows rolls through the forested hills of the north. We'll see Teak trees with their ever present flowers, small rural villages where cyclists like us generate big smiles and lots of hellos. In late afternoon, we will shuttle into Chiang Mai to avoid the afternoon rush hour traffic. Tonight we head out for a traditional northern Khan Toke dinner with classical Thai and hill tribe dancing.
Ride: 46 mi / 75 km, Land: big climb, then small hills
Eat: Breakfast, Lunch, Dinner
Sleep: The Rim Chiang Mai
A free day to explore this 700 year old city.
Today is a free day. A variety of options of things to do in Chiang Mai is available, from cycling tours of Wiang Kum Kam, visits to handicraft shops, cooking classes, etc. Your guides will be glad to fill you in on the options and help you plan your day.Relax: Free day
Eat: Breakfast
Sleep: The Rim Chiang Mai
Cycle north to visit Mae Sa Valley, pedal through lush forests to diminutive Baan Rai.
We head north this morning, following small roads along the Mae Ping through villages and past flower farms. Lunch time will find us in the town of Mae Rim, where we will break from cycling to visit an orchid grower and a butterfly farm. In the afternoon, we remount our bikes for a beautiful ride through emerald rice paddies and past colorful temples en route to our overnight stop in the village of Baan Rai.
Ride: 31 mi / 50 km, Land: flat
Eat: Breakfast, Lunch, Dinner
Sleep: Bamboo Grove
Hit the morning market of Mae Malai, explore the expansive Wat Baan Den Temple, cycle through Mae Ping Gorge.
Our morning ride takes us first to Mae Malai, where we visit a traditional market featuring a broad selection of local vegetables, fruits and fish, along with a tasty array of prepared foods from pad se yu (noodles) to fried insects. We will also visit the magnificent Wat Baan Den, before heading north into the rolling, forested countryside. Our bike tour winds down the day at a picturesque resort tucked in amongst the impressive karst hills ... relax by the lake with a cold Singha beer or on the porch of your teak cottage hidden in the gardens.
Ride: 57 mi / 92 km, Land: flat
Eat: Breakfast, Lunch, Dinner
Sleep: Changkham Luang Resort
Bike to visit the Burmese style temple at Mae Ai, walk through the 1000 year old temple cave at Tab Tao, relax riverside in Tha Ton.
After breakfast this morning, we will pedal up to a beautiful giant Buddha, perched beneath the golden cliffs, then enjoy a thrilling descent onto the agricultural realm around Fang. We will visit Tham Tub Tao, an ancient temple complex with 100s of Buddha images inside a giant cavern. Each year a gathering of 2500 monks takes place at this temple and has been happening for hundreds of years. In the afternoon we will spend some time exploring Wat Mae Ai Luang, with its historic wooden temple featuring Burmese architecture, before rolling further north to Tha Ton, our overnight stopping point.
Ride: 54 mi / 88 km, Land: big climb then flat
Eat: Breakfast, Lunch, Dinner
Sleep: Maekok River Village
Mae Salong Tea village, roll through the green hill country.
As the morning fog burns off, we head out for a leisurely ride along the Mae Kok, watching as the villagers start their days in the fields. In late morning, we will load up in our sag and drive to Mae Salong village perched on the mountain top (avoiding a very steep climb). The village started by members of the KMT escaping China's civil war, is surrounded by tea plantations and markets. We will re-mount our bikes in the afternoon and continue our ride to a nice lodge out in the middle of nowhere surrounded by dramatic landscapes and bucolic quiet.
Ride: 52 mi / 85 km, Land: several big climbs
Eat: Breakfast, Lunch, Dinner
Sleep: Phu Chai Sai Resort
Rural cycling, visit Golden Triangle, dinner on the banks of the Mae Khong overlooking Laos.
The last ride through the Land of Smiles takes us to the Mae Khong (or Mekong River as many may know it). We will explore the ancient ruins of Chiang Saen, which date back some 900 years, visit the notorious Golden Triangle (though today is a bustling tourist destination), then settle down for the evening in our hotel overlooking the river and celebrate the end of a great ride with a great dinner riverside.
Ride: 36 mi / 58 km, Land: mostly flat
Eat: Breakfast, Lunch, Dinner
Sleep: Siam Triangle
Time to head out for your next adventure.
Our cycling holiday must come to an end today. After breakfast we will visit the White Temple, a unique Buddhist temple featuring incredible carvings by a Chiang Rai artist. Then saying our fond farewells at Chiang Rai Airport. Khap khun khap, sawasdee khap.Travel: Shuttle to airport
Eat: Breakfast
Good Gear
Pedalers provides Merida Speeders, a lightweight, flatbar, sport road bike. Bianchi Kuma mountain bikes are also available, but the roads are all nicely paved.
As a safe health measure, guests are asked to bring their own helmets and waterbottles for cycling. If necessary these can be purchased economically in Thailand.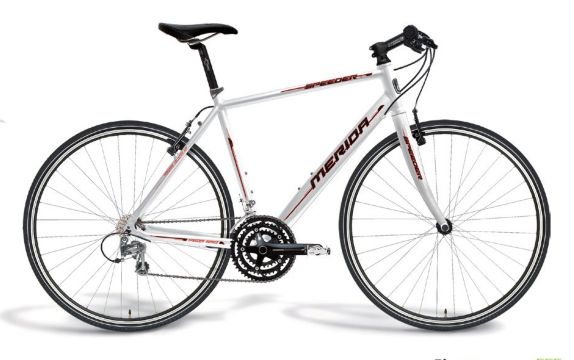 Good Eats
Discover the best of northern Thai cuisine each night with our Guide Curated Menus. Your guide team has found the best dIshes to try at each of the restaurants we visit at dinner time.
Perhaps some delicately fried morning glory with a seafood sauce. Or try some nam prick, a roasted Thai chili dip eaten with fresh vegies or pork skins. Discover Lanna dishes such a pork curry or Sai Ua, a spicy northern Thai sausage.
Getting There
The Bangkok to Golden Triangle Bike Tour meets at Suvarnabhumi International Airport in Bangkok, Thailand and ends at Chiang Rai International Airport in Chiang Rai, Thailand
Guests should plan their flights to arrive in Bangkok before 07:00 (7 am) on Day 1 of the tour and their departing flights from Chiang Rai after 14:00 (2 pm) on Day 13.
Bangkok Airport code: BKK Chiang Rai Airport code: CEI Local Time: GMT+7
Travel Tip: Buying your domestic flight from Chiang Rai to Bangkok separately from your international flight to Thailand is often a better value. But do leave sufficient time between flights (4 hours suggested).
Documents Please
Passports are required for all guests. Visas maybe required depending on your nationality, check with the nearest Embassy of Thailand.
Whatcha Gonna Get
Expert local bilingual guides
Entrance and activity fees
Handpicked lodges, ensuite rooms, double occupancy
Daily breakfast, lunch, snacks*
Dinners featuring fine local cuisine*
Unlimited drinking water**
Support van for baggage and lifts
Free use of bicycles
Airport pick up & drop off
*as noted in itinerary
**during activity
Ready to Ride? Sign Up Today!
Your Group, Your Date
You, your family and friends, your preferred date, our handcrafted tour routes, privately guided, the ultimate adventure getaway.
Classic Inns from $3950
Tour is available June thru February, with November to January best.
Request My Private Date
Join a Scheduled Departure
Join a group of like minded travelers (8 guests max) on one of the dates below:
2023:  3 Dec
2024: 17 Jan ✦ 18 Nov
2025: 16 Jan
Classic Inns: $3850 per person, double occupancy
Single Room: +$1025 Deposit: $400
Book Now