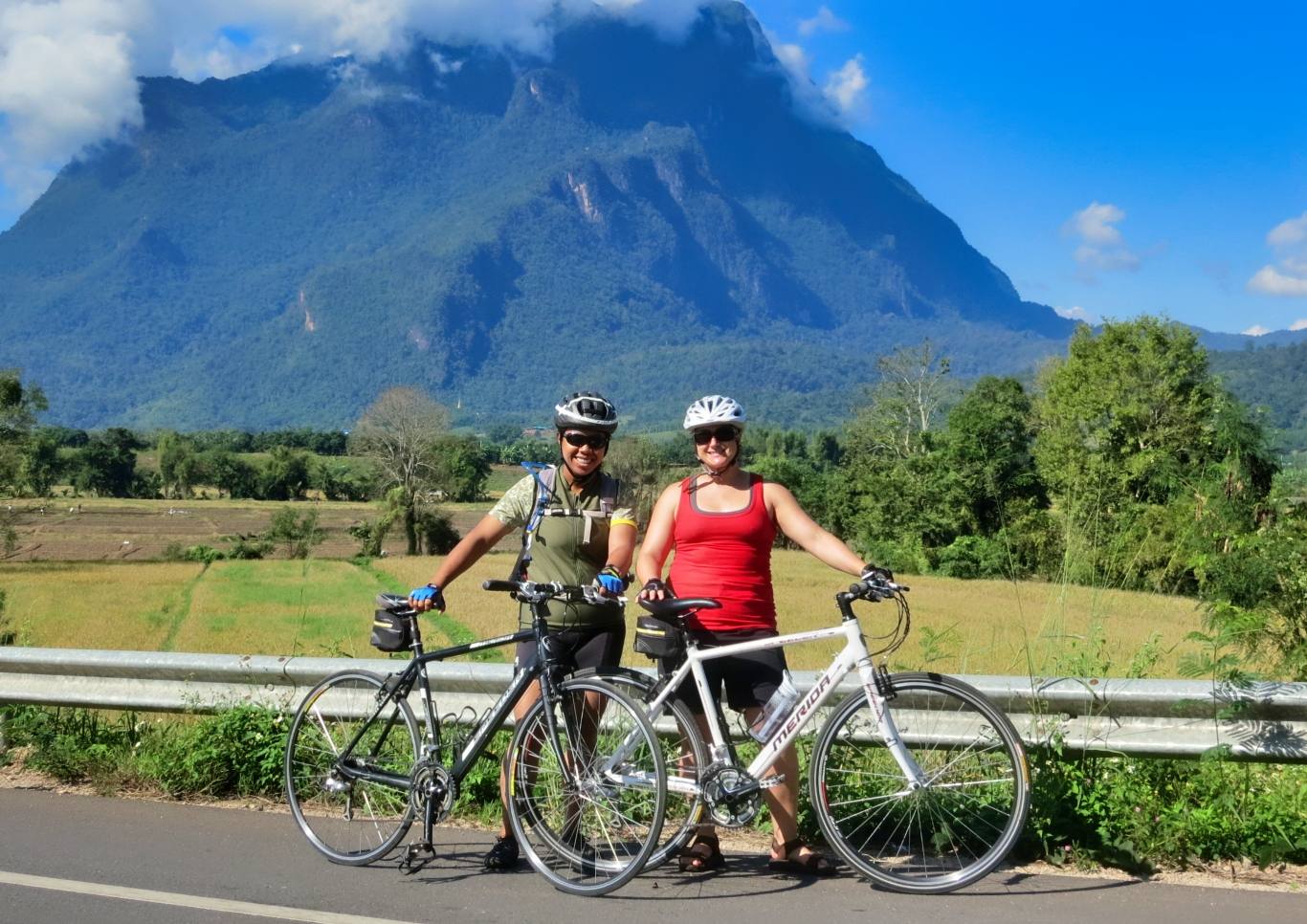 Would you like to?
Enjoy Lanna style Thai cuisine
✦
Explore the 700 year old ruins of Wiang Kum Kam
✦
Cycle emerald rice paddies
✦
Visit a 1000 year old temple in cave
✦
Learn about local handicrafts
Northern Thailand Bike Tour
Cycling the best of Thailand
Beginning in the 700-year-old Lanna Kingdom in the city of Chiang Mai, our Northern Thailand Bicycle Tour takes you on a journey throughout Thailand's spectacular scenery and captivating cultural landmarks. Delight in the bustling night markets, where strings of paper lanterns illuminate handspun crafts and homemade foods. Marvel at the rural countryside, where ancient ruins persevere within the flourishing forests and golden Buddhas stand tall among the hills. From the mountains of Mae Ping to the Temple Cave at Tab Tao, this cycling adventure will take you to sites that spark your curiosity and nourish your sense of wonder.
Along the way, you will also nourish your body, with the most delicious and authentic traditional Thai food the region has to offer. We are dedicated to tailoring this unique experience to your wants and needs, and our local bilingual guides are especially equipped to show you the places they love and make sure you love them too.
♡
Add tour to My Bucket List
💖
Saved on My Bucket List
Scheduled Dates
10 Dec 2023
7 Jan 2024
11 Feb 2024
7 Jul 2024
20 Oct 2024
17 Nov 2024
6 Jan 2025
10 Feb 2025
Classic Inns $1959 per person
Book My Spot
Go Private
Oct to Feb best for cycling. Add a couple of days more & ride to Chiang Rai.
Plan Private Trip
More details?
Download a detailed itinerary with route profiles & more, to read and share with friends.
Download Itinerary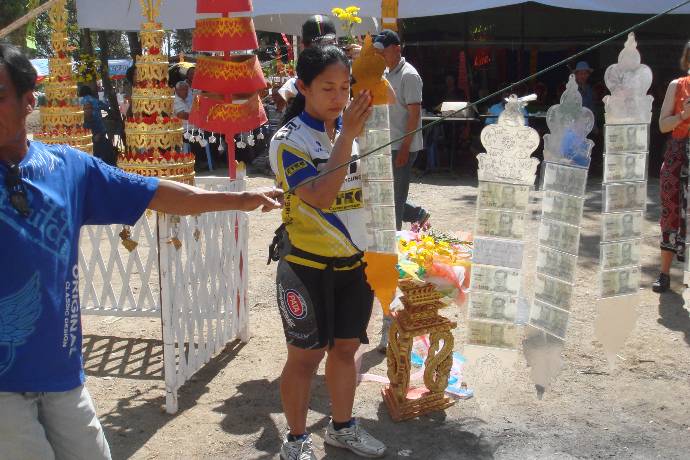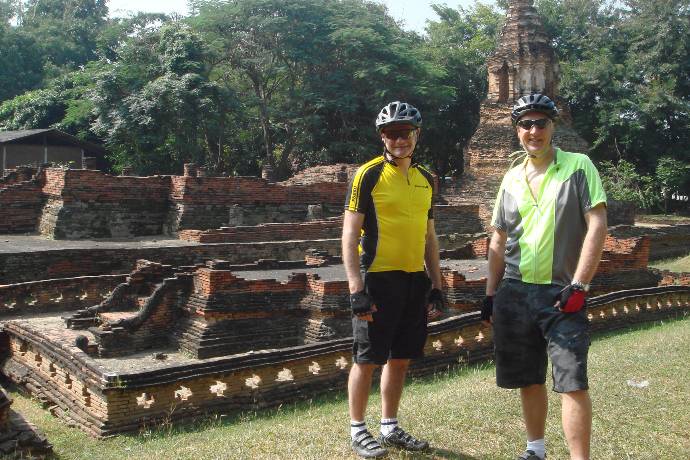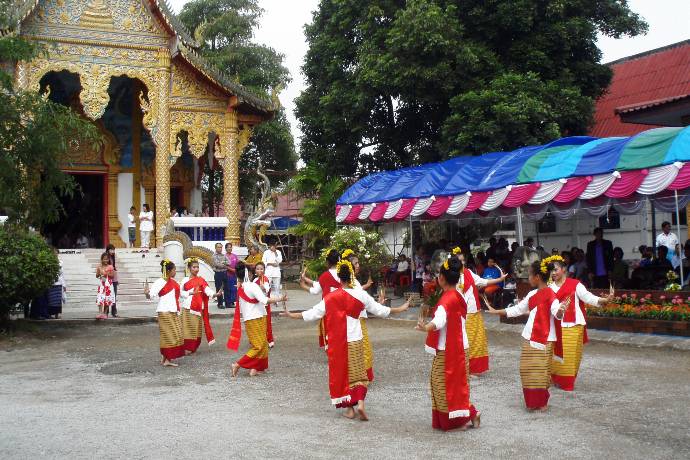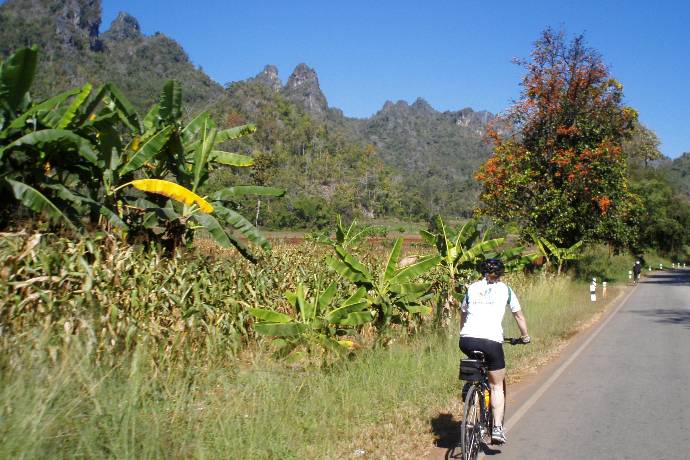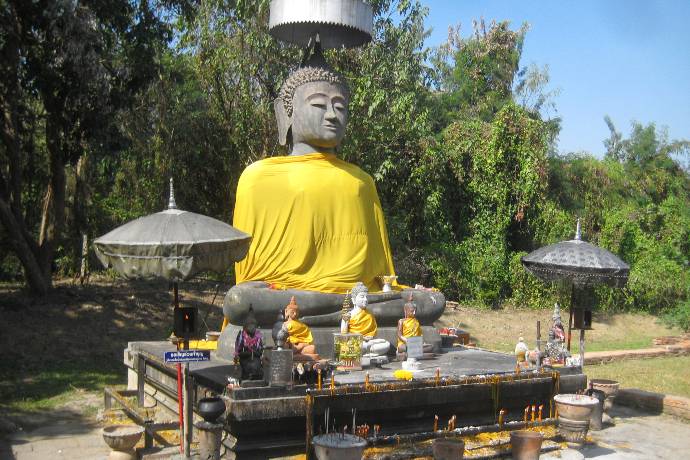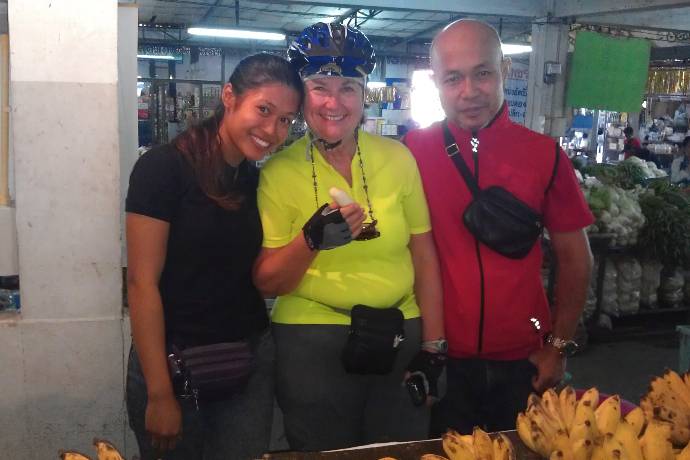 Northern Thailand bicycle tour itinerary
Meet in Chiang Mai, enjoy northern style Khantoke Dinner.
Your bike tour group will gather today in the vibrant northern city of Chiang Mai. After checking into our lodge, we will get everyone set up with their bikes, then head out for a traditional northern Khan Toke dinner with classical Thai and hill tribe dancing.
Relax: Free to explore until dinner
Eat: Dinner
Sleep: The Rim Chiang Mai
Cycle through the ruins of ancient Wiang Khum Kam, explore the wood working shops of Baan Tawai, dinner at our favorite riverside restaurant.
This morning we head south of town to explore the ruins of Wiang Kum Kam, site of the first city built by King Mengrai some 700 years ago. Unfortunately his choice of land was subject to frequent floods, so after a short while he moved the city to it's current locale. After lunch we will explore the wood working village of Baan Tawai and then return to Chiang Mai. Tonight we enjoy dinner at our favorite restaurant perched on the banks of the Mae Ping (Ping River) which flows through the heart of the city.
Ride: 22 mi / 35 km, Land: flat
Eat: Breakfast, Lunch, Dinner
Sleep: The Rim Chiang Mai
Cycle north to visit Mae Sa Valley, pedal through lush forests to diminutive Baan Rai.
We head north this morning, following small roads along the Mae Ping through villages and past flower farms. Lunch time will find us in the town of Mae Rim, where we will break from cycling to visit an orchid grower and a butterfly farm. In the afternoon, we remount our bikes for a beautiful ride through emerald rice paddies and past colorful temples en route to our overnight stop in the village of Baan Rai.
Ride: 31 mi / 50 km, Land: flat
Eat: Breakfast, Lunch, Dinner
Sleep: Bamboo Grove
Discover the ornate colorful temple of Wat Baan Den, cycle through the lush Mae Ping Gorge, enjoy dinner while relaxing in a hot spring.
Our morning ride takes us first to Mae Malai, where we visit a traditional market featuring a broad selection of local vegetables, fruits and fish, along with a tasty array of prepared foods from pad se yu (noodles) to fried insects. We will also visit the magnificent Wat Baan Den, before heading north into the rolling, forested countryside. Our bike tour winds down the day at a delightful resort with a dramatic sunset view of Doi Chiang Dao, Thailand's second tallest mountain. We'll enjoy a post ride soak in a private hot spring pool at the base of Doi Chiang Dao.
Ride: 57 mi / 92 km, Land: flat then small hills at end
Eat: Breakfast, Lunch, Dinner
Sleep: Aurora Resort
Cycle the Chiang Dao Hills, passing golden Buddhas, then wander into the 1000 year old Temple Cave at Tab Tao.
After breakfast this morning, we will pedal north, visiting a local hill tribe market offering fresh produce from various Royal Projects, along with delicious teas and dried fruit. Then up to a beautiful giant Buddha, perched beneath the golden cliffs, before enjoy a thrilling descent onto the agricultural realm around Fang. Our last stop is Wat Tham Tub Tao, an ancient temple complex with 100s of Buddha images inside a giant cavern. Each year a gathering of 2500 monks takes place at this temple and has been happening for hundreds of years. We will walk into the giant caverns to visit a stupa deep in the heart of the mountain that allegedly dates back more than 1000 years. Our stop is a few miles further up the road in Chai Prakan.
Ride: 39 mi / 63 km, Land: moderate climb, then flat
Eat: Breakfast, Lunch, Dinner
Sleep: Saimoonbury Resort
Cycle through remote rural valleys and farms, explore Burmese style temples, enjoy dinner on the banks of the Mae Kok River.
The last day of this Thailand bike tour pedals along rural roads through the flat plains of the far north. Along the way discover Burmese style temples with Buddha statues made from woven wicker. Enjoy numerous photos ops with emerald rice paddies, quiet villages and remote temples. Our last night's celebratory dinner will be at a great restaurant overlooking the Mae Kok River.
Ride: 40 mi / 64 km, Land: flat
Eat: Breakfast, Lunch, Dinner
Sleep: Saranya River House
Return to Chiang Mai to prepare for your next adventure. Sawasdee
Our cycling holiday must come to an end today. We will shuttle back to the Chiang Mai Airport in our vans, one last chance to enjoy the scenery through which you pedaled for the last few days. Khap khun khap, sawasdee khap.
Travel: Shuttle to airport
Eat: Breakfast
Good Eats
Discover the best of northern Thai cuisine each night with our Guide Curated Menus. Your guide team has found the best dIshes to try at each of the restaurants we visit at dinner time.
Perhaps some delicately fried morning glory with a seafood sauce. Or try some nam prick, a roasted Thai chili dip eaten with fresh vegies or pork skins. Discover Lanna dishes such a pork curry or Sai Ua, a spicy northern Thai sausage.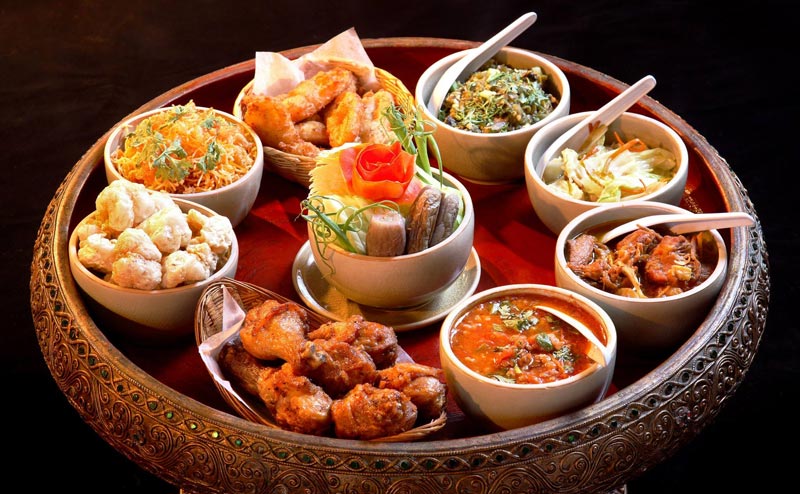 Good Gear
Pedalers provides Merida Speeders, a lightweight, flatbar, sport road bike. Bianchi Kuma mountain bikes are also available, but the roads are all nicely paved.
As a safe health measure, guests are asked to bring their own helmets and waterbottles for cycling. If necessary these can be purchased economically in Thailand.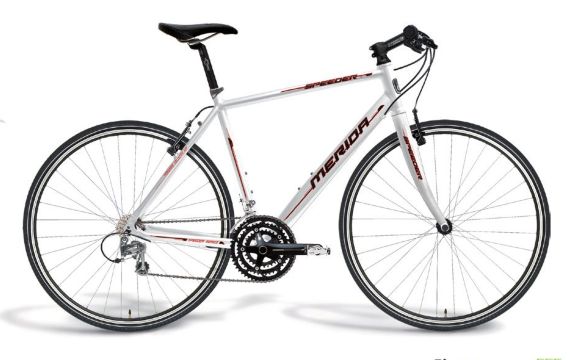 Getting There
The Northern Thailand Bike Tour meets and ends at Chiang Mai International Airport in Chiang Mai, Thailand.
Guests should plan their flights to arrive in Chiang Mai before 14:00 (2 pm) on Day 1 of the tour and their departing flights after 14:00 (2 pm) on Day 7.
Chiang Mai Airport code: CNX Local Time: GMT+7
Travel Tip: Buying your domestic flight from Bangkok to Chiang Mai separately from your international flight to Thailand is often a better value. But do leave sufficient time between flights (3 hours suggested).
Documents Please
Passports are required for all guests. Visas maybe required depending on your nationality, check with the nearest Embassy of Thailand.
Whatcha Gonna Get
Expert local bilingual guides
Entrance and activity fees
Handpicked lodges, ensuite rooms, double occupancy
Daily breakfast, lunch, snacks*
Dinners featuring fine local cuisine*
Unlimited drinking water**
Support van for baggage and lifts
Free use of bicycles
Airport pick up & drop off
*as noted in itinerary
**during activity
Ready to Ride? Sign Up Today!
Your Group, Your Date
You, your family and friends, your preferred date, our handcrafted tour routes, privately guided, the ultimate adventure getaway.
Première Inns from $3150
Classic Inns from $2050
Tour is available year round. October thru February is best with cooler temperatures, April is hot. Private trips can add a couple more days and finish in Chiang Rai.
Request My Private Date
Join a Scheduled Departure
Join a group of like minded travelers (8 guests max) on one of the dates below:
2023: 10 Dec (full)
2024:  7 Jan (full) ✦ 11 Feb ✦ 7 Jul ✦ 20 Oct ✦ 17 Nov
2025:  6 Jan ✦ 10 Feb
Classic Inns: $1959 per person, double occupancy
Single Room: +$450 Deposit: $300
Book Now