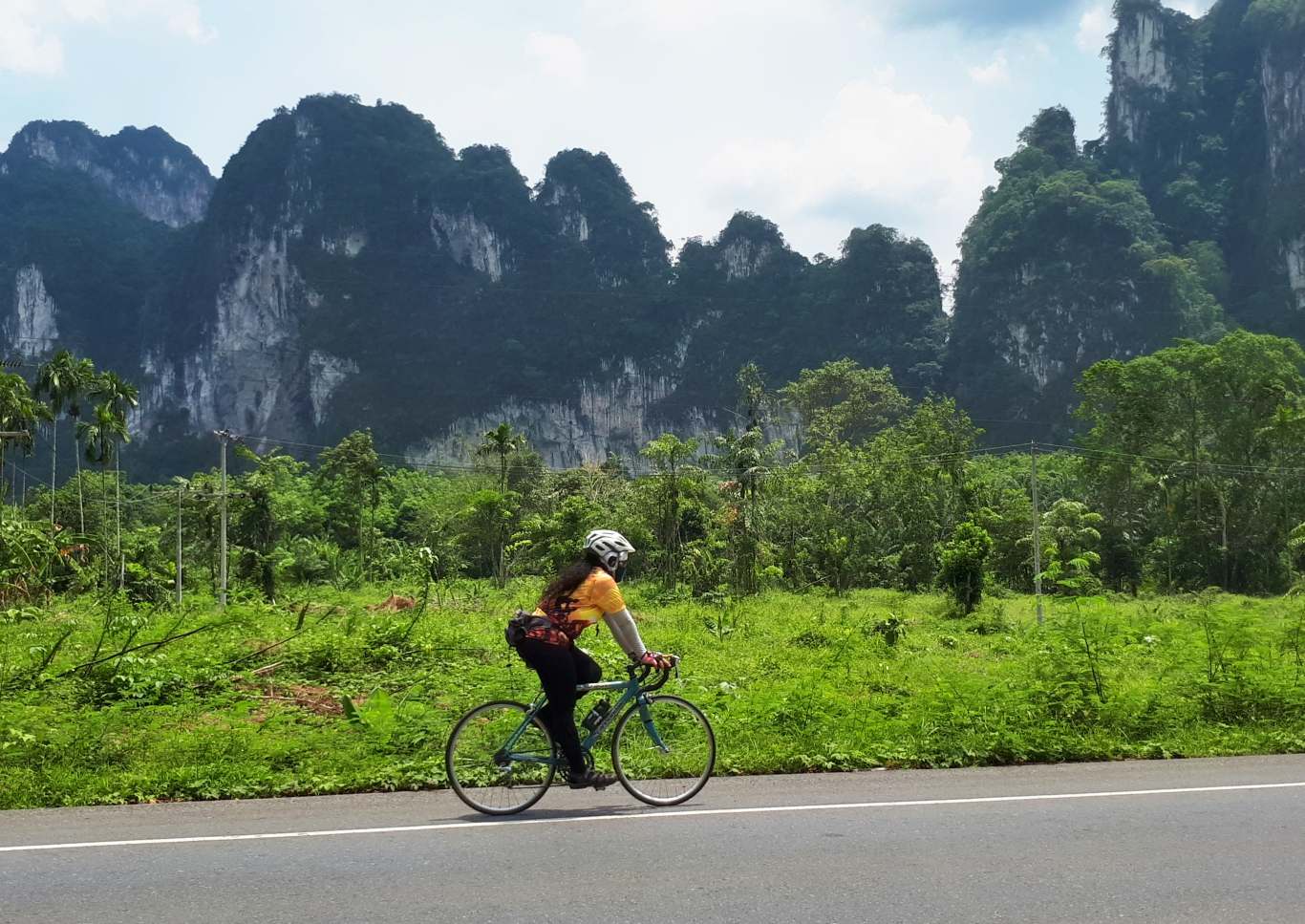 Would you like to?
Sea kayak into sea caves
✦
Cycle through dramatic karst landscapes
✦
Relax in a floating hotel surrounded by towering cliffs
✦
Join a restoration program planting native orchids
✦
Bicycle the best of southern Thailand
Bike Across Southern Thailand
Bicycle Thailand Coast to Coast
One of the visual highlights is the multitude of karst cliffs, colorful and sheer vertically, something rising up as a tower, sometimes forming a long wall along our route, often draped with lush green vines. We are adding a stop to assist with native plant restoration near Au Leuk, joining locals replanting native orchid species.
Join us on the Thailand Bicycle tour, You will cycle past large mangrove forests and over bright beaches, feasting on spectacularly fresh sea food as you go. By kayak, we'll guide you to the coast's looming limestone canyons, exploring its mysterious coves and caves along the way. Experience all the wonders of the coastal terrain as you ride the land and paddle the sea with this multisport bike and kayak tour across Southern Thailand in the Thailand Bicycle tour.
When the course returns to the shore, cycle the coast to the brilliantly blue waters of the Hat Khao Lak beaches, where a kayak trip awaits you. Between the exhilarating bike rides and sun-kissed kayak excursions, this multisport adventure takes you through delightful villages, dramatic canyons, towering cliffs, and thick mangrove forests. Discover vibrant schools of fish, monkeys that perch on sea rocks, and monitor lizards that lounge in the forest. All throughout the trip, fuel your adventure with delicious Thai cuisine.
♡
Add tour to My Bucket List
💖
Saved on My Bucket List
Scheduled Dates
5 Feb 2024
9 Dec 2024
4 Feb 2025
Classic Inns $3275 per person
Book My Spot
Go Private
Tour is available year round.
Plan Private Trip
More details?
Download a detailed itinerary with route profiles & more, to read and share with friends.
Download Itinerary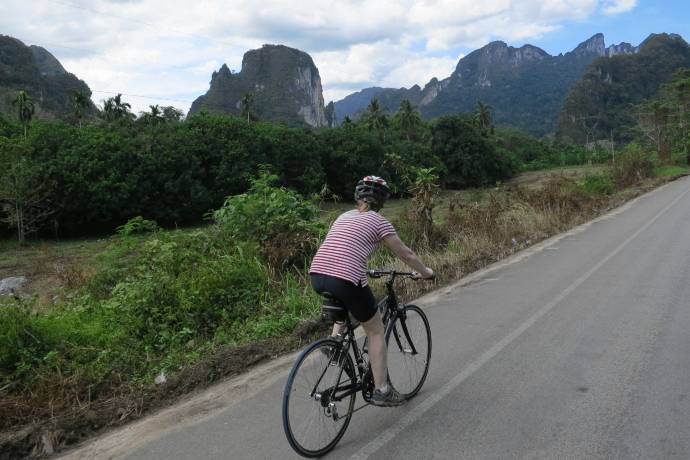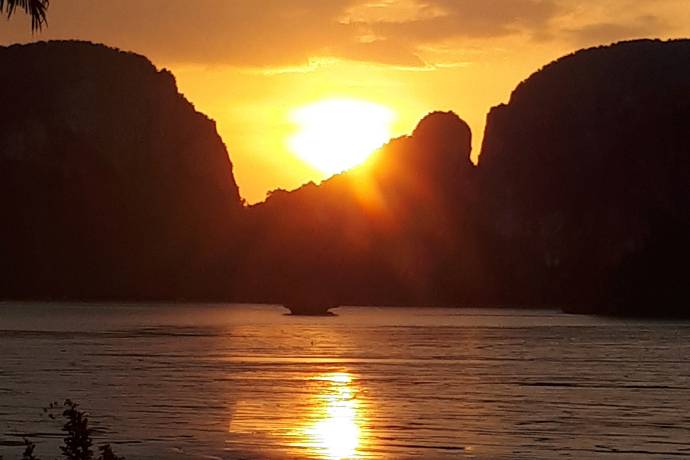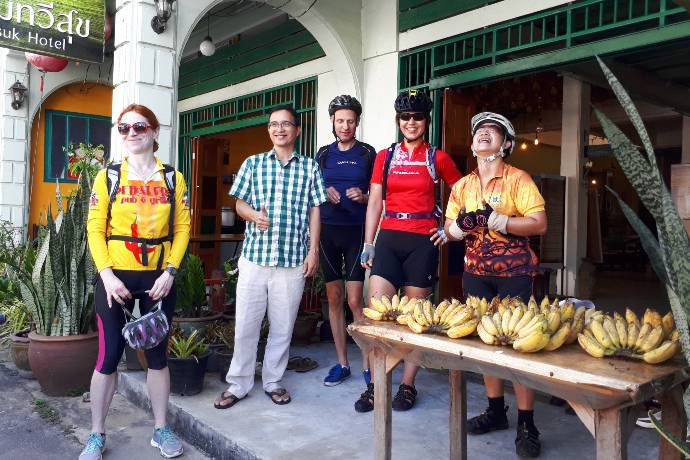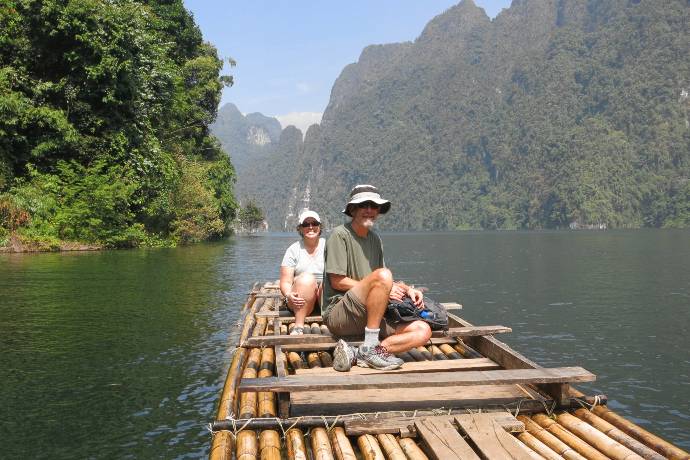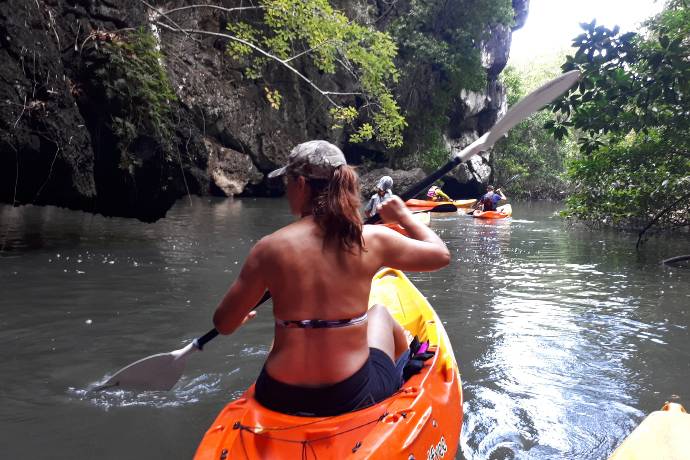 Thailand bicycle tour day by day details
Arrive Surat Thani, free time, enjoy a Thai seafood dinner with fish fresh from the ocean.
We will meet you at Surat Thani Airport this afternoon, then transfer to our nearby lodge. After checking into our hotel, we will set up everyone's bike before tour orientation and your first taste of the awesome Thai cuisine prepared in this part of the country.
Relax: Free to explore until dinner
Eat: Dinner
Sleep: 100 Islands Resort
Visit the temple cave of Wat Singh, cycle to Ratchapracha Reservoir
After breakfast, we are off on our bikes, pedaling through the flat coastal agricultural areas surrounding Surat Thani. Off in the distance, you will see the rugged outlines of the Karst mountains slowly growing taller and more distinct as we approach. As we reach this seemingly impenetrable mountain range, you will discover it is actually numerous tall narrow peaks with flat spaces in between allowing easy passage through. Our goal is the Ratchaprapha Reservoir, where we travel by boat to our floating resort.
Ride: 36 mi / 59 km, Land: small hills
Eat: Breakfast, Lunch, Dinner
Sleep: Panvaree Resort
Explore Crystal Cave and kayak a bit from our deluxe floating hotel on the lake.
Today we will take a short boat ride to hike to the crystal caves, then in the afternoon take canoes out to explore the shores and towering cliff faces of this area. The colorful cliff faces rising up out of the waters provide awesome photo opportunities and the clear floor of the hotel's lobby opens up an under water world full of fish.Relax:Boat trip to cave, free time to kayak
Eat: Breakfast, Lunch, Dinner
Sleep: Panvaree Resort
Relish riding through the towering karst cliffs en route to Khao Sok National Park, visit the Fish Temple.
We travel by boat back to the dam, then head out on bikes towards the rest of Khao Sok National Park. The landscapes along our ride are magnificent, head turners every last one. We stop by the Fish Cave, to feed its colorful schools of fish, the wind down the day at a beautiful resort sitting under the color karst cliffs. Enjoy some free time at our lodge, before heading out to dinner.
Ride: 31 mi / 50 km, Land: small hills
Eat: Breakfast, Lunch, Dinner
Sleep: Cliff & River Jungle Resort
Pedal to the coast, explore the historic town of Takua Pa, spend the night overlooking Khao Lak Beach.
Pedaling to the coast today, we will be making our way along quiet little back roads to our stop for tonight in Hat Khao Lak. This up and coming beach area sits just to the north of the National Park with the same name. Our lodge tonight sits in the heart of the main village, within easy walking distance to everything. Tonight, weather permitting, we will head up to Takua Pa Old Town for their Sunday Walking Street Market with lots of tasty street foods to sample.
Ride: 49 mi / 74 km, Land: moderate climb then small hills
Eat: Breakfast, Lunch, Dinner
Sleep: Seaview Khao Lak
Travel by boat to Phang Nga Bay, use sea kayaks to explore the unique islands and their sea caves .
This morning we will leave the bikes behind and enjoy a sea kayaking trip through the breathtaking islands of Phang Nga Bay. Our group will enjoy a self-paddled journey around the island, passing under overhangs with stalactites reaching down towards the sea. We will paddle into the hollow center of the island through sea caves at low tide, perhaps spotting Hornbills and monkeys. And enjoy a delightful fresh cooked Thai lunch on board our support ship.
Kayaking: 4 hours
Eat: Breakfast, Lunch, Dinner
Sleep: Seaview Khao Lak
Back on the bikes, through coconut, oil palm and rubber tree plantations, relax at our hotel surrounded by karst cliffs.
We will leave the coast behind for most of today's ride as we head inland and wind our ways through the heart of the isthmus. This area is filled with small villages, farms and rubber plantations, where they still harvest the sap and make rubber the traditional way. Our historic lodging for tonight will in Phang Nga town, surrounded by the towering limestone cliffs that proliferate throughout the region.
Ride: 45 mi / 73 km, Land: small hills
Eat: Breakfast, Lunch, Dinner
Sleep: Thaweesuk Hotel
Rural cycling surrounded limestone cliffs, join plant species re-introduction project.
Cycle through palm oil plantations enroute to the amazing karst cliffs that dominate this region. We are enroute to the dimiunitive village of Laem Sak, where villagers have banded together to promote community tourism. Visit a soft shell crab nursery and if weather permits join with locals restoring native orchid species to the forests.
Ride: 35 mi / 56 km, Land: flat
Eat: Breakfast, Lunch, Dinner
Sleep: Bulan Anda Baba Resort
Flat cycling through narrow valleys lined by limestone cliffs of many hues, finish at Ao Nang Beach.
Our day of pedaling takes us on a meandering route through the fantastic karst landscapes. Our route is inland and not along the coast today, but the views are awesome and the cycling pretty flat. We will leave the main road before we reach Krabi town itself and head back to the coast, to our lodge at Ao Nang Beach one of the prettiest in the region with towering cliffs dropping straight into deep blue waters.
Ride: 42 mi / 68 km, Land: flat
Eat: Breakfast, Lunch, Dinner
Sleep: Anda Dhevi Resort
Sea kayaking through Mangrove forests, inhabited by monkeys, celebrate a memorable multisport tour with a delicious seafood dinner.
Once again, we take to the ocean, exploring the Ao Thalane region near Krabi by sea kayak. This bay has dramatic canyons and thick mangrove forests that we paddle through, as stark contrast to the open seas and scattered islands of Phang Nga Bay. Perhaps we will spot monkeys or Monitor Lizards lounging in the forests. You have the afternoon free to relax before enjoying an awesome dinner of fresh seafood.
Kayaking: 3 hours
Eat: Breakfast, Lunch, Dinner
Sleep: Anda Dhevi Resort
Time to head out for your next adventure. Sawasdee khap
After breakfast we will be shuttling folks to Krabi Airport for your flights home on onward to more adventures.
Travel: Shuttle to airport
Eat: Breakfast
Good Gear
Pedalers provides Merida Speeders, a lightweight, flatbar, sport road bike. Bianchi Kuma mountain bikes are also available, but the roads are all nicely paved.
As a safe health measure, guests are asked to bring their own helmets and waterbottles for cycling. If necessary these can be purchased economically in Thailand.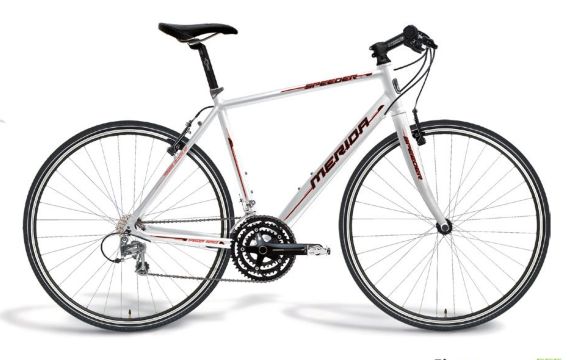 Good Eats
Discover the best of southern Thai cuisine each night with our Guide Curated Menus. Your guide team has found the best dishes to try at each of the restaurants we visit at dinner time.
Perhaps some seafood fresh from the sea cooked with a sweet tamarind sauce, or some spicy southern curries on rice. All the meals are sure to delight..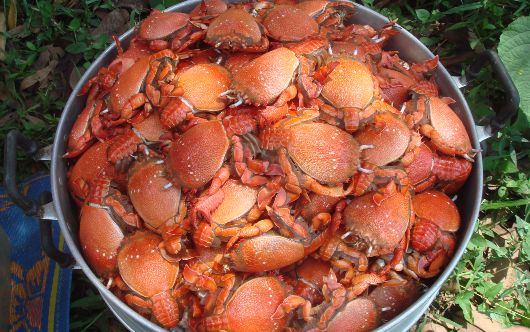 Getting There
The Bike Across Southern Thailand Tour meets at Surat Thani International Airport in Surat Thani, Thailand and ends at Krabi Airport in Krabi, Thailand
Guests should plan their flights to arrive in Surat Thani before 16:00 (4 pm) on Day 1 of the tour and their departing flights from Krabi after 10:00 (10 am) on Day 10.
Surat THani Airport code: URT Krabi Airport code: KBV Local Time: GMT+7
Travel Tip: Buying your domestic flight from Bangkok to Surat Thani or from Krabi separately from your international flight to Thailand is often a better value. But do leave sufficient time between flights (4 hours suggested).
Documents Please
Passports are required for all guests. Visas maybe required depending on your nationality, check with the nearest Embassy of Thailand.
Whatcha Gonna Get
Expert local bilingual guides
Entrance and activity fees
Handpicked lodges, ensuite rooms, double occupancy
Daily breakfast, lunch, snacks*
Dinners featuring fine local cuisine*
Unlimited drinking water**
Support van for baggage and lifts
Free use of bicycles
Free use of sea kayaking equipment
Airport pick up & drop off
*as noted in itinerary
**during activity
Ready to Ride? Sign Up Today!
Your Group, Your Date
You, your family and friends, your preferred date, our handcrafted tour routes, privately guided, the ultimate adventure getaway.
Classic Inns from $3325
Tour is available year round. January to June is best for cycling.
Request My Private Date
Join a Scheduled Departure
Join a group of like minded travelers (8 guests max) on one of the dates below:
2024:  5 Feb ✦ 9 Dec
2025:  4 Feb
Classic Inns: $3275 per person, double occupancy
Single Room: +$775 Deposit: $350
Book Now